Exhibition | Oct 27 - 29 2023
The Ways We Are It (TWWAI)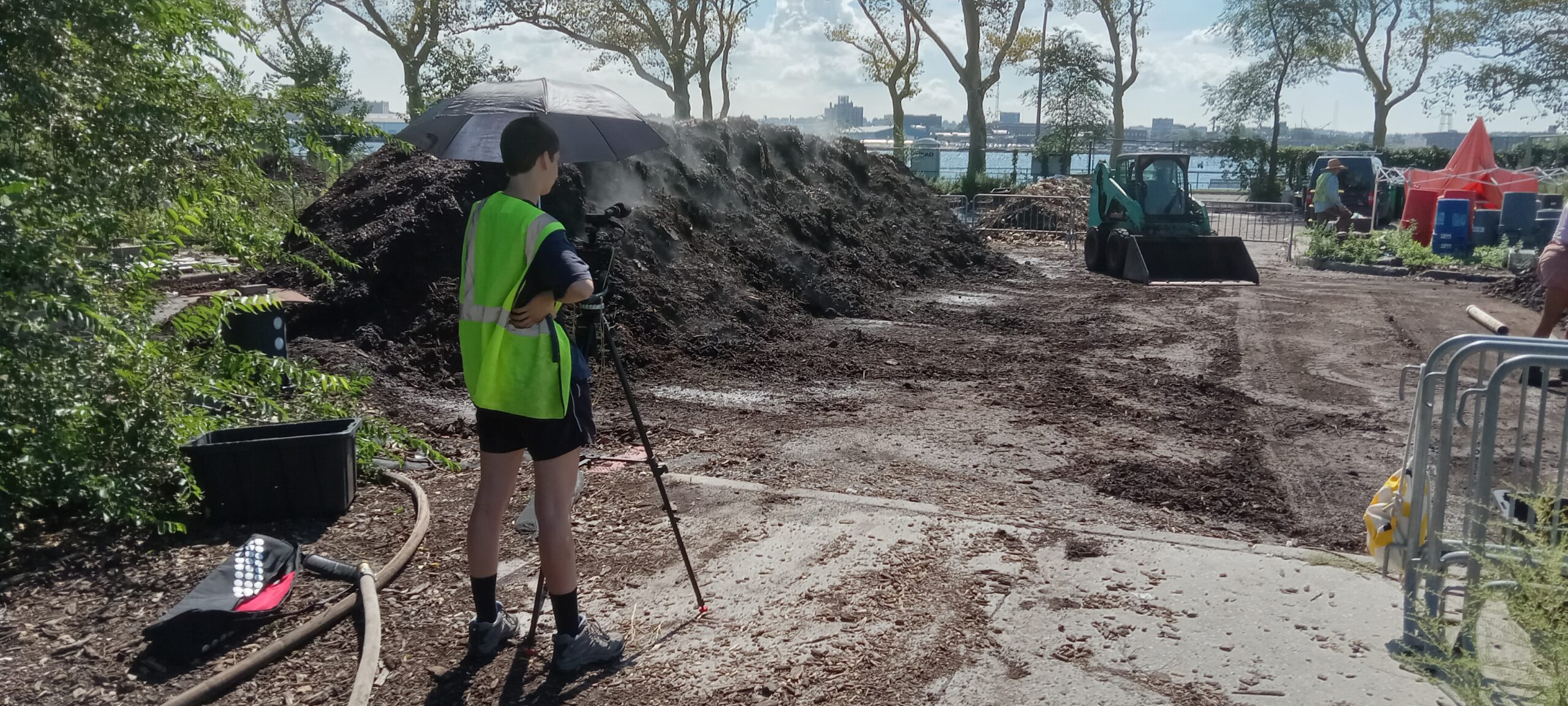 Alice Brunnquell filming at Earth Matter NY, photographed by Pierre Coric, September 2023
Opening: Saturday October 28, 2023 | 11:00am - 5:00pm
On view: Friday October 27 - Sunday October 29 | 11:00am - 5:00pm
KODA/RU House, #404B Colonels Row | Click here for access to Governors Island
The Ways We Are it (TWWAI) is a multidisciplinary project by Alice Brunnquell and Pierre Coric researching stories about the ways humans, and other beings modify and inhabit the landscape in a major city. How do we move soil, divert water, and pile up landfill to an extent that we sometimes build hills and islands, then forget about it? Realized over the course of their residency during which the artists had a workspace on Governors Island, TWWAI is an attempt to take a step back and see what is really here, zooming into the city's everyday and its material reality. Seeing the landscape not as something external that we inhabit but rather as something that we are intimately a part of and that we have an influence upon through our daily moves. Water tower, artificial hills and islands, purposeful explosion of buildings, worms tunneling across mounds of compost, and seafaring mountains are some of the elements linked into The Ways We Are It.
The scope of their research has a blurry limit. The landscape, understood as the places we inhabit or as the space where stories of the everyday are staged, is a broad and ungraspable idea. The defining criteria that they agreed upon to select the stories that they wish to tell is the direct physical impact of a body on the landscape. This can span from hands moving sand to beaks moving branches, or microorganisms processing matter.
TWWAI is Alice Brunnquell and Pierre Coric's first collaboration as an artistic duo. Or rather, their first artistic collaboration as a duo of friends sharing visions and thoughts, and, with many others, working on building a common understanding of our surroundings, and experimenting ways to inhabit them.
Click below to see images from the exhibition
About
Pierre Coric's body of work weaves together different technical and technological practices. Navigation, computer programming and the making of textile objects are the components of ephemeral installations and performances which, by revealing an offbeat kind of normal, aim at making us rethink our perceptions of the world. In the last years, Pierre has been working locally and abroad on various collective and solo projects. His last production As If It Was Making the Grass Happy to Grow was shown in Marrakesh in the context of a group show at Le 18 where he was resident from September until December 2022. Pierre is currently based in Ostend, a coastal city in Belgium where he lives and works aboard a small sailboat. The Maya, which is the name of this boat, is just back in Belgium after spending a year and a half in Brittany.
Alice Brunnquell is a recent graduate of the INSAS film school in Brussels who is currently based in Paris. Alice is a filmmaker and uses this medium as a playful way to use different supports and techniques to tell stories that are on the edge of fiction and documentary. They spent the last five years in Brussels studying how to operate lights and cameras on film sets and working as a gaffer and machinist in the film industry. In their last project they worked as a director of photography for the short film Entropie directed by Macha Bouteiller.
This program benefits from the support of the Flanders State of the Art.