Exhibition | Dec 18 2021 11:00am - 6:00pm
Symbiotic City, open studio with Carlos Estévez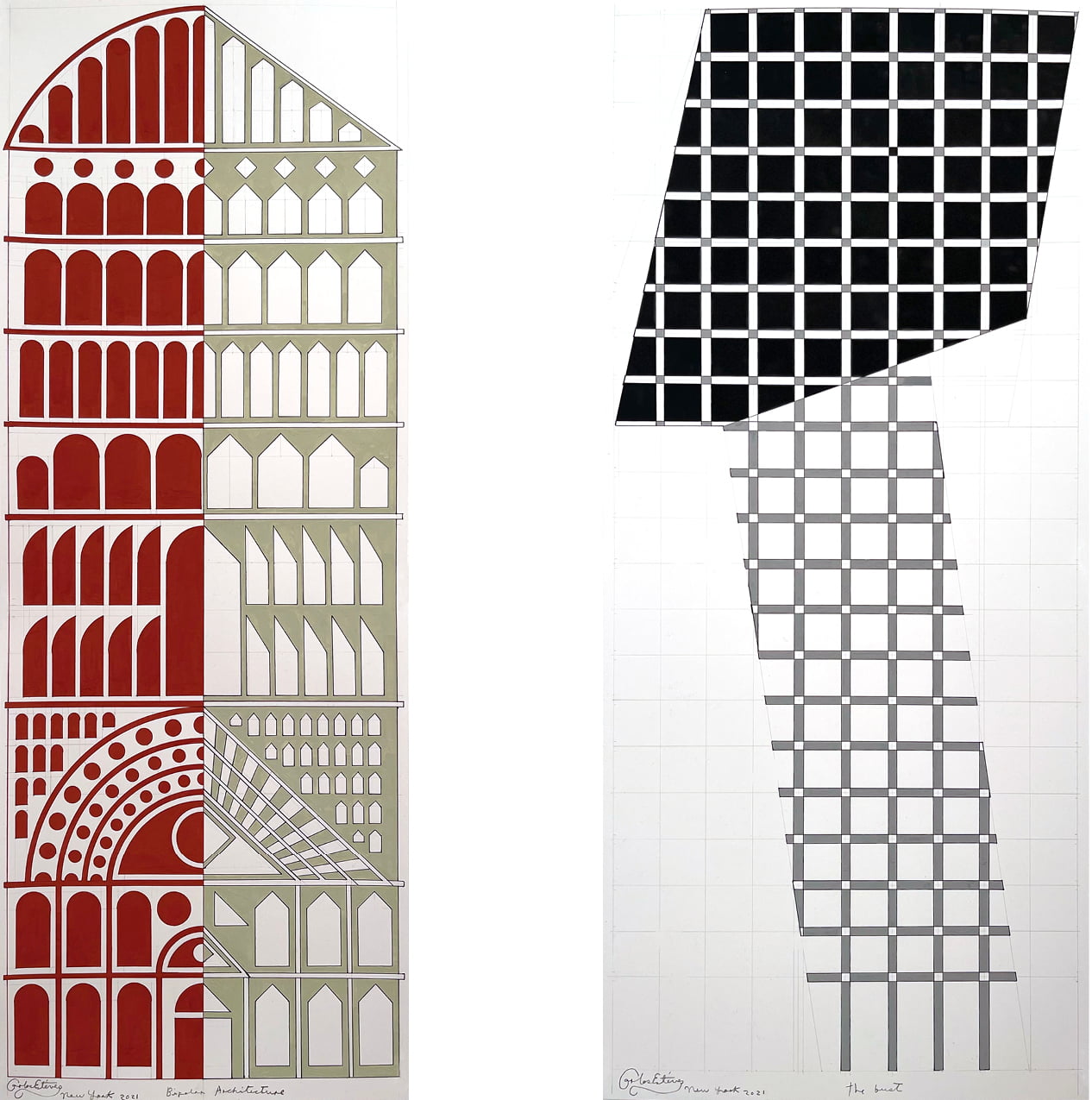 Carlos Estévez, From the series Symbiotic City: Bipolar Architecture (left), The Bust (right), Tempera and Ink on paper, 2021.
Saturday December 18, 11:00am-6:00pm
Location: 208 E 51st, New York, NY 10022
We are pleased to invite you to the open studio of the Cuban artist Carlos Estévez. During his stay in New York, the artist has been working diligently on a series of works on paper titled Symbiotic City. Estévez' creative practice is to observe, process, and transform the sensorial stimulus into images. Symbiotic City offers a window into the artist's layered emotional and psychological responses to the City in his daily observations and interactions with its buildings, people, and the dynamic between them. The concept of Symbiosis is a metaphor of the inner dynamic of New York City.
Born in the heart of Havana, Estévez grew up in a historical neighborhood founded in 1519. His interest in architecture and the medium of paper began at age seven when he started collecting sheets of paper almost his size to make drawings of old buildings surrounding him. Forty five years later, the impulse remains the same. The Symbiotic City series of imaginary buildings are notes of what he sees, thinks, and dreams and a continued fascination with the urban context.
"New York City is metaphorically a living cabinet of curiosities. I am interested in the city as identity of the people who live in it. Every building tells multiples histories and contains many universes that gravitate as the soul of the city.
Click the image below to see installation details from Symbiotic City. 
Over the course of the open studio, Carlos Estévez has invited the musician and RU artist Laura Schuler to improvise Symbiotic City. 
On December 21 at 1pm, Carlos Estévez will engage in a virtual Meet Over Lunch discussion with RU Guest curator Meyken Barreto. More details here.
This program benefits from the support of The Rockefeller Brothers Foundation and the Cuban Art Fund.