Exhibition | Aug 22 2011 5:00 PM
Suspicious Activities by Özlem Günyol & Mustafa Kunt Cuchifiritos Gallery & Project Space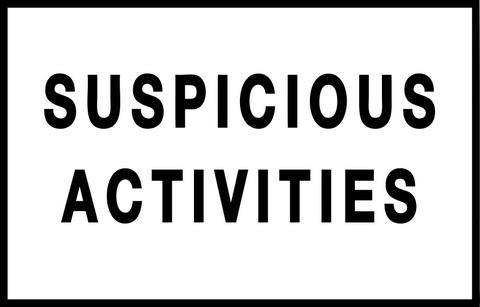 Opening Reception Sept 7th 5-7 pm
August 30 - September 11, 2011
CUCHIFRITOS Gallery & Project Space
120 Essex Street, New York, NY 10002
"If you see something, say something" is a phrase that indicates every individual has responsibility over his/her surrounding, should be vigilant and report suspicious activities. As every individual observes his/her surroundings, essentially the observer becomes the object of the surveillance. This provides an indirect message to every individual to control their actions or activity. The individual is under surveillance, not just by law enforcement, but also through the public itself.
The title of the exhibition "Suspicious Activities" and the works that constitute the show at Cuchifritos, take their inspiration from aspects of surveillance and are set as a response to "If you see something, say something" signs.
For the work "Male Subject & Female Subject", Özlem Günyol & Mustafa Kunt asked Residency Unlimited to establish a contact with a private detective from ICORP Investigations to follow and investigate the artists for a one-day period. The detective was asked to conduct the surveillance for 1 day (out of 3 days suggested by the artists). Thus, the artists didn't know which day they were being followed. The only instruction given to the detective was to make a detailed report of their activities. In this way, a regular day of Özlem Günyol & Mustafa Kunt was translated into a report by
a private detective and thereby transformed a regular day into a suspicious situation.
Organized by Residency Unlimited (RU), "Suspicious Activities" is made possible with the support of Artists Alliance, Inc (AAI) within the framework of the RU / AAI partnership as part of AAI's Art(Inter)Actions Program.
Özlem & Mustafa are currently artists in residence in New York City at RU, within the framework of the Residency Unlimited / Flux Factory thanks to the support of Schloss Balmoral, Stiftung Rheinland Pfalz für Kultur (Germany).
This exhibition is made possible in part by the New York State Council on the Arts with the support of Governor Andrew Cuomo and the New York State Legislature.