Event | Aug 20 2019 2:00 pm
RU Workshop: Crafting Present and Future with Sergei Gushchin and Alexander Shchurenkov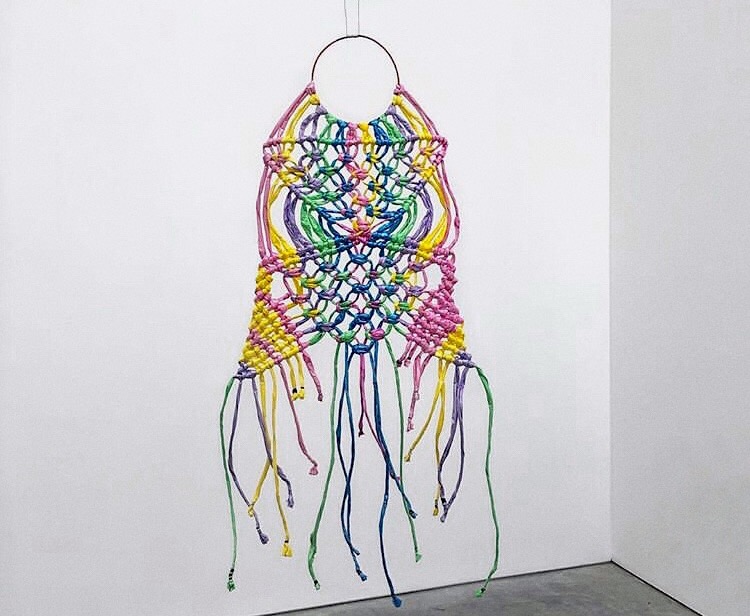 "The Mother of Ruin", 2019. plastic garbage bags and wire
Tuesday, August, 20th
2 - 5 pm (free and open to the public)
Residency Unlimited (RU)
360 Court Street (enter the Church through the main entrance)
Brooklyn, NY 11231
RU Gallerist-in-resident, Sergei Gushchin, from Fragment Gallery (Moscow, Russia) and artist, Alexander Shchurenkov, are inviting artists, members of local communities and all interested in handwork to participate in workshop Crafting Present and Future. The workshop is devoted to sharing skills of any traditional crafts which people know from their relatives, social work, art therapy, or obtained during any tough time of their life. All participants are encouraged to share their experience and stories, show techniques, teach some practical tips and tricks, and to learn from others. Alexander Shchurenkov will teach basic macramé knots, a craft he learned from his sister at the age of eight and which he now actively uses in his own practice.
Check out images from the workshop below and on our Instagram Stories here.
............
Alexander Shchurenkov (born 1984) is a social practice artist and sculptor, interested in how traditional crafts, shaped by values and standards of excellence are passed from generation to generation through demonstration, conversation, and practice. He explores how these skills help communities and individuals to survive different types of crises, from personal to macro-economic.
Alexander graduated from the Institute of Contemporary Art (Moscow, Russia) in 2018. In 2017 he participated in an artistic residency on creating large-scale installations What the work tells about the tools by Michael Beutler in Salzburg International Summer Academy of Fine Arts. In March 2019 he took part in High House artist residency (Norfolk, UK) curated by Antony Gormley. In 2018 his first solo show Zugzwang was part of the parallel program of VI Biennial of Young Art and was presented in Fragment gallery (Moscow, Russia). Later that year a solo show Once it happened, backfired'was presented in Vacation gallery (New York, USA), and had a quote in '9 Art Events to Attend in New York City This Week' feature on ARTNews.
RELATED: