Talks | Apr 27 2019 7pm
RU Talk: An Evening Conversation on Dirt & Debt: Ecology, Finance and Art at the Community Level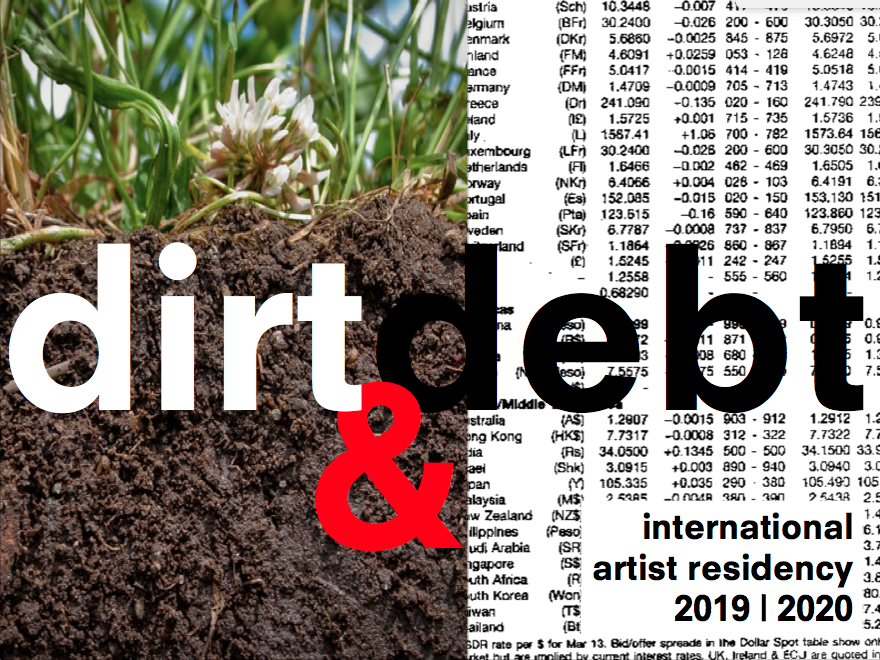 Saturday, April 27, 7PM
Doors open at 6pm; light refreshments served.
Residency Unlimited (RU)
360 Court Street (enter the Church through the main entrance)
Brooklyn, NY 11231
Residency Unlimited and TILL (Today's Industrial Living Landscapes) invite you to join us for
An Evening Conversation on Dirt & Debt: Ecology, Finance and Art at the Community Level
with guests:
Finance is a social force comparable to gravity in the physical world yet so opaque. Matt lifts the veil.
Jennifer Gross, Executive Director, Hauser + Wirth Institute, NYC, and former Chief Curator and Deputy Director of the DeCordova Museum in Lincoln, MA. Prior to the DeCordova, Jennifer was curator at Yale University Art Gallery, where she organized "Société Anonyme: Modernism for America," the opening exhibition for the newly expanded museum.
As an artist collective that identified as educators, the Société Anonyme offers a model, both visionary and practical, for a new millennium of ecological uncertainty and extremes of financial precarity and concentrations of wealth that rival pre-revolutionary France.
David Kong, Director of the MIT Media Lab's Community Biotechnology Initiative.
Synthetic Biologist, community organizer, musician, and photographer, David co-organized the three-day 2018 Global Community Bio Summit. Young scientists are increasingly active at the community level — offering opportunities for learning science by doing science.
We will also be joined this evening by Jenifer Wightman, one of our seven Dirt & Debt residency artists. Dirt & Debt co-curator Dr. Livia Alexander opens the evening; co-curator Jane Philbrick moderates/prompts our conversation.
Dirt & Debt is a three-month residency initiative organized by Residency Unlimited, inviting artists to envisage new pathways to how we build and manage our built and natural world in order to foster equitable, ecological, compassionate community. The residency is curated by Livia Alexander and Jane Philbrick. 2019 participating artists are Maryam Monalisa Gharavi, Melissa Marks, Anna Riley, Jessica Segall, Candace Thompson, Luisa Valderrama, and Jeni Wightman.
Residency Unlimited (RU) supports the creative process and promotes exchange and diversity through its unique customized residency program and year-round public programs. We nurture local, national, and international artists and curators at all stages of their career. RU is particularly committed to promoting multidisciplinary practices and building lasting connections between residents and a broad range of communities. Collaboration and partnerships are at the heart of our mission.
Dirt & Debt artist residency is made possible by funds from the Department of Cultural Affairs and Residency Unlimited.