Exhibition | Jul 7 - 14 2019
RU Exhibition: The Space In Between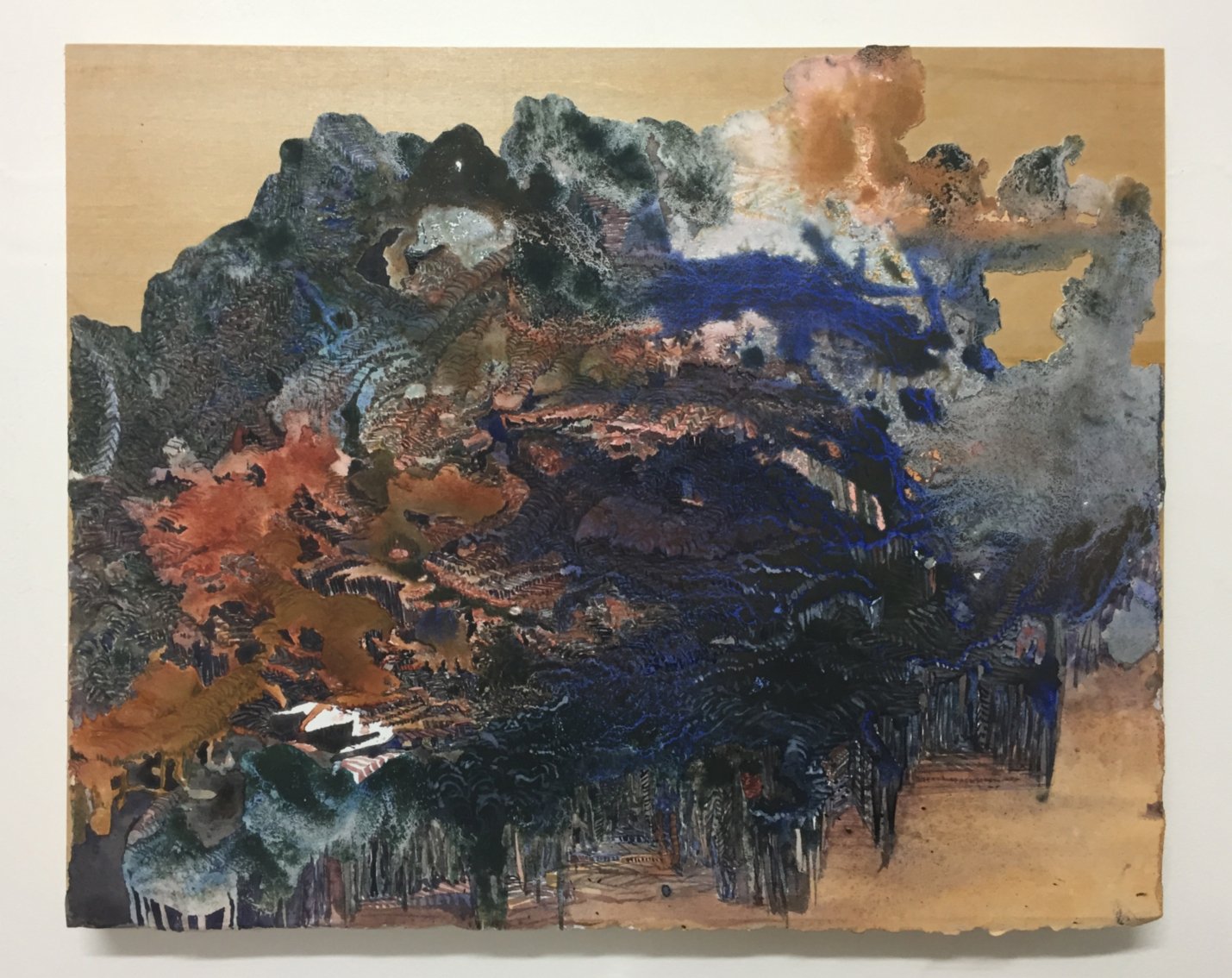 Anthony Ragucci, Flaneurin Brooklyn no3, 2019, Watercolor and ink on paper on board
Opening reception: Sunday, July 7th, 3 - 8 PM
Exhibition dates: July 8 - July 14, 2019
Gallery hours: Tues - Sunday, 2-6 pm
Location: Compère Collective, 351 Van Brunt St, Brooklyn
Curated by Iara Pimenta for Residency Unlimited
The Space In Between brings together works guided by reflections on notions of spatial perception and memory, proposing ways to (re)discover the spaces we inhabit. From the body to the territory, works by Colleen Merrill, Alex Nowak, Anthony Ragucci, and Emanuel Rossetti–participants of Residency Unlimited's artist residency program–engage with spaces in their physical as well as their social and cultural aspects. These works also establish a dialogue with the process and history related to each artist's practice addressing issues such as representation and visibility.
Colleen Merrill transforms domestic textiles into installations that address the constant changes in the female body and the impact of tensions in relationships, examining the perception of gendered roles and issues of dominance in different social domains. Going from the private to the public space, Emanuel Rossetti explores the fish-eye effect and notions of expansion and continuity of what's on view, creating images that relate to his research about visual systems and interest in exploring the context and transformations of urban spaces. In Alex Nowak's wall objects, the combination of architecture and forms inspired by nature alludes to ambiguous and even disrupting connections between organic and man-made elements, questioning the social implications of the relationship between built and natural environments. Extending to a territorial scale with an accumulation of layers of painting and drawing, Anthony Ragucci's works propose a subjective perspective on map making and speculate on how we relate to the places we inhabit intersecting notions of belonging, memory, and representation.
Please find a wonderful online exhibition catalog put together by curator, Iara Pimenta, below.
..............................
Compère Collective's Mission
Compère Collective's mission is to nurture and host diverse artistic practice and thoughtful dialogue; understanding that art should be used as a catalyst for critical thinking. We are not just hosts, but connectors.  We place great significance and value on the human interaction and connection that art makes possible, and see our role not just to provide space, but also to help establish connections between people, art, and ideas. Similarly, we value the integrity of the artistic process and the link that personal expression has to a broader understanding and respect of social contexts. The exhibition space is intimate and capable of showcasing a rich variety of media, which have included all the traditional formats, from painting and performance to facilitate discussion and dance. We relish the freedom this space provides for artists, collaborators, and curators— to reinvent what "gallery" can mean, artistically, conceptually and as a force within the community.
Compère Collective was founded by Victoria Alexander, owner of Red Hook's Realty Collective. Victoria's boutique real estate firm in Brooklyn celebrates the borough's rich history, architecture, culture, and people. You will often see the word "passionate" when describing the way her collective of real estate agents feels towards the place they live and work.  Located in the culturally and artistically rich neighborhood of Red Hook Brooklyn, Compère Collective strives to do the same and has hosted a diverse set of exhibitions, events, and artists since opening its doors in 2011.
About Realty Collective 
Realty Collective is a local woman-owned company that works to transform people's experience of what is possible in Brooklyn real estate. They believe every rental or sales transaction should bring connection, confidence, and prosperity to individuals that live, work, and create in the diverse communities of Brooklyn facing the future together. Realty Collective agents are not only professional neighborhood experts but also designers, artists, dancers, producers, photographers, musicians, filmmakers, and writers. They understand a home is more than just square footage but a place to create, reflect and support who we are. Their team of talented women and men are proud to work for a company that is passionate about Brooklyn and actively engages within their neighborhoods.
This exhibition is made possible with generous support from the Cultural Development Fund, NYC Department of Cultural Affairs, the Great Meadows Foundation, Atelier Mondial Basel (Christoph Merian Stiftung Basel), the Georg-Meistermann-Scholarship, and the Massachusetts Cultural Council.