Exhibition | Mar 5 - 11 2019
RU Exhibition: Real Fairy Tale, SPRING/BREAK Art Show NYC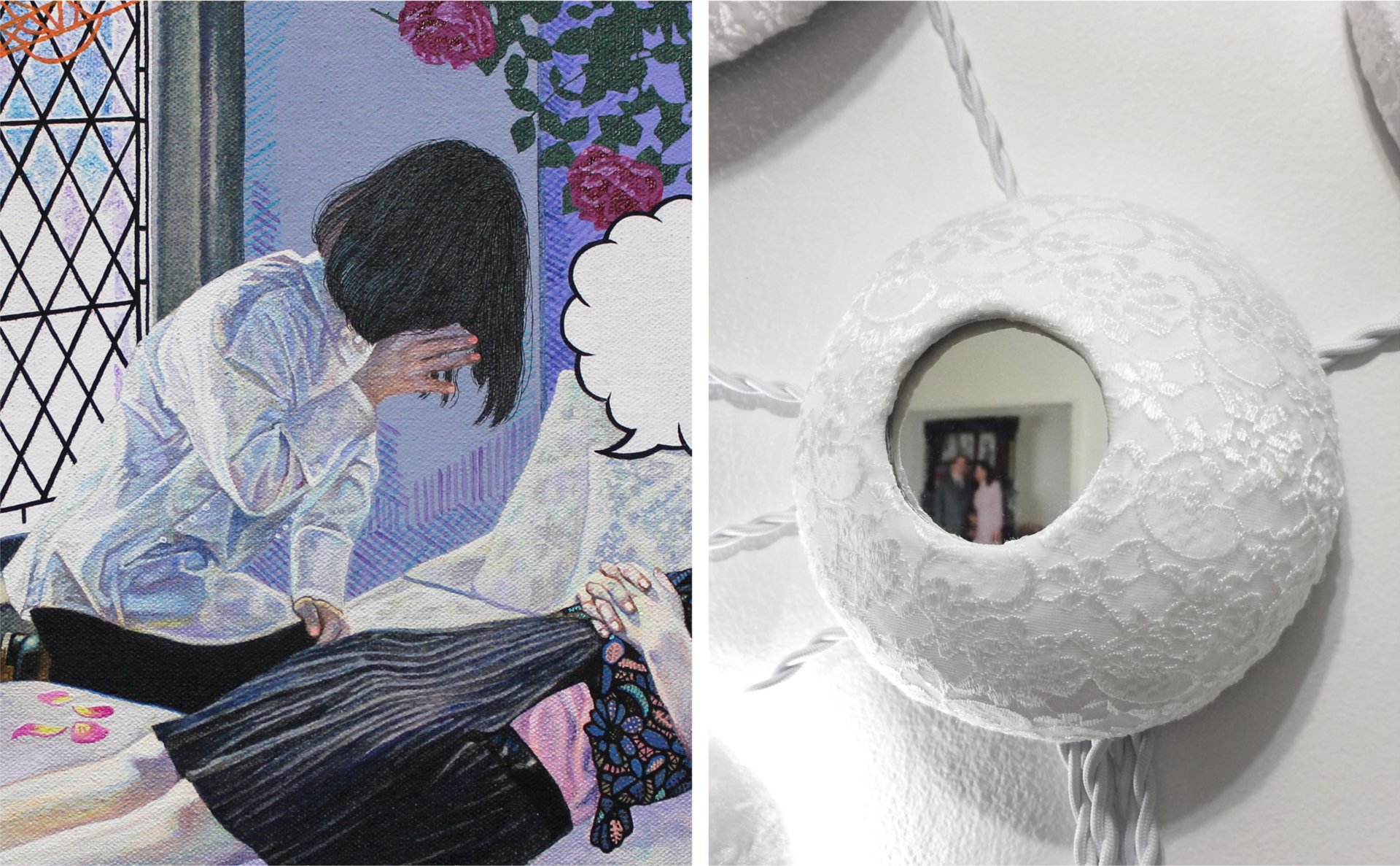 Details of work by Naomi Okubo(left) and Lulu Meng(right), 2019
FACT AND FICTION
SPRING/BREAK Art Show 
March 5-11, 2019

VIP OPENING NIGHT Tuesday, March 5th 4pm - 8pm
REGULAR SHOW DAYS Wednesday - Monday, March 6th-11th, 11am - 7pm
Tickets: https://springbreakartshow.eventbrite.com
866 E 48th St, UN Plaza, NYC
BOOTH S8
RU is thrilled to present the exhibition Real Fairy Tale featuring new works by RU Alum artists Lulu Meng and Naomi Okubo in the Special Projects section at the SPRING/BREAK Art Show.
Real Fairy Tale looks at the impact of Disney's animated fairy tales films on how women in Asia view themselves or are looked upon, through the lens of two women artists who grew up in Japan and Taiwan. This gendered phenomenon is set against the historical backdrop of WW2 and the Japanese defeat which led to major US and Western European interventions in East Asia. Such globalization led to the introduction of Western fairy tales, and their animated versions with its cultural symbolism became immensely popular in mainstream culture.
Naomi Okubo and Lulu Meng moved to New York as working artists. When they met, they realized that they shared similar experiences growing up watching these Disney films. Expectations on how they should look and behave as young women were directly modeled on the likes of Cinderella, Snow White and Sleeping Beauty figures with their pale skin and big round eyes standards of beauty. Ironically, Meng and Okubo displayed boyish qualities at an early age and were told that they were not "girly enough". They recall being confused when asked to act "like a princess, marry a prince and live happily after". At a later stage, they realized that they had been aware all along that fairy tales are not "real". However it was difficult to shirk aside the social and self-determined pressures on how women should behave that was intrinsically associated to these "stories".
This is the backbone of Real Fairy Tale. An assertion of self-awareness where two very distinct bodies of work enter into dialogue over shared experience, and then transitions from the personal level to broader societal issues relating to female identity, stereotyped gender and how social norms are generally perceived.
About the works exhibited:
Lulu Meng's installation series, Look into the Mirror, playfully illustrates her female experiences and fantasies. Dome-shaped cases with two-way mirrored surfaces are covered by luxurious velvet and lace. The light inside each dome turns on and off in a programed sequence that reveals enclosed handcrafted objects by the artist that are inspired by Western fairy tale iconography and other phenomena. For instance, the work about Sleeping Beauty contains a spindle, spinning wheel, sleeping pills, rhinestones, and Meng's photographic self-portrait. With the light constantly switching on and off what the viewer sees fluctuates between the enclosed objects and the viewer's own reflection in the mirror.
Naomi Okubo's beautifully executed and seductive images mask darker themes relating to her adolescence and the connection to prevalent issues and inconsistencies in society. In these paintings Okubo depicts herself as a fairy tale heroine set in idealized settings and exaggerated situations. In one scene, she is Cinderella wearing the highly coveted glass slipper surrounded by multiple cakes and Rococo styled shoes. The fictive/factual element is enhanced on the one hand by the physical presence of the artist who is dressed identically to her painted figures. On the other, the mirror effect (caused by the reflective material on the verso side of her paintings that hang freely from the ceiling) creates an added layer of complexity with the reflection of the surrounding space and viewers.