Talks | Jun 13 2019 1pm
Meet Over Lunch: Queer Forever! and the contemporary art scene in Vietnam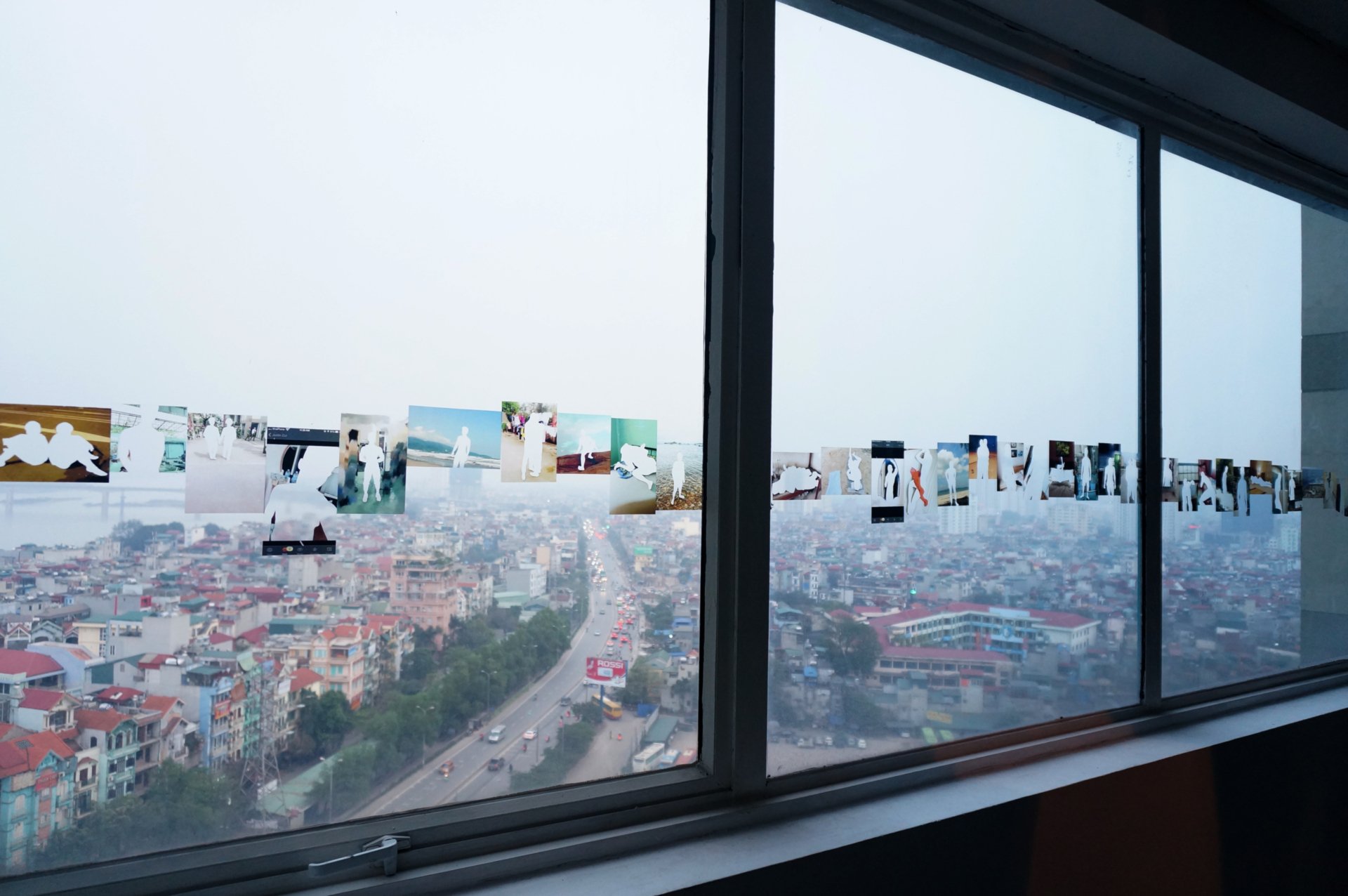 Lost Pixels, transparent film on glass, Nguyễn Quốc Thành, "Mise en scene" exhibition, Nha San Collective, 2016, Hà nội. photo: Cẩm Khánh Linh
Thursday, June 13, 2019
1pm (free and open to the public)
Residency Unlimited (RU)
360 Court Street (enter the Church through the main entrance)
Brooklyn, NY 11231
The Hanoi-based artist and curator Nguyễn Quốc Thành presents Queer Perspectives on the Contemporary Art Scene in Vietnam in conversation with Bartek Remisko, an independent cultural worker based in New York. Thành discusses how queer culture in Vietnam, a country where pervasive censorship prevails, has been increasingly benefitting from a surprising level of freedom of expression.  In recent years queer celebrities have become both cultural and national icons and events like Viet Pride have gained larger public recognition.  Yet, even with this recent surge of expressive freedom contemporary art still receives little support from the government and funding is increasingly provided by private and corporate entities. What do these shifts mean for the Nha San Collective (NSC), the longest-running, non-profit artists-run space for contemporary and experimental art in Vietnam that was established in 2013 and of which Quốc Thành is a founding member.
***
Nguyễn Quốc Thành lives in Hanoi, Vietnam and works as artist, curator whose works explore issues of queer aesthetics and activism. He is a co-founding member of Nhà Sàn Collective - independent artist collective in Hanoi, and the collective's Curators Board member. In 2013, he founded and organized Queer Forever!, the first queer art festival in Vietnam. It has since became a space for queer art exhibitions, gathering, and discussions, to share love and knowledge on queerness and Vietnamese culture. Thành has participated in performance art festivals, exhibitions, and conferences in Japan, Myanmar, The Philippines, Thailand, USA, Vietnam.
Bartek Remisko is an independent cultural worker based in New York. His interests lie particularly in Visual Arts, Multiculturalism, Ecology & Sustainability as well as Polish-Jewish relations. He has served for the past three years as a grant reviewer and project evaluator for the Rubin Foundation in their Art and Social Justice grant program, and recently for the Queens Council on the Arts. He also (co-)curated a couple of solo and group exhibitions, most recently "Cuboids" by Wojciech Gilewicz in Cuchifritos Gallery + Project Space in New York. He also collaborated on some others, recently "Thoughts Isolated: The Foksal Gallery Archives, 1966–2016" in The James Gallery at CUNY Graduate Center, New York. Remisko facilitated and (co-)edited some publications, as well as authored a couple of pieces on arts & culture. Bartek Remisko was for the past two years part of Green Point Projects, an independent space presenting Polish modern and contemporary art in New York. He has recently cooperated with The Armory Show, Frieze New York, Mayor's Office of Immigrant Affairs, etc. Remisko is co-founder and co-director of Beach64retreat in The Rockaways, Queens, NY, a grass-roots micro-initiative meant to support creative individuals in the times of the rising precarity in the arts and culture.
This program is supported by Beach64retreat in the Rockaways, Queens, New York, a residency that is currently hosting Nguyễn Quốc Thành. Beach64retreat was founded in 2017 to support contemporary culture on a micro level, and to promote global cultural exchanges in times when it is more and more difficult for creative individuals around the globe to thrive.
The Meet Over Lunch series is an ongoing invitation extended to local and visiting art practitioners to present their practice and projects over lunch to the RU community