Talks | May 9 2019 1pm
Meet Over Lunch: Exhibition Design in Poland, as examined by Aleksandra Jach and Krzysztof Skoczylas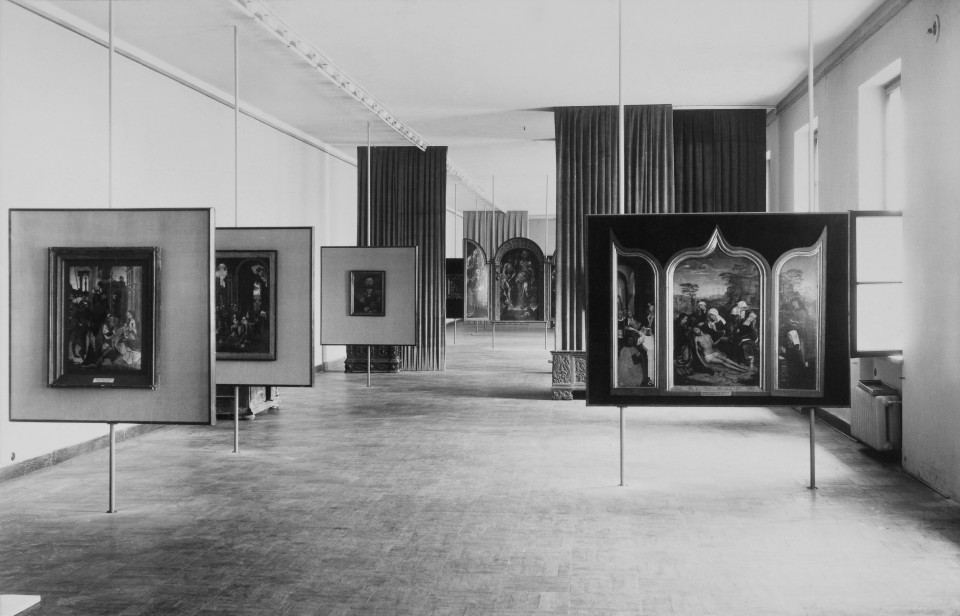 Wojciech Fangor, Stanisław Zamecznik_Study of Space_Nowa Kultura Salon in Warsaw_1958
Thursday, May 9, 2019
1pm (free and open to the public)
Residency Unlimited (RU)
360 Court Street (enter the Church through the main entrance)
Brooklyn, NY 11231
Focusing on the history of Polish exhibition design, the curator Aleksandra Jach and artist Krzysztof Skoczylas present the creative methodologies employed by artists and architects in a context of limited resources and scarcity of materials. In the decades examined, they describe how groundbreaking projects by Oskar Hansen, Stanisław Zamecznik, Wojciech Zamecznik, and Jacek Damięcki were developed. After 1989, artists and architects alluded in their projects to the practice of elder colleagues. Exhibition design as a discipline was expanded beyond the utilitarian and became a tool for emphasizing various meanings of artworks and the relations between them.
***
Aleksandra Jach is a curator at Muzeum Sztuki in Łódź, Poland. Her interests lie in political ecology, feminism, new materialism, posthumanism and other conceptualizations of environmental history and activism. Projects include: Antje Majewski et al. Apple. An Introduction. (Over and over again) (with Joanna Sokołowska), in (2014); Superorganism. The Avant-garde and the Experience of Nature, (2017); Shapeshifting: Eisenstein as Method, (2018); Avant-garde and Socrealism (with Marta Olejniczak, Piotr Olkusz); Everything Is Connected to Everything Else, Festival of Literary Translators in Gdańsk (2015): The Anthropocene Index (2015). Jach's recent exhibition How to talk with birds, trees, fish, shells, snakes, bulls and lions is currently on view at the Hamburger Bahnhof (Berlin).
An RU alum in 2014, Krzysztof Skoczylas is an artist whose practice lies at the intersection of art and design.His focus on design is related to the context of the working of memory and of recycling as an ecologically important element of creative activity. Skoczylas is the author of exhibitions' design, workshops, and space interventions for many cultural institutions (CCA Ujazdowski Castle in Warsaw, Fort Institute of Photography, Muzeum of Art in Łódź, CCA Wyspa Institute of Art in Gdańsk, Polish Institute in Berlin, and other). He was part of the building design team of Warsaw's Sculpture Department of Academy of Fine Arts . He was also actively involved in the Warsaw Housing Standard. He currently works on the rebuilding of the office space at CCA Ujazdowski Castle, and runs his own architectural office.
This program is supported by Beach64retreat in the Rockaways, Queens, New York, currently hosting the residencies of Aleksandra Jach and Krzysztof Skoczylas. Beach64retreat was founded in 2017 to support contemporary culture on a micro level, and to promote global cultural exchanges in times when it is more and more difficult for creative individuals around the globe to thrive.
RU's Meet Over Lunch series is an ongoing invitation extended to local and visiting art practitioners to present their practice and projects over lunch to the RU community.