Exhibition | Sep 2 - 24 2023
MASKS by Gabriele Grones and Peter Depelchin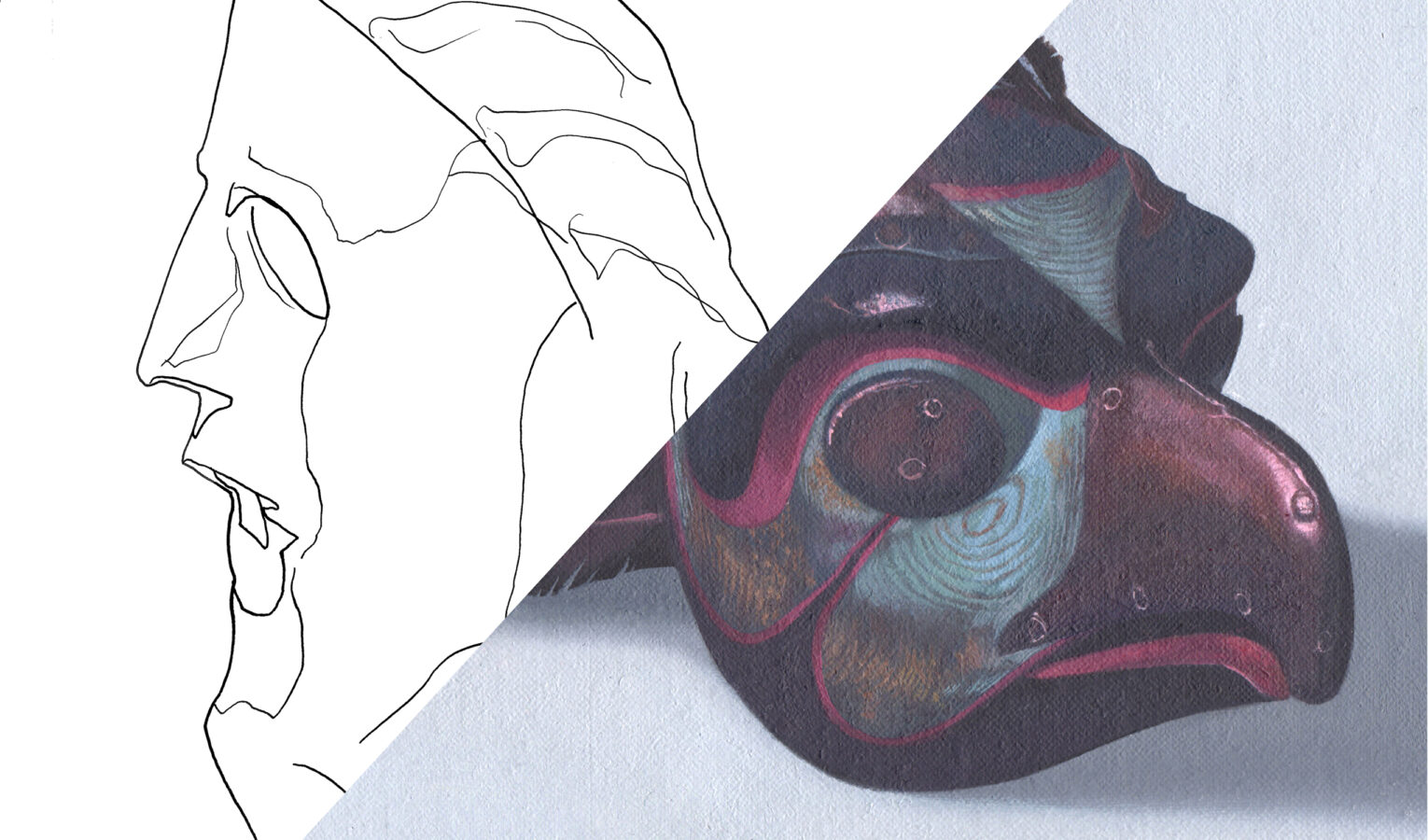 Opening: Saturday September 2, 2023 | 11:00am - 5:00pm
On view: Fridays - Sundays, until September 24 | 11am - 5pm
KODA/RU House, #404B Colonels Row | Click here for access to Governors Island
"Masks", a duo show by 2023 RU artists Gabriele Grones and Peter Depelchin, two celebrated artists living and working in New York City, offers a visual excursion through drawing, painting and video installation.
In his works, Peter examines how faces are represented in mask, facial morphology and distortions employed. The imagery he uses takes as a starting point Phoenician, Roman, Greek, Native American and Japanese masks which he then translates into highly hybridized depictions of Satyrs and Fauns. While satyr has its origins in Greek mythology, the faun is a mythical creature found in Roman literature. Depelchin's elaborate drawings lead the spectator from one singular mask to a multitude of layered masks, which literally get under your skin.
Gabriele's case-studies are intensely elaborated both as concept and as painted representations. With his works he focuses on the connections between different cultures, delving into ancient ritual customs and habits through the pictorial analysis of symbols, objects, natural details, figures and compositions. For this occasion, he created a series of meticulously painted masks of Native American tribes, from the collections of the Metropolitan Museum of Art.
About
Gabriele Grones is a painter and visual artist currently based in Brooklyn. In 2009 he received his MFA in painting and visual arts from the Academy of Fine Arts, Venice, Italy. He took part in two editions of the Venice Biennale: Atelier Aperti in 2005 and 'Lo Stato dell'Arte' – Art Academies Pavilion in 2011. In 2008 Grones has been selected for the BP Portrait Award at the National Portrait Gallery, London. He participated in artist residencies, such as ESKFF Foundation at MANA Contemporary, Jersey City and Residency Unlimited, Brooklyn, New York. Grones has exhibited in many group and solo exhibitions, in venues including: National Portrait Gallery (London); Royal Society of Painters (London); MEAM Museum (Barcelona); MART Museum (Rovereto); Galleria Civica (Trento); Volkskunstmuseum (Innsbruck); Kunsthaus HB55 (Berlin); Museum of Arts (Cluj- Napoca); National Museum of Fine Arts (Valletta); Galleria San Fedele (Milan); Fort Wayne Museum (Fort Wayne); Palazzo Fulcis (Belluno); Ca' Pesaro Museum of Modern Art (Venice); Palazzetto Tito (Venice).
Peter Depelchin is a drawing artist, printmaker and video artist. In 2007 he received his MFA in drawing and printmaking at the LUCA School of Arts, Ghent, Belgium. He currently lives in Jackson Heights (Queens), New York. His work stands for a visual and mystical trip through art history, iconography, mythology and astrophysics. Represented by Husk Gallery (Brussels), Peter Depelchin was selected for art residencies at Stichting IK, Vlissingen '08-'09 (NL), at the Academia Belgica, Rome '14-'15 (IT), at RU, New York, '15-'16 (US) and at TAMAT, Tournai '22 (BE). Exhibitions in The Netherlands (Neugebau, Pieter Jansz Saenredam project, Gegoten Lood), in Rome (MAXXI) and in New York (Incube Arts, Offspace, Arts on Site, Outside In, Brilliant Champions Gallery). He was invited to exhibit in Brussels (Kasteel van Gaasbeek, La Vallée) and in London (Young Masters). In 2023 Peter Depelchin realizes his "Hommage à Pan" at the Chateau Thozée and at the Museum Félicien Rops in Namur (BE). Peter was awarded art prizes in numerous art competitions, among which Input-Output (Bruges, 2007), Grote Prijs Ernest Albert (Mechelen, 2016) and the Prix Elisabeth Burdot (Brussels, 2022). Other venues at Galerie Jan Colle / S&H De Buck Gallery / Light Cube Gallery / Nathalia Tsala Gallery (BE) / Brilliant Champions Gallery / Fou Gallery (US) and Husk Gallery (BE).