Talks | Feb 10 2017 9am - 4:30pm
Embedded, Embedding: Artist Residencies, Urban Placemaking and Social Practice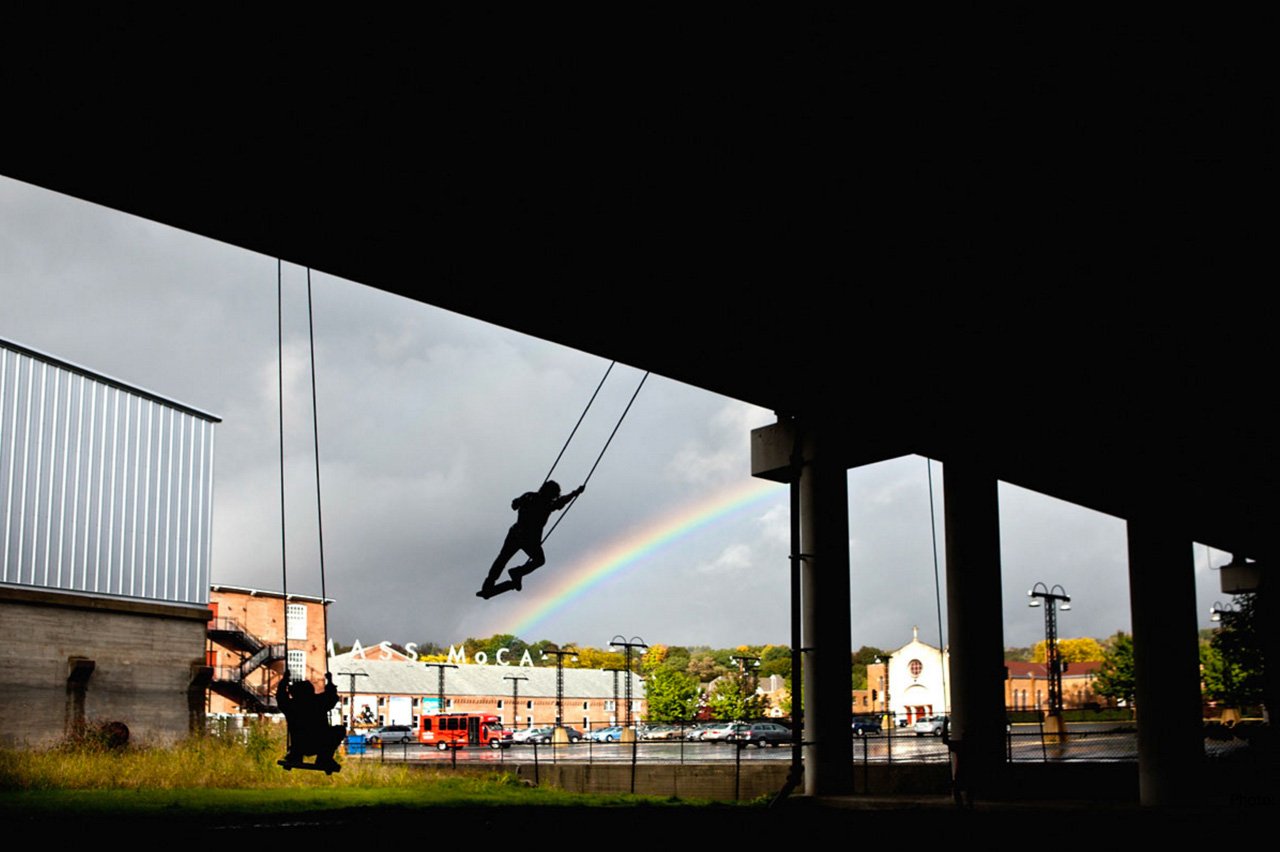 Jane Philbrick, The Expanded Field: "Swings," Mass MoCA Rt 2 underpass, 2011 (Photo: Tony Cenicola)
Join us for a timely event of lively discussions and stimulating exchanges.
Friday February 10, 2017
9am-4:30pm
Theresa Lang Community and Student Center, Arnhold Hall
The New School/Parsons
55 West 13th Street, Room I-202, New York, NY 10011
Free and open to the public. Advance registration required.

---
Residency Unlimited (RU) is pleased to collaborate with the New School/Parsons MFA Fine Arts Program on presenting the day-long symposium Embedded, Embedding: Artist Residencies, Urban Placemaking and Social Practice, curated by Livia Alexander.
Whether focused on social practice, creative placemaking, or industry collaborations, residencies today provide important models of support for artists in all these areas. Through panel discussions, spotlight presentations and audience exchanges, the symposium aims to thoughtfully and critically examine the connecting and diverging points between the needs of communities, artists' needs for materials and professional support, and those commissioning and underwriting such initiatives.
Speakers include Julia Kaginskiy (NEW INC, New York), Theo Edmonds (IDEAS xLab, Louisville KY | New York), Jaret Vadera (artist, New York), Gia Hamilton (Joan Mitchell foundation, New Orleans), Ruth Borgenicht (artist, NJ), Jane Philbrick (artist, Boston | New York), Maureen Chung and Laura Schwamb (Project61), Tom Finkelpearl, Shirley Levy, and Diya Vij (NYC Department of Cultural Affairs), Sara Reisman (Shelley & Donald Rubin Foundation), Sheetal Prajapati (artist, curator and educator, New York), Tania Bruguera (Havana, Cuba | New York), Regine Basha (Pioneer Works), William Powhida (artist, New York), Steffani Jemison (artist, New York), Francesca Fiore (artist, New York), and Sarah Calderon (Artplace America).
Embedding, Embedded is organized within the larger context of the RU Dialogues, a platform designed to fill a void in the study of the role and impact of residencies and the evolving field of art residency as a historical, cultural and critical phenomena.  It plays the role of a repository to commission, collect, and publish essays, articles, interviews, and critical information on the concept of residencies, a subject that is relatively young and unexplored within the realm of the creative industry.
Livia Alexander is a curator, scholar, creative entrepreneur, and Chair of the Department of Art and Design at Montclair State University. She has curated and exhibited numerous art and film programs at leading international institutions, including the Museum of Modern Art, New York; Tate Modern; Dubai Art Fair; Sharjah Art Foundation; Brooklyn Museum; Queens Museum; Lincoln Center NYC; Pacific Film Archive; and many more. Alexander's award-winning scholarly writing has appeared in Journal of Visual Anthropology, Framework, MERIP, Hyeprallergic, and Harpers Bazaar Art Arabia, as well as variety of edited volumes. Alexander is co-producer of the recently released interactive documentary, Jerusalem, We Are Here (Canada/Palestine/Israel, 2016), directed by Dorit Naaman. She is the co-founder of ArteEast, a non-profit organization established in 2003 to support and promote artists from the Middle East, North Africa and its diasporas, which she directed until 2013. Dr. Alexander holds a Ph.D. from New York University in Cinema and Middle East Studies and is currently researching for an upcoming book on the politics of food and art.
Residency Unlimited is a Brooklyn-based nonprofit that develops carefully-customized residencies designed to support artists as they create new works and advance their careers.
This program is made possible with generous support from Humanities New York, ArtPlace America, MFA Parsons Fine Arts / The New School, and The Department of Art & Design Montclair State University.