Exhibition | Nov 16 2013
Dual rhythms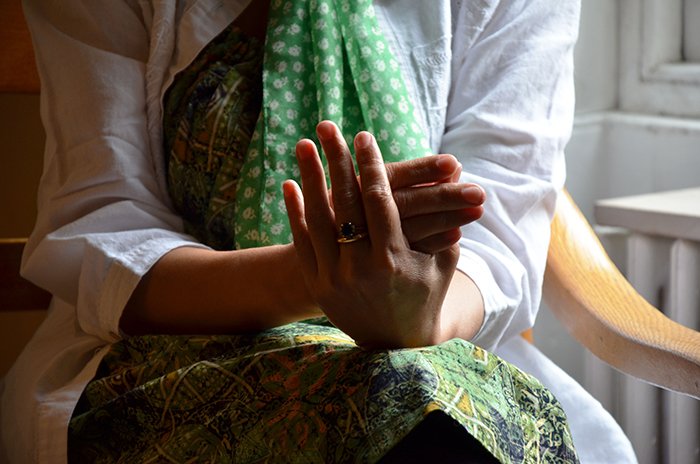 A group exhibition with new work by Erika Baglyas, Jonathan Lemieux, Katharina Marszewski and Yoon Bo-Sook and organized by Luise Kaunert.
Saturday November 16, 2013
12pm-6:0pm – Free and open to the public
Residency Unlimited
360 Court Street #4 (big green doors)
Brooklyn, NY 11231
 4pm : Conversation between Luise Kaunert and the artists.
Curated by Luise Kaunert,  the exhibition "Dual rhythms" explores different streams of thoughts that delicately link the individual and society, abstraction and narration, matter and metaphysics. Subtle intersections and carefully constructed oppositions emerge in the works of four artists, Erika Baglyas, Jonathan Lemieux, Katharina Marszewski and Yoon Bo-Sook, who engage on different levels with the human being. Multiple narratives unfold at the verge of identity related issues, sociological concerns and the duality of existence and awareness.
The show encompasses a variety of media, including video, photographs, drawings, collages and sculpture, and traces the aspects of the unique creative process of each artist:
-Lemieux evokes the bitter-sweet memory of lost friends and family members in three video portraits composed with archival footage. Presented deliberately on a small screen, these lively personal depictions contrast in scale with a series of photographs whose subliminal aesthetic camouflages the tragedy contained in the objects they represent.
-Baglyas' video and drawings attempt a reading of the psychological and sociological ramifications of displacement. While her video is focused around the body language of political refugee Cordula Maria Rien Kuntari, internationally recognized journalist and presidential correspondent, her surreal, dreamlike works on paper suggest a free interpretation of their encounter and resonate in a very sensitive way with Baglyas' own experience.
-Marszewski's installations incorporate drawings, paintings, photographs and objects selected for their poetic nature, aesthetic potential or evocative character. Her work emphasizes the significance of words, images and rhythm within a visual language that examines the spatial and metaphysical relationships between abstract and representational elements.
-The conscious existence in the digital age is at the core of Yoon Bo Sook's artistic inquiry. Her sculptures and media installations, "Action, Reaction, and Interaction", are inspired by living cells and organic structures. They frame the argument that the duality of the particle and the whole, the molecule and the organism, is fundamental to the understanding of the world.

"Dual rhythms"  is made possible with the support of ACAX | Agency for Contemporary Art Exchange as well as the Trust for Mutual Understanding; Le Conseil des Arts et des Lettres du Québec (CALQ); Seoyeong University (Korea) and Mloda Polska Grant from Narodowe Centrum, Kultury, Poland as well as  A-I-R Laboratory/Centre for Contemporary Art Ujazdowski Castle in Warsaw (Poland) and by public funds from the New York City Department of Cultural Affairs in partnership with the City Council.

Bios:
Katharina Marszewski (b. 1980 Warsaw)  lives and works in Berlin and Warsaw. In 2009 she graduated in Fine Arts at the Hochschule für Bildende Künste Braunschweig. Her focus lies mainly in combining together printmaking, semiotics and the everyday life in various two and three dimensional ways.
Recent exhibitions and participation: Liste18 Basel (2013); CV CE LA VIE, Exile Gallery, Berlin (2013); Optik Boom, Stereo Poznan (2012); Piekna Pogoda, Foksal Gallery Foundation, Warsaw (2011); Daddy I ´m into installation now, abc, Berlin (2010); Adorable Walker, Schaufenster Kunstverein Düsseldorf (2009).
During her residency in the CCA Warsaw in 2012, Marszewski set up PORTHOS a temporary space in the city center. The intention of the project was to underline the visibility of an artistic production and a way of questioning representation. With RU, Marszewski will continue exploring the field of new possibilities for visual artists as well as precise her passion in large scale collages.
Katharina Marszewski's 2 months residency at RU (Fall 2013) is supported by the Mloda Polska Grant from Narodowe Centrum, Kultury, Poland as well as  A-I-R Laboratory/Centre for Contemporary Art Ujazdowski Castle in Warsaw (Poland)
Erika Baglyas (b.1973, Paks, Hungary) is an artist, performer and art critic who lives and works in Budapest. A graduate student from the Faculty of Visual Arts, University of Pécs, Baglyas has received the following awards:  Derkovits Gyula Scholarship (2004);   Kállai Ernő Scholarship (2008) and the Hungarian Academy in Rome Scholarship (2008). She is currently pursuing a doctorate at the Hungarian University of Fine Arts on the topic of "Social trauma as life situation – censored mind in the Kádár regime".  In 2012, she participated in the International Studio Program Künstlerhaus Bethanien, Berlin.
Baglyas's works are characterised by the connections between public and private spheres and the paradoxical emphasis on intimacy. "One's own reality is the only reality, because the only truth is subjectivity", she writes in a preface to one of her exhibitions. Texts are an essential part of her practice, in which she frequently uses writing. Since 2001 she has been creating conceptual pieces, mostly photographs, videos, installations and performances presented in public places and alternative venues. Baglyas often address issues with a sociological, psychological or philosophical perspective that are found in both public and private collections alike. Alongside her visual arts practice, Baglyas regularly publishes in specialist magazines and has been teaching at the Moholy-Nagy University of Art and Design in Budapest since 2009. (Kati Izinger)
Erika Baglyas' 3 months residency at RU (Fall 2013) is supported by ACAX | Agency for Contemporary Art Exchange as well as the Trust for Mutual Understanding.
Born in Drummondville (Québec), Jonathan Lemieux is a multidisciplinary artist who currently lives and works in Montreal. His video practice includes manipulating archival footage in order to create new fictional narratives, while his photographic work examines individual identity in the context of private and public space. Jonathan Lemieux studied at Concordia University (Montreal) where he obtained a BFA in Intermedia/Cyberarts in 2010. His vidéo works are distributed by Videographe (Montreal) and Vtape (Toronto), and have been screened around the world in various festivals and events, including the Kashish-Mumbai International Queer Film Festival (Mumbai, India), the BFI London Lesbian and Gay Film Festival (London, UK), and at Spaces Gallery (Cleveland, Ohio, USA).
Yoon, Bo Sook (b.Seoul 1964) studied at the Yonsei University – College of Human Ecology where she majored in Child Development and Family Life, followed by graduate studies in English Literature at the Arizona State University. As a multi-media artist, she received her PHD degree in Fine Art at Hongik University (Seoul). In 2013, she completed a Contemporary Art course at Sotheby's Institute of Art in New York. In her work, she strives to create harmonious situations through the use of digital technology to explore the essence of human nature whilst incorporating it within a larger social context. Yoon, Bo Sook is a professor and Director at the Art and Culture Center, Seoyeong University (Paju). In 2002, she was awarded the 4th contemporary Plastic Artist Prize and the first prize in the 17th Mudeung Fine Art Contest. She has had solo exhibitions in Sydney (Australia), Seoul (Gana Insa Art and Gallery Bhak), Gwangju (Shinsegae Gallery). She has participated in group exhibitions among others "The Spring of Contemporary Art", Gallery Ho (Seoul) and at the China Academy of Fine Arts (Beijing).
Yoon Bo Sook's 4 months residency is supported by Seoyeong University.
Luise Kaunert is an independent curator and art advisor who works in New York and Paris. Areas of focus include but are not limited to experimental and interdisciplinary art practices and new media art. Luise Kaunert is currently advising private collections in Europe and the US and has curated exhibitions for emerging and established art galleries in New York (Churner and Churner, Theodore: Art, Giacobetti Paul Gallery), and Paris (Villa Emerige, Galerie de France). She has managed and accompanied various exhibitions and large-scale projects of new media artist Chico MacMurtrie / Amorphic Robot Works and has written about his work.
Kaunert has studied linguistics, art history and art business at the University of Erlangen, University of Rennes, Ecole du Louvre and IESA in Paris, and has graduated from University of Erlangen in 1999.