Talks | Dec 7 2021 6:00pm
Critical Imagination: A research project by Matthias Liechti and Valerie Keller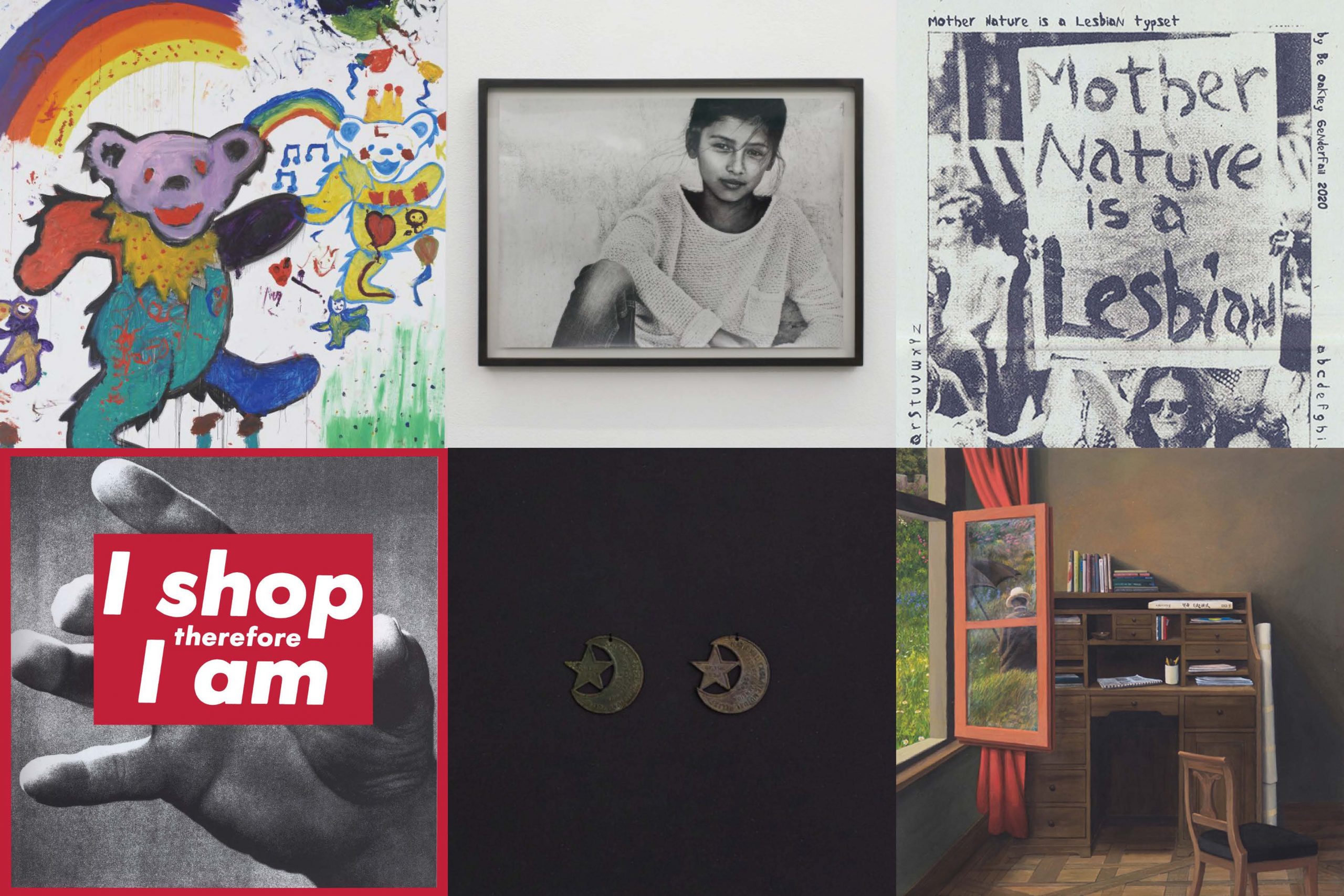 Invitations for Critical Imagination: LTR: Tina Braegger (Ich werde hier sein, im Sonnenschein und im Schatten, 2020), Thomas Julier (Distant Relatives, since 2012), Gender Fail, Be Oakley (Protest Sign Fonts, 2020), Barbara Kruger (I shop therefor I am, 1987), Cameron Rowland (National Ex-Slave Mutual Relief, Bounty and Pension Association Badges, 2016), Rita Siegfried (Im Garten, 2018).
Tuesday December 7 2021, 6:00pm
Residency Unlimited
360 Court Street (main green church doors), Brooklyn NY 11231
Swiss artist Matthias Liechti—currently in residency at RU—and cultural scientist Valerie Keller co-curated the artist-run-space Milieu in Berne (CH) from 2015 to 2020. In 2022 they will open a not-for-profit space in Basel (CH). Moderated by RU guest curator Zeljka Himbele this talk will focus on the cultural-political landscape and funding structure of not-for-profit spaces in Switzerland, as well as on Liechti's and Keller's current research about art which invites for 'critical imagination' - a specific way of producing art, exhibiting art and engaging with the art. An open discussion and drinks will follow the talk.
Click the image below to see photos from the talk.
About
Matthias Liechti lives and works in Basel. He received a bachelor in fine arts from the Bern Academy of the Arts in 2012 and a master in fine arts from the Zurich University of the Arts in 2018. In 2017 he was a fellow at the Fall Academy at Shiv Nadar University New Delhi. In 2014 he won the Kiefer-Hablitzel Award, in 2019 the Alexander Clavel Prize and in 2020 he was a nominee of the Swiss Art Awards. 2013 he was an artist-in-residence in Cetinje, 2014 in Shanghai and 2020 / 2021 in New York City. He was part of group exhibitions such as 30 X Young Swiss Art at Museo d'Arte Lugano (2014)' Old Friends New Ideas, New Ideas Old Friends at Milieu in Bern (2015), Interval in Space at Osage Gallery in Hongkong (2017), Unreal Estate at HAMLET in Zurich (2020). Solo shows include' Kaltes klares Wasser at Villa Wenkenhof in Riehen/Basel in 2019 and, This happened or maybe it did not. The time is long past and much is forgot at Silicon Malley in Prilly/Lausanne (2020). Liechti co-curated several exhibitions such as' Better Ideas for Life at Karlin Studios in Prague (2015) and Die Basis at Kunsthaus Langenthal (2015). From 2015 to 2020 he co-curated the artist-run-space' Milieu in Bern.
Valerie Keller lives and works in Basel and Zurich. She studied Popular Cultures Studies and Film Studies at the University of Zurich. In 2012 she graduated with a Bachelor's degree with the thesis' Funny Games and the Tension of Guilt and 2017 with a Master's degree with the thesis 'Mighty Tilt. Surgical body practices as techniques of self and external determination.' Since 2018, she has been working in a university research project at the Institute of Social Anthropology and Empirical Cultural Studies at the University of Zurich, where she has been writing her dissertation' Self-Care in the face of Dementia. Potentials of a Relational Practice. From 2012 to 2014 she worked for the international cultural festival Culturescapes, where she was responsible for the sections dance, theater and artist in residence. From 2011 to 2014 she worked as an Assistant for Theater Pedagogy at Junge Bühne Bern. Keller is co-founder of the theater collective' Sans Cible and the association for cultural production' Frank und Frei. From 2015 to 2020 she co-curated the artist-run-space Milieu. From 2022, she will be teaching as an Adjunct Lecturer in Popular Culture Studies, University of Zurich.
Zeljka Himbele is a curator based in New York City. Originally from Croatia, where she worked for several years at the Museum of Contemporary Art, Zagreb, she graduated at the Center for Curatorial Studies at Bard College, US. From 2008-2010 she worked at the Contemporary Art Department of the Museum of Art, Rhode Island School of Design, Providence, RI, working on a series of solo and group exhibitions for New Media Gallery. She frequently collaborates with G-MK Gallery in Zagreb, where she curated the exhibitions by Mark Tribe, Duncan Campbell, Eve K. Tremblay and, most recently, eteam. In 2021, Zeljka presented Stirring Glows at UrbanGlass Brooklyn, a group exhibition featuring neon-based works by artists engaged with urgent ecological, social and political topics. Currently she works on a few more collaborations with UrbanGlass.
This program is made possible with support from Atelier Mondial Basel (Christoph Merian Stiftung) and Prohelvetia. This program is also supported, in part, by public funds from the New York City Department of Cultural Affairs in partnership with the City Council.