Exhibition | Nov 4 - 20 2016
Conjunctions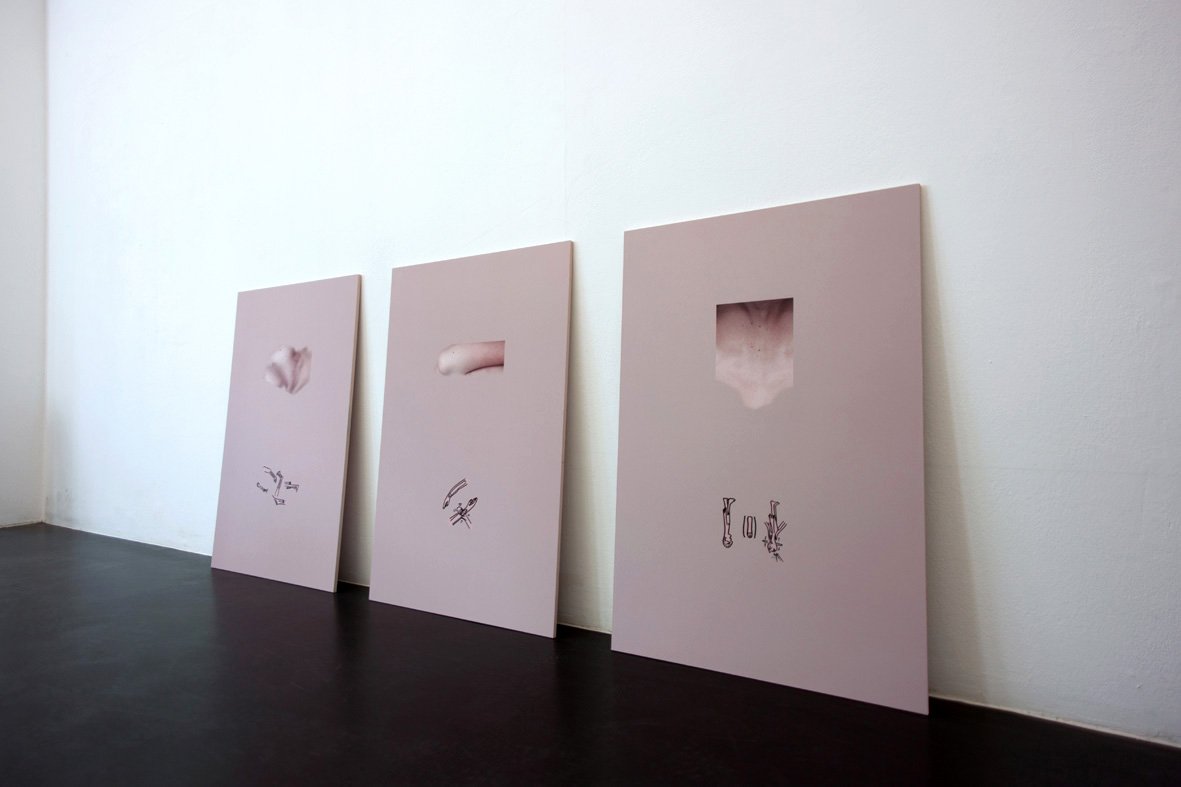 Jonas Weber Herrera, Untitled (Manifest), 2016, Inkjet prints, 23.6 x 15.75 inches each. Courtesy of the artist.
Opening Reception: Friday, November 4, 7-9pm
Viewing hours: November 4 - 20, Thurs-Sun: Noon-7pm
Peninsula Art Space, 352 Van Brunt Street, Brooklyn, NY 11231
Peninsula Art Space is pleased to announce Conjunctions, a group exhibition presented in collaboration with Residency Unlimited and curated by Rachel Valinsky. Featuring Heather Dewey-Hagborg, Jonas Weber Herrera, Andreas Savva, and Kato Six, Conjunctions presents new works developed over the course of their residencies as well as past works shown for the first time in New York.
Working across different media, Dewey-Hagborg, Weber Herrera, Savva, and Six gesture towards techniques of uncovering and concealing, projecting and laying bare, to compose bodies and populate space with forms. While Dewey-Hagborg and Weber Herrera's works deal specifically with questions of gender and embodiment, Savva and Six explore the life of forms, revealing through subtle yet complex manipulations the relationship of objects to their surrounding environment.
Photos of the opening and exhibition.

--
Rachel Valinsky is an independent curator, writer, and translator based in Brooklyn, New York. Recent projects include the International Festival of Text-Sound Poetry, organized with ISSUE Project Room, Itself Not So at Lisa Cooley, In and Around Collaborative Projects, Inc at Spectacle Theater, User Agent at Judson Memorial Church, and With and For at the Knockdown Center. Her writing has appeared in East of Borneo, Millennium Film Journal, BOMB, C Magazine and The Third Rail, and she is the editor of Warm Equations (Édition Patrick Frey, 2016). Rachel is the Director of Wendy's Subway, a library, reading room, and writing space in Bushwick and a contributing editor at Éditions Lutanie, Paris. In Spring 2015, she was an art writer in residence at the Banff Centre. Rachel holds a BA in Art History and Comparative Literature from Columbia University and is a doctoral student in Art History at The Graduate Center, City University of New York.
--
This is event is made possible with the support from Creative Capital and ThoughtWorks, Künstlerhaus Schloß Balmoral and Stiftung Rheinland-Pfalz für Kultur, Germany, The Ministry of Education and Culture, Republic of Cyprus, and the Flemish Government "Flanders, State of the Art".