Exhibition | Aug 14 - Sep 13 2015
Being Here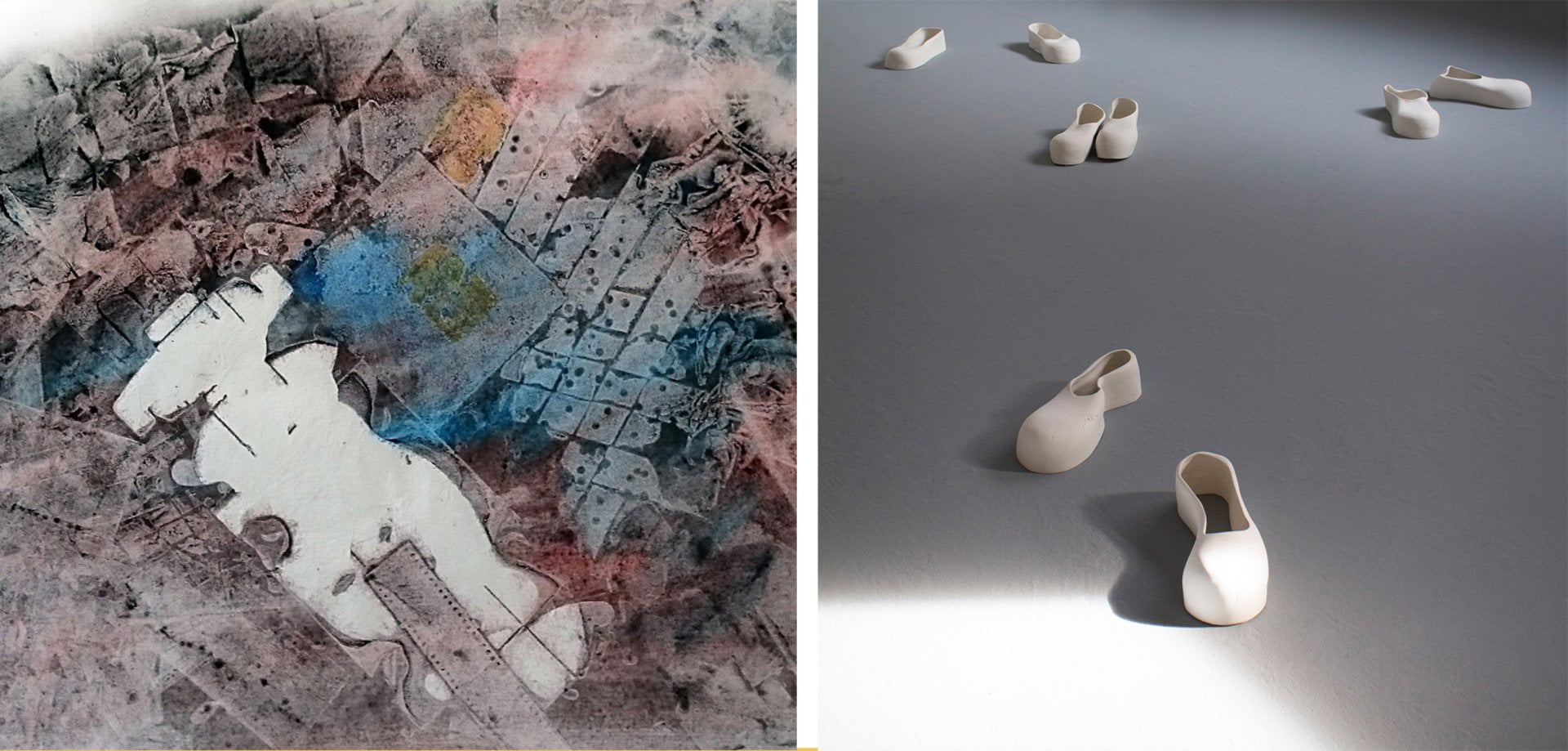 (left) Mei-Ling Liu, The Imprint of New York, 2015; (right) HsiangLu Meng, Being, ongoing
A show curated by Jodi Waynberg.
Opening: Friday, August 14, 5-7pm
On View: August 14 - September 13
Gallery Hours: Tuesday - Sunday, 12pm - 6pm and by appt.
Cuchifritos Gallery + Project Space
120 Essex Street NY, NY (inside Essex Market)
Residency Unlimited and Cuchifritos Gallery + Project Space are pleased to present Being Here, an exhibition of recent work by Taiwanese artists Mei-Ling Liu and HsiangLu Meng, curated by Jodi Waynberg. With each artist working in New York for a brief period of time, the city becomes a central character in their new projects: Being and The Imprints of New York. Both artists continue their investigations of the behavioral and material differences between cultures and, through imprinted compositions of discarded recyclables and porcelain clay cast shoes, create a diaristic interpretation of their intersections with the people and substances that make up a new city. From these observations, Liu and Meng compose new images, stories and connections that allow a sense of familiarity in an unfamiliar space.
--
Jodi Waynberg is the Executive Director of Artists Alliance Inc in New York City. Since joining AAI in 2012, Waynberg has curated several group and solo exhibitions including Liminal Inversions (Residency Unlimited, 2012), Philip Emde Destroyed My Life (Cuchifritos Gallery, 2013), The Real Estate Show, What Next: 2014 (Cuchifritos Gallery, 2014) and the forthcoming Little Gloating Eve (NYC and Milan 2014). Before joining AAI, Waynberg worked as Assistant Curator at the Contemporary Jewish Museum in San Francisco, where she curated and worked on numerous exhibitions including Chagall and the Artists of the Russian Jewish Theater, 1919-1949 and Maira Kalman: Various Illuminations (of a Crazy World). She has served as a visiting critic at Residency Unlimited, The Wassaic Project, and the Hunter College MFA Program. Waynberg graduated Phi Beta Kappa from the University of California, Santa Cruz with a BA in art history, earning honors for her thesis Judgement's Consumption: De-flective Judgement and Thomas Struth's Museum Photographs series.
This exhibition is presented in collaboration with Artists Alliance Inc. We are grateful to the Ministry of Culture, R.O.C.(Taiwan) and the Taipei Cultural Center in New York for supporting the residencies of both Mei-Ling Liu and HsiangLu Meng at Residency Unlimited and Artists Alliance Inc.
This program is supported, in part, by public funds from the New York City Department of Cultural Affairs in partnership with the City Council.
RELATED: