Talks | Dec 4 2023 6:00pm
Art and Conflict—The Impact of Theater in Lebanon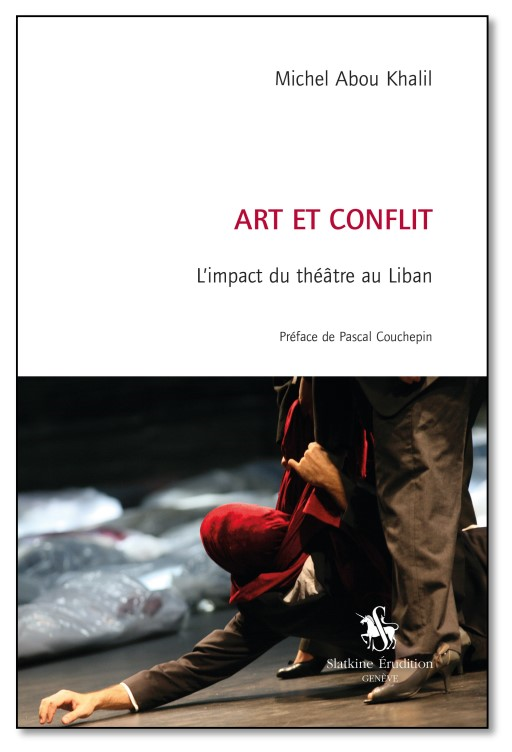 Book cover: Michel Abou Khalil, "Art and Conflict: The Impact of Theater in Lebanon"
Monday December 4, 2023 | 6:00pm
Location: Residency Unlimited
360 Court Street (main green church doors), Brooklyn NY 11231 (map)
In addition to taking place in-person at RU, this program will be streamed online via Zoom at this link.

In his recent book Art and Conflict: The Impact of Theater in Lebanon (Geneva: Editions Slatkine, 2022), Michel Abou Khalil offers unique insight in the role of theater as a bringer of peace in a Lebanon traumatized by recurring tensions. This art form is a lifeline against violence and everyday trauma, helps decipher crises, and activate long-term reconciliation. Abou Khalil will survey the history of Lebanese theater practice through its societal roots, post-war memorial research impact on peacebuilding in contemporary Lebanon. Three theoretical fields serve as a framework: the effectiveness of catharsis, the work of memory and a new interdisciplinary field of investigation focusing on the resolution and transformation of conflicts through "Art in Conflict".
This essay results from Abou Khalil's doctoral research and professional experience both as a theatrical performer who lived through the civil war and as cultural attaché at the Swiss Embassy in Beirut. As a cultural producer, one of his goals is to measure the effectiveness and limits of theatrical practice in the promotion of peace and human rights.
About
Michel Abou Khalil gained a Masters degree in Drama at the Lebanese University followed by a doctorate in French literature at the Arab University of Beirut (BAU). His writings include "POST-WAR CULTURE AND RECONCILIATION: FROM OPTIMISM TO RESILIENCE", "L'ART POST-CATASTROPHE: UN TÉMOIN ACTIVISTE" and "WRITE TO HEAL: THE THEATRICAL WORKSHOP FOR THINKING AND HEALING WOUNDS". Former cultural attaché at the Swiss Embassy in Lebanon, Abou Khalil is the co-founder of SWISS MADE CULTURE, an association which celebrates the culture of Switzerland in dialogue with the world.