Talks | Mar 8 2016 6:30pm
"Annulment of the End of Things" – A Reading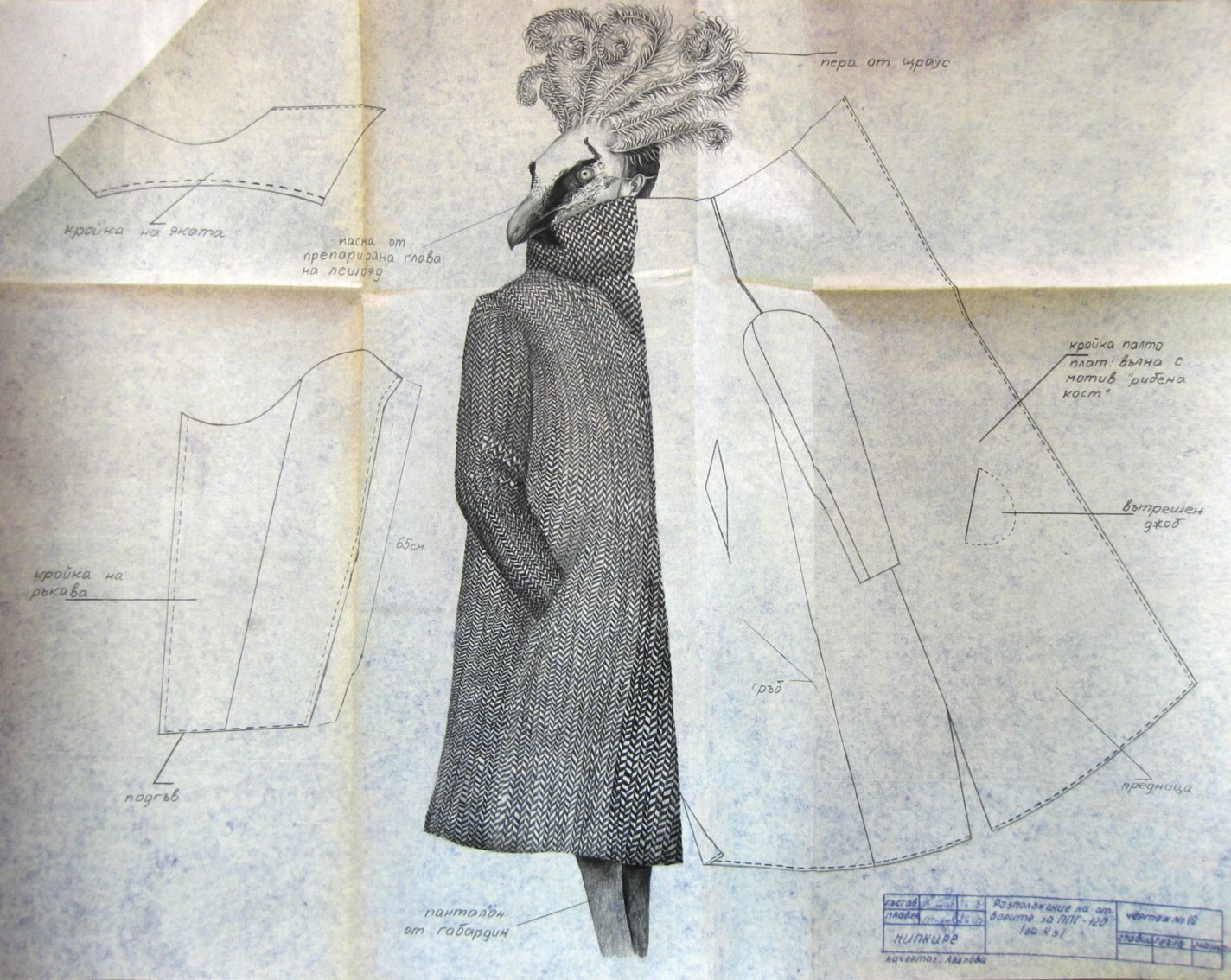 Aleksandra Chaushova, Annulment of the end of things, costume, 2015, digital print and pencil drawing, 47x60cm
Tuesday, March 8, 2016
6:30 pm (open and free to the public)
Residency Unlimited
360 Court Street
Unit #4 (enter through the big green doors)
Brooklyn, NY 11231
Alexandra Chaushova, winner of the 2015 BAZA Award in Buglaria, will stage a reading of her tragicomic one-act play entitled "Annulment of the End of Things," based on the architectural plans for Georgi Dimitrov's, the country's first communist leader, mausoleum in Sofia. More than just Dimitrov's body, the mausoleum was meant to preserve and expose an ideology for eternity. The building has since been destroyed, but Chaushova's play revisits this historical episode to explore not only how history is mythologically constructed but how our subsequent retelling and reclaiming of history employs fact and fiction in equal measure. The accompanying photographed and reproduced original plans serve as set design for the play, while black graphite drawings of stage costumes, signaling to fashion history, employ her signature haunting iconography. Originally a project for/or archive a theater play, Dramatis personae such as The Architect, The Mortician, and A Dream will be voiced at RU.
The play, much like Chaushova's overall practice, which includes graphic printing, illustration, painting and writing, is marked by strategies of creating history and collective memories at the border between history and fiction. Her drawings, imbued with fantastical elements and dream-like sequence, are a blend of official, retouched, unspoken, falsified, manipulated or censored history with her own memories or those of her family and friends, and elements of the subconscious. In her hands, invented truth and documented fiction are indistinguishable.
Aleksandra Chaushova made her debut in 2003 with the book "Bzzz-z-z-z" (poems and dreams), which won a subsidy from the Soros Center for Cultural Policies and the Prohelvetia Arts Council of Switzerland. Since then, she has taken part in numerous exhibitions. In 2014, she participated in a show at the Art Center Hugo Voeten, Herentals, curated by Vessela Nozharova. In 2013 , with ReSiDuE, WIELS Center for Contemporary Art, curated by Dirk Snauwaert und Agata Jastrzabek, Brussels. In 2015 her work was featured in the BAZA Award exhibition at the Sofia City Art Gallery (Bulgaria) and in the Faber-Castell International Drawing Award at the Neues Museum (Nuremberg, Germany. In 2016, Chaushova will have 3 solo shows at La Centrale Lab in Brussels, the Institute for Contemporary Art Sofia, and at Lokaal01, Antwerp.
--
Aleksandra Chaushova's 2-months residency is made possible with funds from Foundation for a Civil Society/The Trust for Mutual Understanding.
This program is supported, in part, by public funds from the New York City Department of Cultural Affairs in partnership with the City Council.