Arts Program Events in Downtown New Rochelle Throughout Summer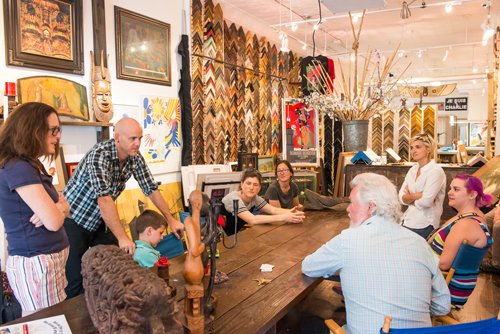 anderson-0952-500
Visiting Artists Will Stage Shows, Installations, Events in Downtown New Rochelle Throughout Summer
Exploring Sights, Sounds, Social Interactions in Contemporary Art Projects
A Joint Initiative by Downtown BID and Residency Unlimited
A group of innovative contemporary artists will captivate and engage residents and visitors in downtown New Rochelle throughout the summer with installations, performances and pop­-up exhibitions that will meet people in storefronts and public spaces, including the Library Green at the heart of the district.
Moving beyond the traditional studio model, the artists will aim to re­-examine daily life in all its interactions – the way we see, hear, speak to each other, transact business and even dine together. They will include six artists based for the summer in an apartment building under renovation, 5 Anderson Street, as well as other visiting artists in a joint initiative of the New Rochelle Downtown Business Improvement District (BID) and Residency Unlimited, a Brooklyn-­based organization that supports contemporary art with residencies and public programs.
Curated by Livia Alexander of Residency Unlimited, the works will interact with the New Rochelle community in participatory and socially engaged projects installed in the storefronts and vacant spaces and at the downtown Grand Market that comes each Saturday to Ruby Dee Park at Library Green.
Artists in the residency are Brandy Bajalia, Meredith Degyansky, Victoria Estok, Thiago Goncalves, Wade Schaming, and Stephanie Spitz. Their base, called ART at 5 Anderson, will be in the renovated apartment building's large storefront on North Avenue. The 4-story building has been gut-renovated to offer 38 luxury apartments with full amenities in a prime downtown location. With the units now coming onto the market, owners Mark and Robert Fonte are donating the use of the storefront, two apartments, lobby, rooftop terrace, courtyard terrace and gym and community spaces to the arts program.There, the artists will experiment, explore and develop their work, presenting it throughout the summer in impromptu events, engagements and exhibitions, as well as two open studio events on July 16th and August 27th.
...

The program runs through September 25, 2016
Studio Location: 5 Anderson Street, New Rochelle, NY
Read the full article at newrochelledowntown.com.
Follow the New Rochelle Artist Residency on Facebook.
RELATED: