Exhibition | Feb 20 2014
This Exhibition Has Everything To Go Wrong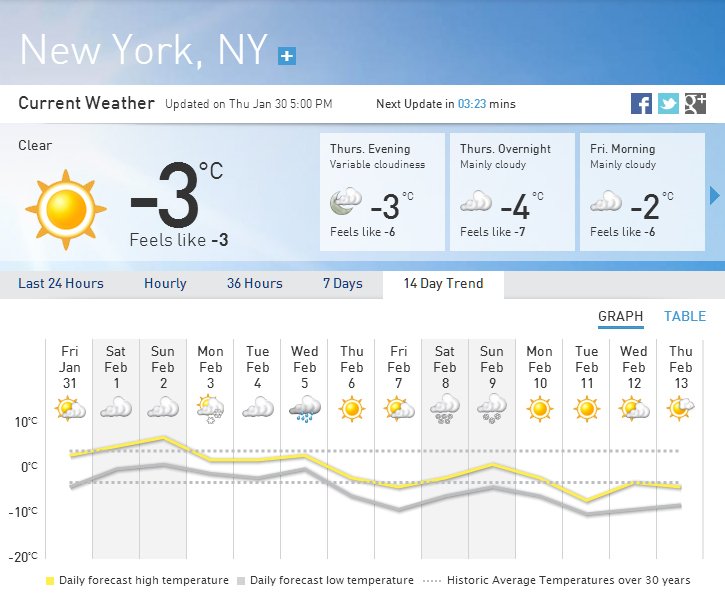 14 Day Trend New York, NY, The Weather Network, 2014. http://www.theweathernetwork.com/ accessed on Jan 30 2014.
A group show with Manon Harrois, Maria Lynch and Avelino Sala . This exhibition proposal is curated by Marina Noronha and organized by RU.
Show Viewing: Friday February 7 -- Saturday March 15
Launching Reception: Thursday February 20, 2014, 6-8pm with performance by Manon Harrois at 6:30pm
Closing (aka Opening): Sunday March 9th, afternoon
Abrons Art Center
466 Grand Street (at Pitt Street)
New York, NY 10002
This Exhibition Has Everything To Go Wrong and takes the time the show is open to the public to emphasize that exhibitions are not a fixed space whose conditions are taken into the process of exhibition making, testing, and displaying artworks. Whereas Manon Harrois, Maria Lynch and Avelino Sala first met in person a month ago in January when they first began their residency at RU, they had only just started discussing the show together with Marina Noronha shortly before. This exhibition starts as three solo shows and progresses weekly into a group show.
With time and geographical distance therefore not quite on our side at first, the overall strategy is to stretch the schedule to make time and space by turning backwards the process of conceiving an exhibition. Rather than having a theme, these conditions are what feeds the exhibition making and inter-weaves our thoughts—we hope tension and resolution will happen naturally by consecutively putting (and removing) things together.
This six-weeks project is altered weekly where the exhibition (un)does itself to surpass distance and transform what would be commonly considered unproductive conditions into knowledge production. The freedom and emphasis that RU offers to its residents was borrowed to conceptually think of an exhibition also as a place where a pre-determined outcome should not be expected and where there is room to re-think production and propose potential solutions.
From February 7 to March 16, on three consecutive Mondays, when the space is closed to the public, the exhibition will be altered and a new re-configuration is going to take place in order to test how artworks react to each other within Abrons Arts Center's main gallery. Alteration here means an attempt to propose solutions for neutralizing the exhibition space with what is on display. Inclusion, rearrangement, or removal of artworks are expected. The hope is that collaborators will get more familiar with each other's work and the space itself. This curatorial statement will also be updated weekly to keep up with additions and/or removals. The show is under production during its public presentation. A final configuration is going to be presented on March 9. The closing of the show is its opening.

Bios:
Manon Harrois is a pluri-disciplinary artist who lives and works in France.
Maria Lynch is a multimedia artist from Rio de Janeiro, Brazil, where she lives and works.
Marina Noronha is a curator from Brazil currently based in New York and Turin, Italy.
Based in Barcelona, Avelino Sala is an artist, editor of Sublime magazine, and curator in the group Commission Curatorial Collective.
This program is supported by public funds from the New York City Department of Cultural Affairs in partnership with the City Council, as well as by OiFuturo from Brazil, E-Cep, Region Champagne Ardenne – ORCCA, AC/E Accion Cultural Española.