Event | Mar 28 2016 6:30pm
"Suitcase Under The Bed" Ephemera Gathering Workshop with Ajamu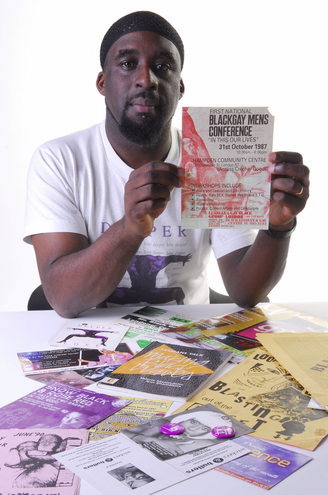 Monday, March 28, 2016
6:30 - 8:30pm (free and open to the public)
The LGBT Community Center
208 W 13th St, Room 310
New York, NY , 10011
The closing event of Ajamu's RU / Visual AIDS' Curatorial Residency will be this "Suitcase Under The Bed" Ephemera Gathering Workshop. The community-based discussion will bring together many of the folks Ajamu met during his residency and encourage these artists and activists to delve into their personal archives and share the intimate materials they keep close. The event will also engage participants in the Visual AIDS Artist+ Registry content that Ajamu researched throughout his month-long residency in New York City, particularly highlighting the experiences and ephemera of Queer Trans Intersex People of Color artists and activists.
The "Suitcase Under The Bed" Ephemera Gathering Workshop is co-presented in collaboration with Visual AIDS and The LGBT Community Center.
--
Ajamu is from London and is one of the leading historians concerning Black LGBT history in the UK. He has worked with a cross section of community organizations within the HIV/AIDS sector in the role of Black Gay Men's Outreach worker, trainer and workshop designer for Gay Men Fighting Aids (GMFA), freelance consultant, photographic tutor and freelance photographer—creating images for safer sex campaigns, flyers and posters in relation to activism and social justice. Ajamu is also the co-founder, along with Topher Campbell ( Theatre Director and Film Maker), of the rukus Federation, an organization dedicated to show casing the best in challenging and provocative works by Black queer artist, activists and cultural producers and the rukus! Black LGBT Archive.
--
Ajamu's one-month residency is made possible and co-sponsored within the framework of the collaboration between RU and Visual AIDS.