Talks |
RU TALK: Blackspace Conversation Series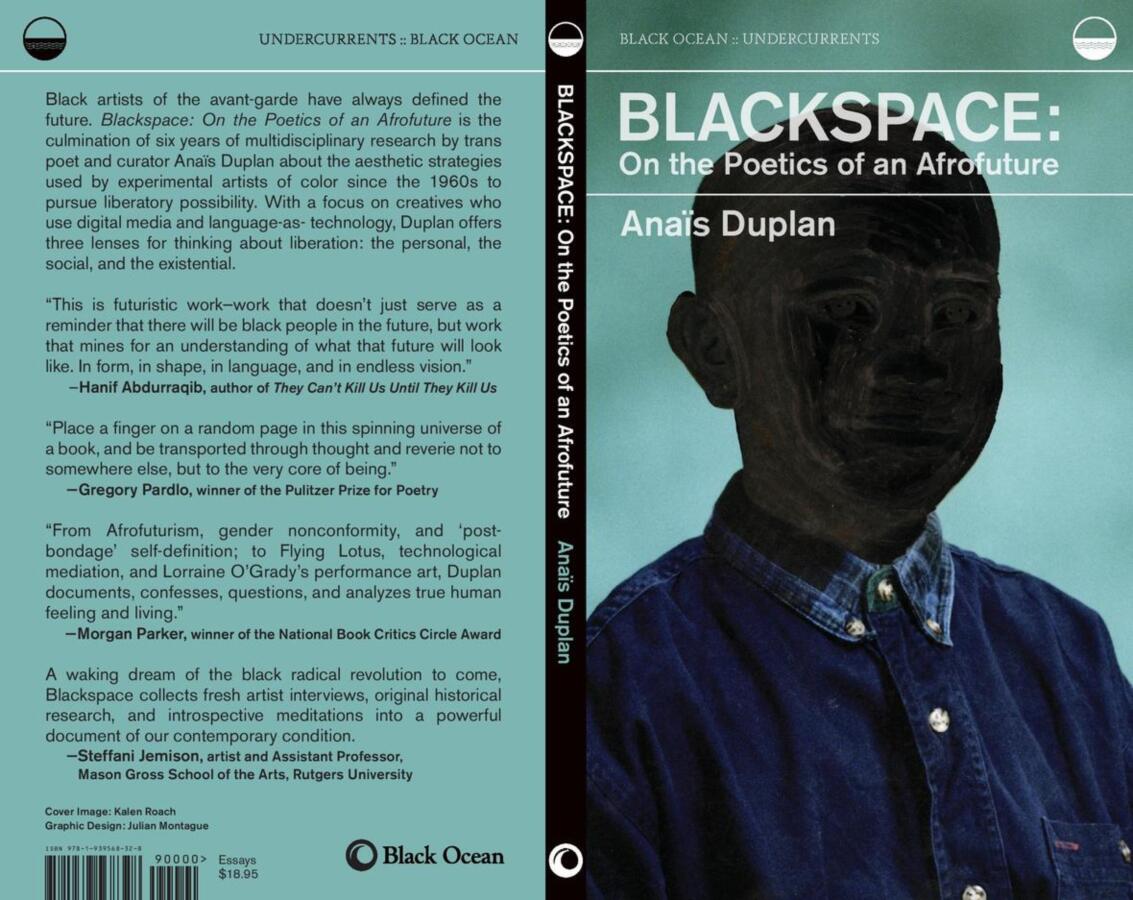 Black Ocean/Black Space cover bleeds
Virtual Event
Saturday Jan 16th 2021, 4pm EST
Featuring Oneika Russell, Dyani Douze, Abdullah Qureshi
Moderated by: Anaïs Duplan
Watch the talk below.
Conceived and led by RU 2016 curatorial alum Anaïs Duplan, this program invites the RU Alum artists Oneika Russell and Abdullan Qureshi as well as the Detroit based artist Dyani Douze into conversation about the role of digital media and performance for contemporary artists of colors in furthering freedom pursuits. In Blackspace: On the Poetics of an Afrofuture, Anaïs Duplan offers three frameworks for considering liberation: the individual, the social, and the universal. Inspired by the lineage of artists of color using digital media and performance to work toward these three kinds of freedom, this conversation program invites us to consider the current social movement for Black liberation in the context of the history of artist-activists who have mobilized time-based media to further social justice.
About:
Dyani Douze: Producer, composer, sound healing practitioner & DJ Dyani works in the underground electronic music tradition of sonic myth-making to resurrect spiritual tradition, ancestral memories, generational trauma and healing. A student and lover of afrodiasporic dance music like Detroit techno and South African gqom, the Detroit-based artist released their debut album, "Under" in September 2020.
Anaïs Duplan is a trans* poet, curator, and artist. He is the author of a book of essays, Blackspace: On the Poetics of an Afrofuture (Black Ocean, 2020), a full-length poetry collection, Take This Stallion (Brooklyn Arts Press, 2016), and a chapbook, Mount Carmel and the Blood of Parnassus (Monster House Press, 2017). He has taught poetry at the University of Iowa, Columbia University, Sarah Lawrence College, and St. Joseph's College.
As an independent curator, he has facilitated curatorial projects in Chicago, Boston, Santa Fe, and Reykjavík. He was a 2017-2019 joint Public Programs fellow at the Museum of Modern Art and the Studio Museum in Harlem. In 2016, he founded the Center for Afrofuturist Studies, an artist residency program for artists of color, based at Iowa City's artist-run organization Public Space One. He works as Program Manager at Recess.
Abdullah Qureshi is an artist, curator, and educator. Within his practice, he is interested in using painting, filmmaking, and methodologies of collaboration and organization to address personal histories, traumatic pasts, and sexuality. Through his on-going doctoral project, Mythological Migrations: Imagining Queer Muslim Utopias, he examines formations of queer identity and resistance in Muslim migratory contexts.
Oneika Russel: Oneika's current art practice focuses on investigating the trope of the othered native within the paradigm of Paradise and Tourism industries. Her current work borrows imagery, techniques and formats from the culture of craft and souvenir-making in the Caribbean such as wall hangings, postcards and gift items. The objects and videos made explore how Afro-based figurative imagery is used as a tool in presenting culture and people as consumable products. The imagery created also investigates the role of trade, migration and unofficial economies as direct influencers of how representation occurs. Major presentations include 'At the Crossroads: Critical Film and Video from the Caribbean at Perez Museum of Art Miami' in 2016 and the '2018 DAKAR Biennial'.
This program is supported, in part, by public funds from the New York City Department of Cultural Affairs in partnership with the City Council.