Exhibition | Jun 23 - Jul 7 2021
RU Exhibition: Storying
Residency Unlimited (RU) is pleased to present Storying at the Andrew Freedman Home in the Bronx. The culminating exhibition of the 2021 NYC-Based Artist Residency Program, Storying features works by Damali Abrams the Glitter Priestess, Elvira Clayton, Zachary Fabri and Helina Metaferia. During their three-month residencies, the artists focused on research and the development of multidisciplinary projects around the history of artists in Southeast Queens, prison abolition, Black liberation activist archives and the largest slave auction in the history of the United States. The exhibition is curated by RU Guest Curator Rachel Raphaela Gugelberger.
Exhibition Dates: June 23 - July 7, 2021
Location: Andrew Freedman Home (Executive Room), 1125 Grand Concourse, Bronx, NY
Viewing Hours: Wednesday - Saturday, 12:00 pm - 6:00 pm
Exhibition Walk-Through With the Artists: Saturday, June 26, 2:00 - 3:00 pm
Exhibition Opening: Saturday, June 26, 3:00 - 6:00 pm
The exhibition title Storying is borrowed from The Grey Album: On the Blackness of Blackness (2012), in which the author Kevin Young speaks to "a shadow book—a book that we don't have, but know of, a book that may haunt the very book we have in our hands," and to the innovation of storying which "calls into question our very notion of progress, central to modernity and the post-industrial age— instead, it focuses on process. Through oral histories, the epistolary form, ritual vessels and a performative time capsule of our current moment, the works in Storying recall lesser-known events and accounts that have yet to be written through processes that yield emotional and political solidarity while honoring the past.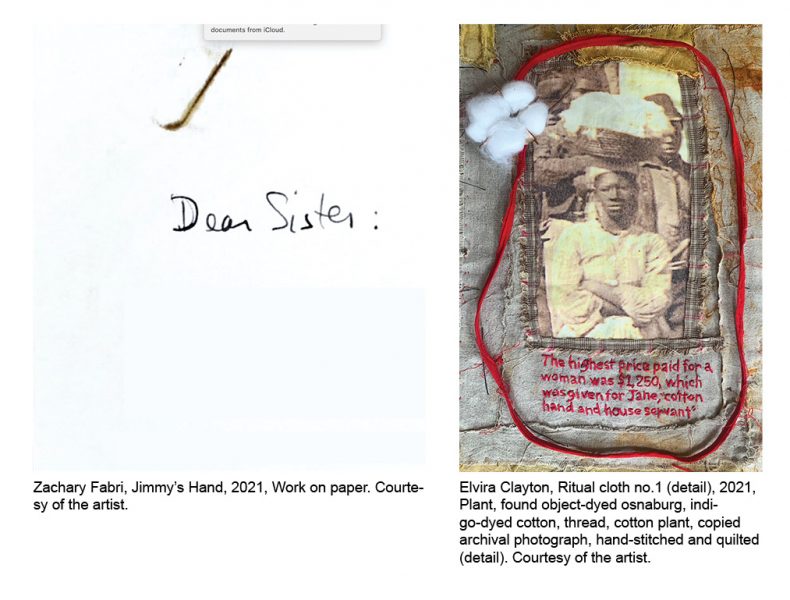 With a sense of urgency in response to the rapid gentrification of the neighborhoods of Southeast Queens, Damali Abrams the Glitter Priestess has been developing A Brief People's Art History of Southeast Queens, a multilayered body of work that draws from oral histories and archival research to preserve the rich art histories of a multicultural community of predominantly working and middle-class Black, Indigenous and people of color, many of whom are (im)migrants. A play on Howard Zinn's 1980 book A People's History of the United States, known for challenging the notion that only "the great" make history, Abrams' art history represents the points of view of artists and cultural workers who live and work in Southeast Queens. Works from A Brief People's Art History of Southeast Queens will be installed in the windows of businesses and organizations on Jamaica Avenue, Queens, as part of the 2021 Jamaica Flux: Workspaces and Windows, from July 10 to August 21.
Elvira Clayton is a multimedia artist working across installation, performance, oral history collection, assemblage, collage and sculpture. Inspired by ancestral reverence, Clayton's practice explores matriarchal lineage, as well as personal, historical and reimagined memory. She is currently focused on a series of works that use slave-era textiles and craft practices to view and tell stories related to American slavery; a process through which she honors her own enslaved ancestors. Hand-stitching texts taken directly from archival and slave-related documents onto the work, Clayton creates ritualistic vessels that hold the stories of forgotten people, committing their life experiences to memory. Clayton writes, "Through this work, I remember you, I remember you, I remember you."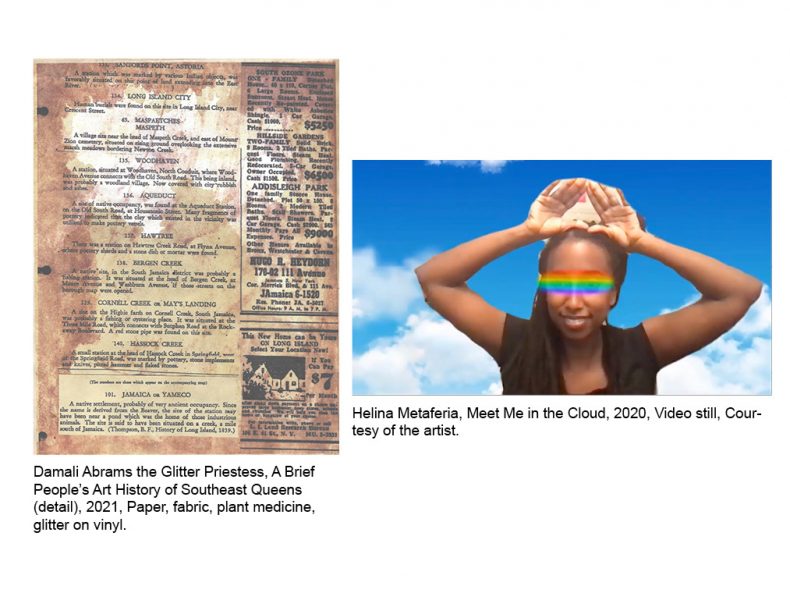 In Jimmy's Hand, an installation of charcoal drawings on paper and canvas and assorted objects, Zachary Fabri ruminates on the anatomy of a letter written by writer and activist James Baldwin in 1970 to political activist and author Angela Davis while she was in prison. The installation is the first iteration of a multidisciplinary project, An Open Letter to My Sister, that fuses drawing, collage, voice performance, video and sound to activate a discourse around prison abolition. With a focus on Baldwin's salutation, edits and closing—and by way of Baldwin's hand—Fabri traces parts of the letter and repeats Baldwins' marks to generate a series of utterances that express unanimity around the dismantling of systemic oppression. Fabri is an interdisciplinary artist who mines the intersection of his personal life and local community with concerns around cultural commodification, gentrification and public space. Complicating the boundaries of studio research, site-specific performance and social practice, he has immersed himself in environments such as Target stores, the Trump SoHo Hotel, and the streets of Harlem. "The play and tension between the ephemeral and tangible, the physical and metaphysical, the political and poetic, are essential binaries to be experimented with and deconstructed," he writes. "Critical discourse is important to complete the work, as I often embrace themes that need to be unpacked, such as the intersection of race, class, religion and popular culture."
Helina Metaferia tells overlooked stories that center Black bodies in positions of power and vulnerability. Informed by written and oral archives and somatic practices, she often uses her own body as a medium, as well as the bodies of participants or collaborators in her community. On view in Storying is Meet Me In The Cloud, a multichannel video installation generated from a performance that Metaferia presented live via Zoom on December 4, 2020, serving as a time capsule of our fraught moment in U.S. history—isolation brought through a pandemic, uprisings for Black lives, an economic downturn and a tense election year. Mining the digital realm, Metaferia has created a compilation of experimental gestures as an inquiry into her overarching question: "How does one survive the perceived apocalypse that is 2020?" Meet Me In The Cloud expands on Metaferia's interdisciplinary practice across collage, assemblage, video, performance and social engagement to investigate the relationship between the body, archives and sites. As an Ethiopian-American, her work draws upon traditional African art sensibilities infused with an experience or aesthetic that can layer their meaning in projects that have ranged from critiquing the bias in the art historical canon and advocating for the overlooked labor of BIPOC women activists to redefining notions of citizenship by reconciling contradictions that exist within the definition of "American."
Click the image below to see photos from the exhibition. 
About the Andrew Freedman Home
The Andrew Freedman Home (AFH) was built in 1924 as a luxury retirement home. Since 1984, AFH has been owned and operated by the Mid-Bronx Senior Citizens Council, one of the largest minority-controlled and operated community-based organizations in the Bronx, and sponsors a range of comprehensive services for, and largely, by, members of the South Bronx Community. AFH is an arts and culture hub of creativity and learning that features two exhibition spaces, an artist residency program, special events, theater and music performances, a small business incubator, workforce development courses, a universal pre-kindergarten program and event rental spaces. The AFH is less than half a mile from Yankee Stadium, the Bronx Museum, and the Terminal Market, and within walking distance of the 161st Street and 167th Street subway stops on the 4, B and D lines.  http://www.andrewfreedmanhome.org.
Special thanks to Alyssa Alexander, Rhonda James, Walter Puryear, Raison Rivas, Alaina Simone, Christopher Udemezue, Jodi Waynberg and Artists Alliance Inc.
The 2021 NYC-Based Artist Residency Program is supported, in part, by public funds from the New York City Department of Cultural Affairs in partnership with the City Council, the Cowles Charitable Trust, and generous support from Mina Aslan, Amika Cooper, Martha Garcia, Georg and Renate Gugelberger, Rose-Marie Labaguis, Reynard Loki, Ed Luscombe, Mica Le John and Michael Taylor, Loren Madsen, Manon Slome and Jeffrey Walkowiak.