Exhibition | Sep 15 2023 12:00 - 7:00 pm
Open Studio: Recent works by Rocío García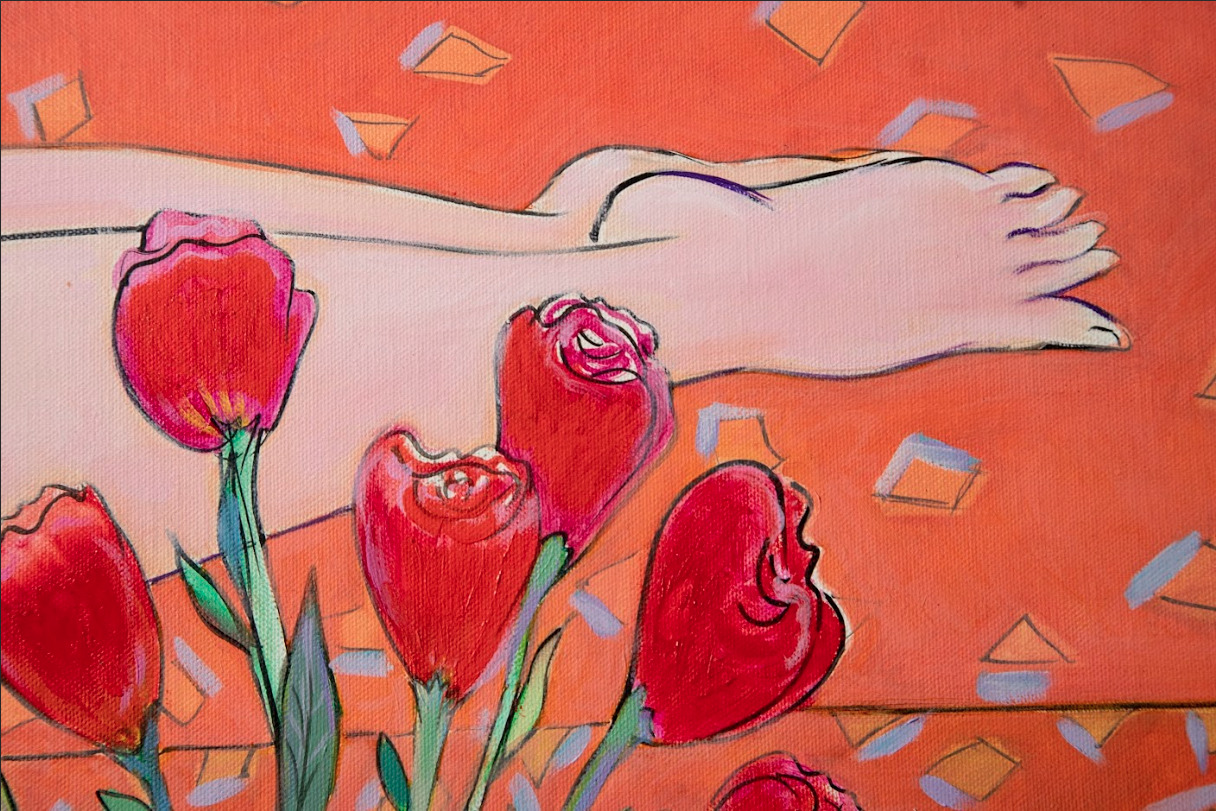 Rocío García, details from the series "Bellas Flores del Mal" ("Beautiful Flowers of Evil")
Friday September 15, 2023
Open Studio: 12:00 - 7:00pm
Reception: 5:00 - 7:00pm (Please RSVP)
Location: Cuban Artists Fund studio, 208 E 51st St, New York, NY
Please join us at the open studio event of the Cuban artist Rocío García. Garcia will feature current works as well as paintings from the 2021 series Bellas Flores del Mal (Beautiful Flowers of Evil) that she presented in New York in September 2021 with a solo exhibition at the Thomas Nickles Project Gallery.
In an excerpt of a text published at the occasion of this show, García describes what inspired her to create Bellas Flores del Mal: "There are filmmakers, writers, artists who have projects that take years to come true. And it happens to me that sometimes I make a painting and it's not enough, I need to make others that can make the idea grow…I started it with a work as an homage to Matisse in 2017 (Belles Fleurs du mal, after Baudelaire's volume of poetry, Les Fleurs du mal, 1857, today in the collection of NG Gallery, Panama) and its pulse kept beating, but the impulse became lighter and lighter to the point that I thought I was losing it. I did other series, other solo exhibitions and, at the end of 2020, when the world seemed transformed by the virus, the spell began. Someone very important came into my life and I felt again intensely that duality that determines us in the face of the transcendent. The feeling that people, humanity, are bent on destroying the beauty." (Thomas Nickles Project Gallery, 2021)
Bellas Flores del Mal features the union of opposites–the sacred and the demonic, the sublime and the sinister–and the duality of beauty where love and death are intertwined. Beauty torments us yet we aspire for it. Bellas Flores del Mal is a lesson on painting and a lesson on life–a lesson which, like the simplest truth, hurts.
About
Rocío García is a major female Cuban painter who is based in Havana. Stemming from a strict academic background, her practice has evolved, almost unchanged, over the last three decades. Her distinct language conjugates passions and experiences from her childhood, bringing together comics, cinema, literature, love and eros. For 35 years she also taught painting San Alejandro Fine Arts Academy.
Her work is exhibited worldwide. Select solo exhibitions include El Gran Chef (alias Patica de Pollo) at EL APARTAMENTO, Havana, Cuba (2023); Bellas Flores del Mal at Thomas Nickels Project, New York, NY (2021) and Sakura at Atelier NG Havana, Havana, Cuba (2020). Other recent group shows and art fair exhibits include A mí me manda Carmen at MOCAA, Miami, Florida (2023); Untitled. ArtBasel International Art Fair, Miami Beach, Florida (2022); Art on Paper Fair, New York, NY (2022); International Contemporary Art Fair ARCO Madrid, Spain (2022). Over the years Rocío has received various national and international awards including the National Culture Distinction from the Ministry of Culture in Cuba (2005) and National Award of Illustration from the Cuban Book Institute (2000).
This program benefits from the support of the Rockefeller Brothers Fund and the Cuban Artists Fund.