Exhibition | Apr 28 2019 3pm
Open Studio: Lauren Berkowitz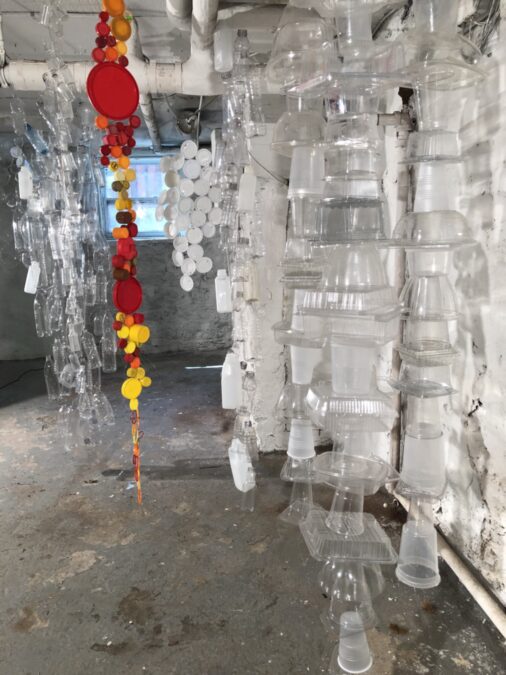 Lauren Berkowitz: Installation in progress for Ecosphere
Sunday 28, April 2019 3-6pm
42 Hawthorne St, Brooklyn, NY 11225
Ground level entrance on the lefthand side. The studio is located at the end of the hallway.
Join RU artist Lauren Berkowitz for her Open Studio before her departure to Melbourne. Experience Berkowitz's plastic "Ecosphere" of lids, bottles, and containers that mutate and grow into a hybrid landscape. Performing daily as a caretaker, Berkowitz collected plastic post-consumer waste in her daily walks from Prospect Park to her nearby studio. The artist's work embraces recycling strategies as a way to deal with ideas of repair and regeneration. These ephemeral found objects are imbued with a poetic narrative that speaks of the transitory and fleeting state of existence. This body of work will serve as a starting point for her upcoming commission at Monash University, Melbourne, Australia.
Lauren Berkowitz is an Australian installation artist whose work engages with ephemeral and recycled materials. Drawing from the landscape but disquieted by its precarious state, her work explores the poetic and sensory resonance of materials and their transformative qualities through light, volume, and space. Berkowitz's work is often site-specific and relates to ideas of retrieval and regeneration. She is inspired by the Jewish concept of Tikun Olam, the idea of recuperation and repair of the broken world through small gestures. In recent works such as Plastic Topographies (2018), Berkowitz created a surreal dreamscape of accumulated recycled plastic forms that grew and mutated within the gallery. She combined living plants with take away food containers, bottles, and their lids, creating an ambiguous hybrid environment. The plastic forms became both biological and architectural, also suggesting the interior of the body or an imaginary forest. See exhibition history here.
Lauren Berkowitz' residency and this program are made possible with the support from Australia Council for the Arts and Sugar Hill Studios.

RELATED: