Talks | Jul 2 2018 1pm
Meet Over Lunch: How to Make a Monument (Dis)Appear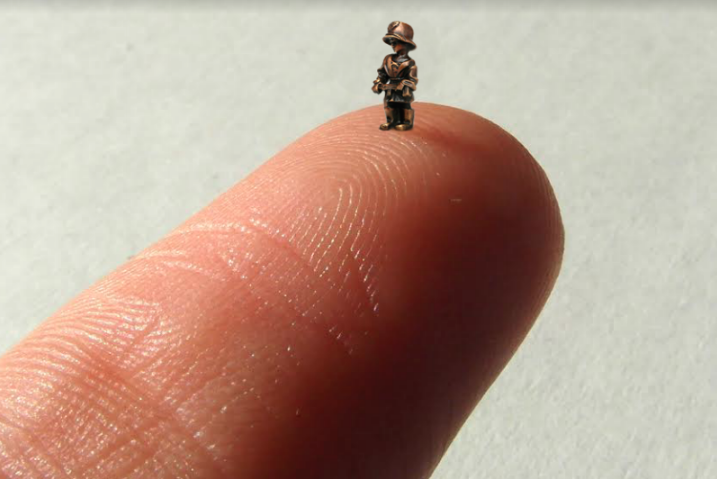 Mały Powstaniec (The Little Upriser)
Monday, July 2, 2018
1pm (free and open to the public)
Residency Unlimited (RU)
360 Court Street (enter the Church through the main entrance)
Brooklyn, NY 11231
Daniel Malone and Stanisław Welbel will discuss their recent project How to Make a Monument (Dis)Appear which has been developed especially for the Mini / Goethe Institute Curatorial Residency Ludlow 38 program in collaboration with Avi Feldman and will be presented at the gallery from July 5. The project is based on questions regarding the legal status, rights and responsibilities of art in public space (both outdoors and in Museums, Universities, etc.) including contemporary forms of censorship and historical revision. It draws on a few very specific stories relating to contemporary figurative art and forms of public monuments found in the former Communist Block, as well as the current debate around the removal of Confederate and other colonialist and/or racist statues in the
US. All of these monuments speak of the historical context in which they were created as well as the contemporary moment under which they are currently being re-evaluated and contested. During the meeting we will share and discuss few of the stories that inspired the works for the upcoming exhibition, dealing with contemporary forms of censorship, attacks on art and monuments, copyright struggles and a some legal aspects of dealing with controversial images.
Malone and Welbel's project is the result of collaboration and mutual research. The artist and curator have worked together several times before and during the meeting will also discuss some of their earlier common projects, both realized and unrealized. As ongoing collaborators they share interests regarding the critique of the institution of contemporary art and are inspired by the constant flux of meaning of cultural symbols as well as tensions between real and fictional histories from the former Eastern Bloc and beyond. One such project to be discussed was undertaken for an open call for the Polish Pavilion at the Venice Biennale 2017, titled The Whole World Builds Your Nation, it revolved around a legendary visit by David Bowie to Warsaw during the Cold War.
***
Stanisław Welbel (b. 1982, based in Warsaw), curator and art historian. Since 2009, has worked in Zachęta - National Gallery of Art in Warsaw. He studied art history at Warsaw University and Curatorial Studies at the Jagiellonian University in Cracow. In 2012, he took part in The 4th Gwangju Biennale International Curator Course in Korea. Presently, he is working on a PhD thesis at the Polish Academy of Sciences. He took part in curatorial and art residencies in France, Ireland, Israel, Romania and curated several exhibitions both in Poland and internationally, such as 'Common Affairs' at the Deutsche Bank KunstHalle in Berlin (2016), 'John Lurie. I am trying to think. Please be quiet' at Zachęta (2015). 2013 - 2016 he curated 'The Artists' a festival devoted to sound and visual art. He collaborates with CPR | Curatorial Program for Research in the US and contributes for art and design magazines. Since 2018 a member of Polish section of AICA International Association of Art Critics.
Daniel Malone (Born 1970, Greymouth), is an artist currently based in Warsaw, Poland & Berlin, Germany. He has exhibited regularly in Aotearoa/NZ and internationally since 1990, co-founding seminal artist run space, TESTSTRIP. He has a BA in Art History, and a BFA in Intermedia from the University of Auckland, where he taught between 2000-2007, when he left to base himself in Europe. He has represented Aotearoa/NZ in numerous exhibitions including the Sydney, Sao Paolo & Guangzhou biennales, & been included in many other international shows. He has continued to work locally throughout this time, exhibiting in public galleries and with Sue Crockford Gallery and Hopkinson Mossman, & as a recipient of the Waikato Art Award and the McCahon House residency. Recent projects include, Trauma & Revival, CAC, Krakow & BOZAR, Brussels (2017); The Wild West: A History of Wrocław's Avant-Garde, Ludwig MCA, Budapest & MSU Zagreb (2016-17); Not a Dated Annotation, Laurel Doody, Los Angeles (2017).
This program is supported by Beach64retreat in the Rockaway, Queens, New York.
The Meet Over Lunch series is an ongoing invitation extended to local and visiting art practitioners to present their practice and projects over lunch to the RU community.