Exhibition | Oct 30 - Nov 12 2022
"Fatherland: A Monument to Freedom", a screening by Elena Chemerska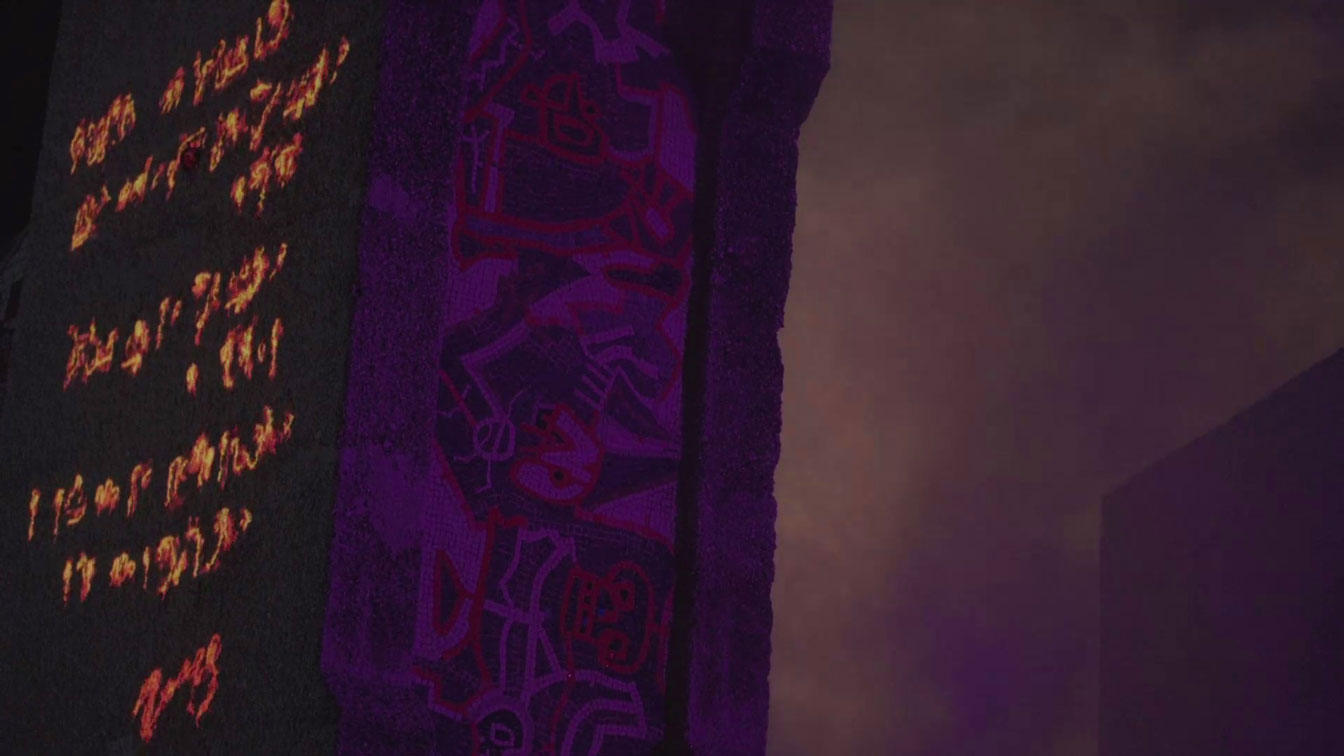 "Fatherland: A Monument to Freedom" Installation view, light on concrete. 2022 Monument to Freedom, Kochani, North Macedonia.
Sunday October 30, 2022 | 12:00-6:00pm
Friday-Saturday November 4 & 5 | 12:00-6:00pm
Friday-Saturday November 11 & 12 | 12:00-6:00pm
KODA House
Governors Island, Colonels Row, Building #404B, second floor
Click here to view map. Details on how to get to Governors Island here.
"Fatherland: A Monument to Freedom" is an ongoing multi-dimensional enterprise (*) by the visual artist Elena Chemerska that she launched in 2017 as an attempt to revitalize the monumental complex "A Monument to Freedom" in Kochani, North Macedonia. This monument was erected in 1981 during the last decade of the SFR Socialist Republic Federation of Yugoslavia to simultaneously honor the 40th anniversary of the People's Liberation Struggle, the end of WWII and victory over Fascism as well as Macedonia's rise to nationhood. There is also a personal element integrated to the story of the monument since it was built by Gligor Chemerski (Elena's father who was also an artist) and the architect Radovan Radjenovic. Over time, the monument with its integrated amphitheater transformed into a public space for community building, but with the dissolution of Yugoslavia in 1991, it gradually fell into a deep state of neglect which subsequently prompted Elena to take action to revive the monument.
Strategies of revitalization include collaborations between Elena and invited artists, cultural workers as well as the local community of Kochani, whose stories, experiences and contributions have enriched and nuanced her project in multiple ways. The video installation that will be screened on October 30 on Governors Island is a demonstration of the (im)possibility to accommodate, recover, rebuild, and reinvent a specific built environment that was conceived in a radically different societal paradigm that determined socialist Yugoslavia. In her efforts to give new impetus to the monument, Elena researched contemporary forms of resistance that could align themselves with this example of radical (post)socialist Europe. Her project aims to unfold and activate multiple entrances to this work of art and the struggle for freedom in life and art it honors, from the perspective of today's economic, social, cultural and ecological crisis.
*The project consists of an installation combining archives, painted surfaces and video works (2019); an ongoing documentary film production (2021-ongoing); on-site actions such as the performance of the theatre play Salonica, City of Ghosts: Christians, Muslims and Jews 1430-1950 produced by the Theatre of Cvetko the Navigator (2018); the workshop "Fly Lokubija Fly" (2022), the website https://spomeniknaslobodata.mk/ (2019) made in collaboration with the creative studio KIOSK; the publication of the book Monument to Freedom - Conversations (2019. Private Print. 336 p.), etc.
Click below to see images from the program.
About
Elena Chemerska is the winner of 2021 DENES Award for Young Visual Artists in North Macedonia and received the 2021 Prince Claus Seed Award in the Netherlands. Her artistic research is focused on relationships between aesthetics, materiality, and politics. Her interests lie in thinking about the ways in which we create a basis for the future in relation to memory and the way we attempt to grasp history in its image. She works primarily in painting, drawing, installation and video, and is currently exploring documentary filmmaking.
Elena's work has been presented in North Macedonia and internationally. She is the author of the book Monument to Freedom - Conversations, Private Print Studio, Skopje (2019). Exhibitions include: Ostrale Biennale O21, Robotron-Kantine, Dresden, Germany (2021); Biennial of Young Artists, MoCA, Skopje (2021); Fuori Visioni Festival 6 | Il confine-Atto II, Piacenza, Italy (2021); Thresholds of No-Body in Particular in collaboration with Ivana Mirchevska, YCC, Skopje (2020); Monumental Fluxus, Expoplu, Nijmegen (2019); "Transition" video screening, Eye Museum, Amsterdam (2018) etc.
This program benefits from the support of the The Trust for Mutual Understanding. 

This program is supported, in part, by public funds from the New York City Department of Cultural Affairs in partnership with the City Council.