Talks | May 5 2022 6:00-8:00pm
Exercises in Togetherness in partnership with FCINY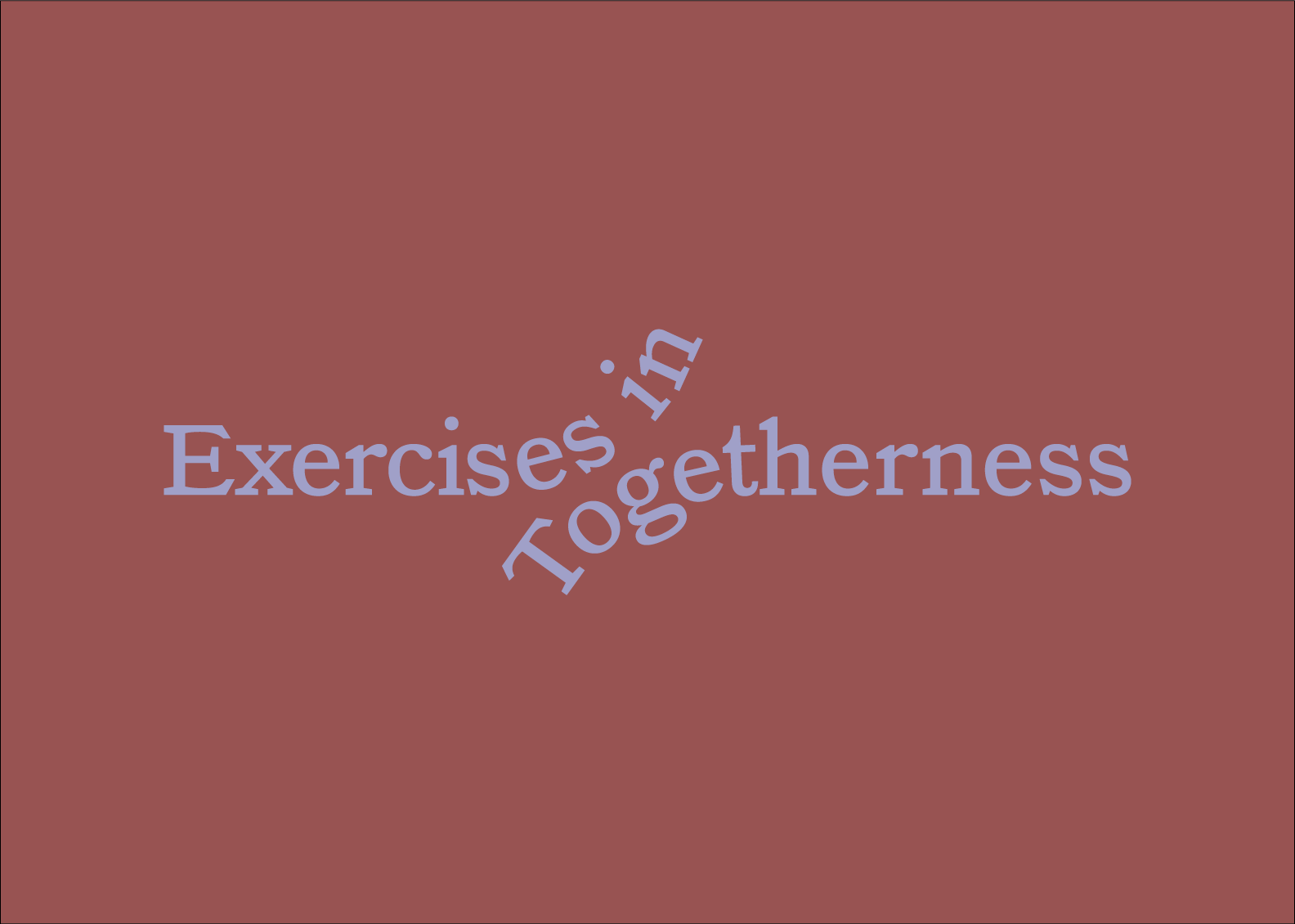 Thursday May 5, 2022 | 6:00 - 8:00pm 
Residency Unlimited
360 Court Street (main green church doors), Brooklyn NY 11231
Starting in the fall of 2021, the Finnish Cultural Institute in New York (FCINY) has been joining forces with art organizations in Helsinki and New York to realize intimate in-person gatherings as part of the program series Exercises in Togetherness. The program addresses the situation most of us have found ourselves in as the pandemic has continued and gatherings with others have slowly become faded nostalgic memories. The program aims to offer time and space for gentle exercises in relearning how to be together in the aftermath of the pandemic.
On Thursday May 5th, Residency Unlimited will host an Exercises in Togetherness event in its Brooklyn venue with contributions by Helsinki-based artist Laura Cemin and Brooklyn-based artist and writer Gordon Hall. Cemin has created a printed booklet that will be distributed to the audience. The pocket-size manual Instructions on How to Retrieve an Action functions as a companion in relearning, for example, how to embrace, or how to smile at someone in public.
Gordon Hall will perform a reading of their essay Party Friends (2015), written originally for the publication Platforms: Ten Years of Chances Dances, in which Hall reflects back on their life as an art student in Chicago, alongside the importance of communities as support structures in processes of becoming.
Hall's reading is followed by a panel discussion in the company of Gordon Hall, artist and musician E. Jane and artist and poet Asiya Wadud on the significance of communities and the act of gathering. The context of the discussion vary from nightlife and artistic practices to the pandemic era more generally, which has essentially been marked by lack of proximity and presence. The discussion is moderated by Elina Suoyrjö, the Director of Programs at the FCINY.
This event is also posted on the FCINY website
Click on the image below to view images from the program
About
Laura Cemin is an Italian performer and visual artist currently based in Helsinki, Finland. She is interested in performative gestures, which can appear in different forms such as live performances, installations and writings. In her current work, she explores how language shapes and influences the way we move and physically interact. After having performed as a ballet dancer in the US, she studied photography in Italy and recently obtained an MFA from Umeå Art Academy in Sweden. She has performed live at international festivals and her work as a visual artist has been presented internationally at galleries, theatres and museums, such as Norrlandsoperan (SE), Bildmuseet (SE) and Kiasma (FI).
Gordon Hall is a sculptor, performance-maker, and writer based in New York. Hall has had solo presentations at the MIT List Visual Arts Center, The Portland Institute for Contemporary Art, The Renaissance Society, EMPAC, and Temple Contemporary, and has been in group exhibitions at The Whitney Museum of American Art, The Brooklyn Museum, The Hessel Museum, Art in General, White Columns, Socrates Sculpture Park, among many other venues. Hall's writing and interviews have been published widely including in Art Journal, Artforum, Art in America, and Bomb, as well as in Walker Art Center's Artist Op-Ed Series, What About Power? Inquiries Into Contemporary Sculpture (published by SculptureCenter), Documents of Contemporary Art: Queer (published by Whitechapel and MIT Press,), and Theorizing Visual Studies (Routledge).
E. Jane is an artist and musician based in Brooklyn, New York. Inspired by Black liberation and Womanism their work incorporates digital images, video, text, performance, sculpture, installation, and sound design. Since 2015, E. Jane has been creating a performance persona, MHYSA, an underground popstar for the cyber resistance that exalts and examines the life of the Black diva in popular culture. E. Jane has performed at The Kitchen, MoCADA and MoMA PS1 as one-half of the sound-performanceduo SCRAAATCH, exhibited their solo work in dozens of international institutions and galleries, from MoMA PS1 and Studio Museum 127 to MCA Chicago, and IMT Gallery and Edel Assanti in London. E. Jane's first institutional solo show will be held at The Kitchen in New York in Spring 2022.
Asiya Wadud is the author of Crosslight for Youngbird, day pulls down the sky/ a filament in gold leaf (written with Okwui Okpokwasili), Syncope and No Knowledge Is Complete Until It Passes Through My Body. Her recent writing appears in e-flux journal, BOMB Magazine, Poem-a-Day, Chicago Review, Social Text, FENCE, and elsewhere. Asiya's work has been supported by the Foundation Jan Michalski, Lower Manhattan Cultural Council (River to River: Four Voices 2020; Governors Island Arts Center residency 2019-2020; Process Space 2017), Danspace Project, Brooklyn Poets, Dickinson House, Mount Tremper Arts, and the New York Public Library, among others. She lives in Brooklyn, New York where she teaches poetry at Saint Ann's School, Columbia University, and Pacific Northwest College of Art. In October 2021 Wadud wrote a poem inspired by the work of the artist Howard Smith for the Exercises in Togetherness program at PUBLICS in Helsinki, Finland.
This program is made possible with support from the Finnish Cultural Institute in New York. This program is also supported, in part, by public funds from the New York City Department of Cultural Affairs in partnership with the City Council.