Talks | Feb 21 2019 6.30pm
Dirt & Debt Suppers Biweekly Series: Melissa Metrick and Umber Bawa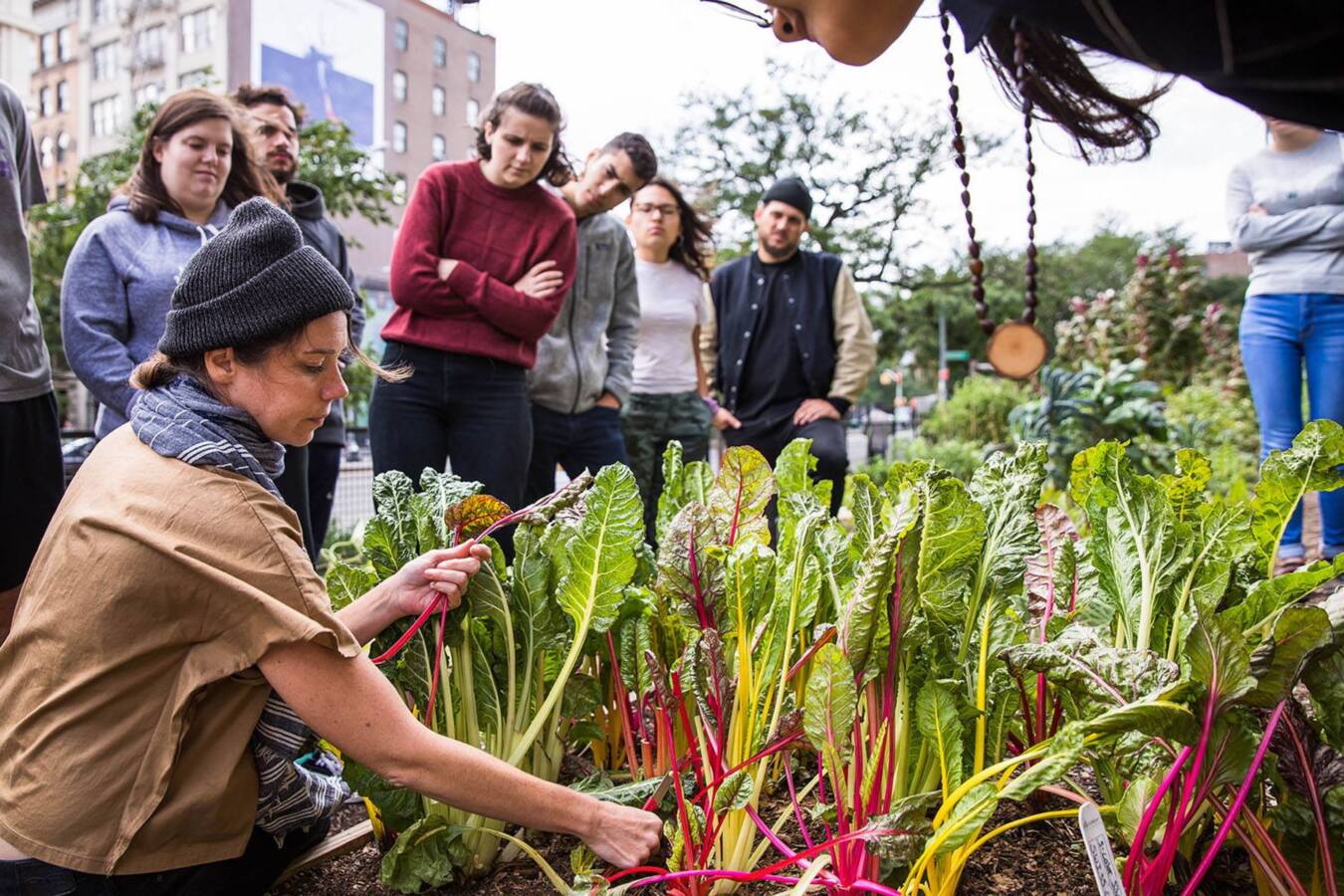 Photo by Stefano Giovannini,
GUEST SPEAKER: Melissa Metrick and Umber Bawa
WHEN: Thursday, February 21, 6:30-8:30
WHERE: Nutrition and Food Studies, New York University, 411 Lafayette St. 5th Floor
BRING: yourself, of course, and a shareable edible
Residency Unlimited + Allie Wist are pleased to invite you to our Bimonthly Series of creative food discussions with guest speaker Melissa Metrick.
Melissa Metrick is a graduate of the Master's Program in Food Studies, she was instrumental in establishing the NYU Urban Farm Lab, an educational greenspace located right on the university's campus. Here, she teaches a hands-on Urban Agriculture class, where students have the opportunity to partake in crop planning, harvesting, and implementing sustainable urban agriculture practices. Metrick has upwards of a decade of experience in urban agriculture, from volunteering with Americorps to working at a school garden in South Berkeley to teaching children how to grow food at the Ruthe Howe Family Garden at the New York Botanical Gardens. She also holds a Horticultural Certificate from Brooklyn Botanic Gardens.
Melissa Metrick was the garden manager at Roberta's, a popular farm-to-table restaurant dishing out wood-fired pizzas in Brooklyn, for 7 years. As garden manager, she designed and created the on-site kitchen garden, which is also used to educate the chefs and guests in how to grow food sustainably within a city environment.
Rabble is a curated impact investment platform that enables people to invest in projects that produce social and environmental good. Rabble's most recent investment closed in Fall 2018 and funded a 3D Ocean Farm off the coast of Mt. Desert Island in Maine. This farm grows three strains of algae used as animal feed, cosmetics and for pharmaceutical applications. The farm also acts as a carbon sink taking excess carbon from the surrounding sea waters in coastal Maine supporting to ecosystem restoration + preservation. Rabble recently launched a new arm focusing on land conservation and is launching a new green investment fund in Spring 2019.
Umber Bawa is the Founder + CEO of Rabble. Prior to founding rabble, Umber led project finance and strategic initiatives at Spirae, a Colorado-based cleantech firm. There, he created financial models for renewable-based microgrid and smart city projects, and led smart city initiatives in North America and Europe. He has served on the New York REV Market & Technology Design Working Groups and participated in the Maryland Microgrid Resiliency Task Force. Umber is a graduate of The Wharton School, University of Pennsylvania where he studied finance, decision systems and game theory.
What are Dirt & Debt Suppers you ask?
-An exciting art + food systems discussion group
-Casual potluck-style gatherings every other Thursday evening
-Residency Unlimited Dirt & Debt residency artists + people in the food world + students
-A creative dialogue about food systems issues
We'd love your company and if you cook well, we love you even more.
+++++++++++++++++++++++++++++++
ABOUT DIRT & DEBT:
In a global context of escalating ecological crisis, polarizing inequality, and demographic shifts driving urbanization, healthy and accessible land/dirt/earth/soil are at the core of healthy societies. Dirt & Debt is a three-month residency initiative organized by Residency Unlimited, inviting artists to envisage new pathways to how we build and manage our built and natural world in order to foster equitable, ecological, compassionate community. The residency is curated by Livia Alexander and Jane Philbrick. 2019 participating artists are Maryam Monalisa Gharavi, Melissa Marks, Anna Riley, Jessica Segall, Candace Thompson, Luisa Valderrama, and Jeni Wightman.
Residency Unlimited (RU) supports the creative process and promotes exchange and diversity through its unique customized residency program and year-round public programs. We nurture local, national, and international artists and curators at all stages of their career. RU is particularly committed to promoting multidisciplinary practices and building lasting connections between residents and a broad range of communities. Collaboration and partnerships are at the heart of our mission.
New York University's Food Studies Undergraduate and Graduate programs employ approaches from the humanities and social sciences to analyze the current American food system, its global connections, and local alternatives. Its mission is to examine the ways in which individuals, communities, and societies produce, distribute, and consume food using cultural, political, economic, environmental, and geographic approaches.