Exhibition | Jun 1 2019 4pm
COCOONS, Open Studio with Eduardo Navarro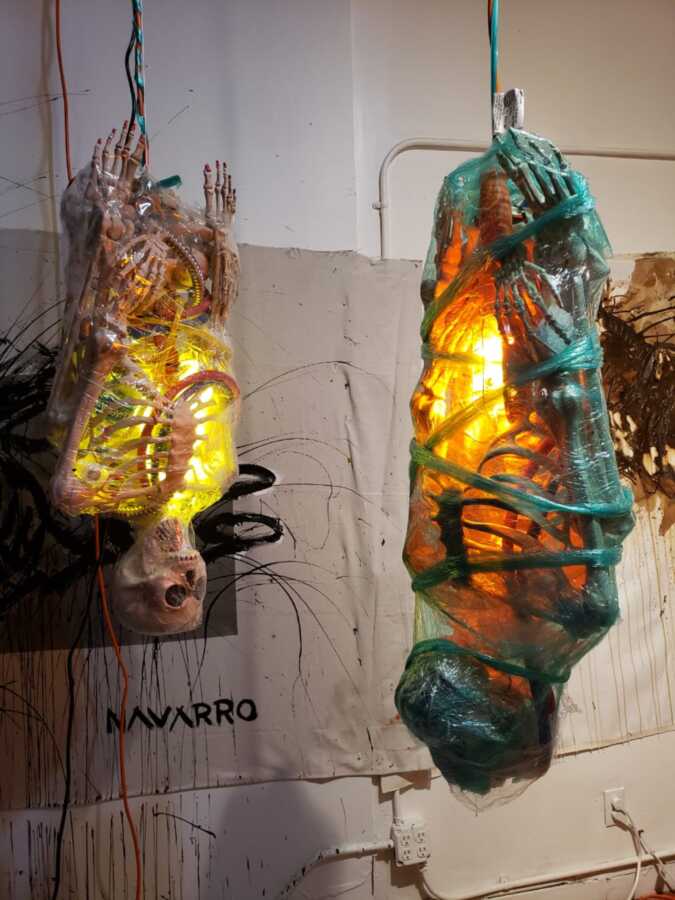 Cocoons, 2019. Site-specific installation, Mixed media
Saturday, June 1, 2019
4-7pm
RSVP required adele@residencyunlimited.org
Chashama Midtown (entrance next to the UPS store, buzz 'studio')
208 E 51st St, New York, NY 10022
Join the Panamean RU artist Eduardo Navarro in his studio and find out first hand about his prolific production realized over the course of his residency, with paintings, sketches, sculptures and a unique site-specific installation of 3D Cocoons. Navarro uses multimedia as an overarching instrument of social criticism. This is evidenced in the recent cocoons fabricated by the artist with human skeleton models and other materials obsessively wrapped in plastic as a suggestive x-ray of ourselves as current abusers of social media and makers of ecological disaster. "I use saran plastic to wrap up the COCOONS because its see-through quality shows all the inside parts which are illuminated, and evokes the auto-wrapping metamorphosis people suffer every time they go deep inside social media, caring little for their outside world. Wish it or not, between the lines clues about their true personalities always show."
***
Eduardo Navarro  stands out in the Panamanian contemporary art landscape as a champion of expressionism characterized by the use of a brush style self-defined by the artist as "rendering before us his very soul". In his multi-disciplinary practice, Navarro blends painting, sculpture, performance art and installation art. Their combination conveys a rebellious visual impact charged with metaphorical potential. In 1994, Navarro was awarded the prestigious Fundación Gilberto Alzate Avendaño International August Salon Prize in Bogotá, Colombia. Since then his career has progressed steadily. See exhibition history here.
Eduardo Navarro's residency and this program are made possible with the support from the Rockefeller Brothers Fund New York.

RELATED: