Exhibition | Apr 25 2018 6.45pm
Escaping my corpse, by Catarina de Oliveira and 'tales of a self', by Katarína Hrušková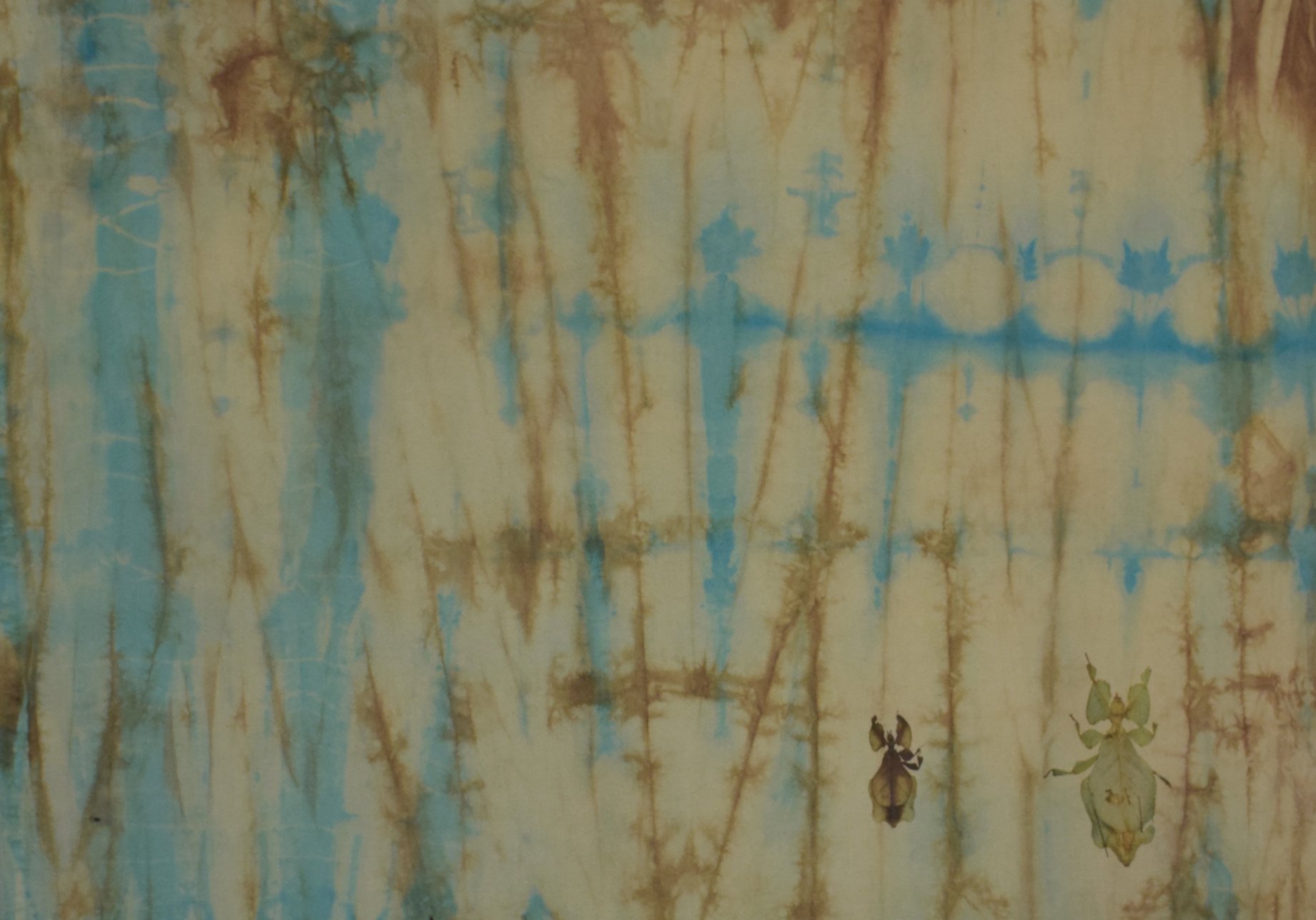 (Detail) Untitled (two ghost phyllium) 2017; pigment and UV print on hand died fabric, copper; 184 x 147 cm
Wednesday, April 25, 2018
Doors open at 6.45pm. Short performances that begin at 7.15pm on the dot.
Please be on time. (free and open to the public)
Residency Unlimited (RU)
360 Court Street (enter the Church through the main entrance)
Brooklyn, NY 11231
Join us for an open rehearsal of Catarina de Oliveira's performance Escaping my corpse, and Katarína Hrušková's reading performance 'tales of a self'. Based on a homonymous short story, Escaping my corpse follows the life of a ghost phyllium (leaf insect) who is attached to his own corpse and finds himself in the archive of the University Museum of Zoology, Cambridge (UK). After learning how to separate himself from his corpse by haunting another body, the ghost phyllium decides to follow a woman visiting the museum archive to photograph him and other insects who mimic their environment. He attempts to haunt her in a way that will make her visit his native trees and land so that he can return home. During this journey, the ghost phyllium will speak of his reason for camouflaging and compare it to human modes of camouflage. He will also address how most humans look at animals through anthropocentric lenses; how they claim that animal camouflage is just a protective mechanism since that's how they mostly use it.
Katarína Hrušková will read a series of 'tales of a self', taken from several of her projects.
She will recount various situations through which the body becomes aware of itself, its own vulnerability and awkwardness. Taking a bath in clothes, an egg yolk exercise, sensing a large animal, giving up sleep; what does it mean to occupy a human shell and is it possible to reach beyond it?
***
Catarina de Oliveira's practice incorporates  film, sound, performance, text and textiles, theater and dance. Through the use of stylized imagery, restrained formal compositions and fragmented narratives, her artworks seek to investigate how different power structures operate and their manifestations through social and political rituals, along with inquiring how certain narratives or myths became part of a community's history. De Oliveira's practice is populated with characters, locations, objects and memories that are not stable and fully crystallized entities. She is invested in creating and hosting poly-vocal narratives that can question each other, in order to call attention to mostly white male, colonial, anthropocentric and heteronormative agendas. By creating the stage for these different voices she questions if truths in which a story claims to be anchored perhaps only exist as truths immanent to the formulation of this (historical) narrative. Her aim is to create forms and compositions that embrace temporalities, ontologies and epistemologies and that exist outside normative modes and that resonate with the vibrations of other beings and entities. Check exhibition history here.
Katarina Hrušková kneads elements of comfort into unions of unease. She points out the potency of objects and matter that slip under our radar by way of constant presence and proximity. Spaces we casually inhabit, substances we handle, breathe and allow into our stomachs daily and yet, veiled by familiarity, they elude our awareness. She talks of the latently abject, of omitted properties and textures, histories taken for granted. She creates places of safety to nudge at their borders. Her work occupies a comfort zone with a fragile ground where stillness provokes action. She seeks to reveal vulnerabilities; instigate moments of recognition and revelation. Check exhibition history here.
This program is made possible with support from Atelier-Museu Júlio Pomar and EGEAC and the Trust for Mutual Understanding.