Exhibition | Oct 28 2017 1-9pm
Barbora Kleinhamplová: Hand over Heels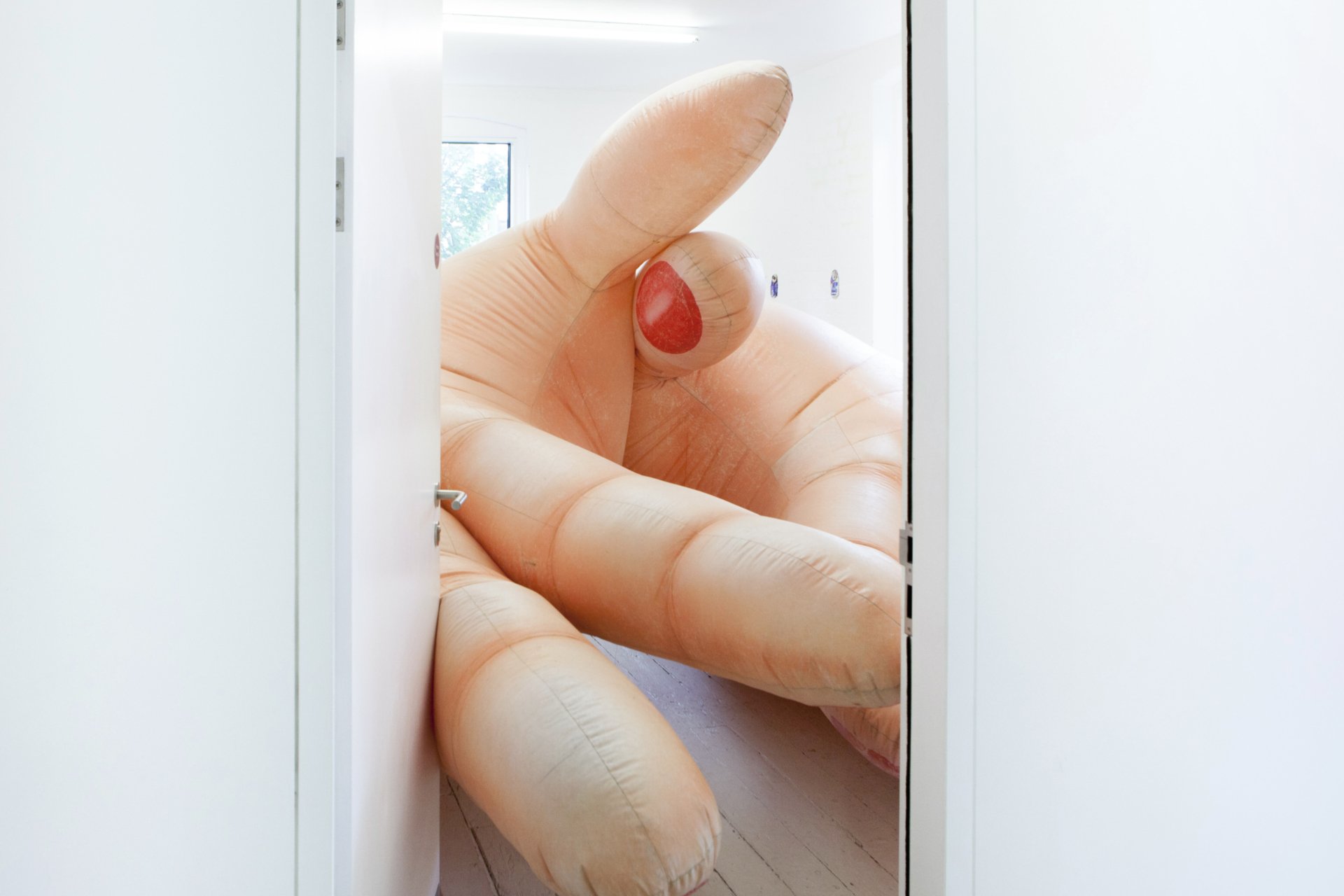 Barbora Kleinhamplová, Hand over Heels, installation view, Gasworks, London, 2016. Courtesy of the artist.
Saturday, October 28, 2017 1–9pm
Art in General Office
20 Jay Street, Suite 210A
Brooklyn, NY 11201
Art in General and Jindřich Chalupecký Society are proud to present the New York City premiere of Hand over Heels, a performance by Barbora Kleinhamplová. The artist's practice is rooted in the relationship between human existence and contemporary political and economic institutions, confronting this relationship through playful association and metaphor. Kleinhamplová often collaborates with people from different disciplines and professions, and uses existing forms of group interaction, such as therapy or coaching sessions, with both actors and non-actors. Presented as videos, installations, and performances, these semi-staged situations are a means by which to examine and test what constitutes a functioning society, and what the role of an individual is within its systems.
Hand over Heels is a performance that takes over Art in General's office to reflect on the experience of work within institutional structures. It stems from research the artist has conducted on our contemporary relationship to labor and its uncertainties, and asks: what norms must we conform to, however unstable, in order to get by? What kind of work do we want to do? How do we measure and define our capacities? Unfolding over the course of eight hours—the duration of a typical workday—performers recite excerpts from cover letters and psychosocial questionnaires relating to unpaid internships. Meanwhile, a giant pair of hands inflates and deflates under the performer-workers' supervision, simultaneously affirming and questioning our dominant labor systems today.
The performance is presented in conjunction with the exhibition Danilo Correale: At Work's End, which imagines a future without work.
Barbora Kleinhamplová lives and works in Prague. She graduated from the Academy of Fine Arts, Prague and was the recipient of the 2015 Jindich Chalupecký Award. Recent solo exhibitions and performances include Mpeg Girl, Jeleni Gallery, Prague (2016); Meeting Expectations, 209, Brno; and Sleepers' Manifesto, Armaturka, Ústí nad Labem (both 2014). Recent group exhibitions include It Could Be a Community, KV Leipzig, Germany (2017), Gwangju Biennale, Gwangju, Ny Show #3, Ny Space, Manchester; Liturgie, Centre Tchèque, Paris; Telepathy or Esperanto, Futura, Prague; and Subversive Tactics, The Czech Center New York (all 2015). Barbora was a resident artist at MMCA Seoul, South Korea in 2015 and at Gasworks, London in 2016, and she is currently in residence at Residency Unlimited, New York.
The Jindřich Chalupecký Society is a platform for Czech contemporary art, operating as one of the most prominent bodies on the post-1989 Czech art scene fostering the recognition of contemporary Czech art in local and international contexts. They partner with various institutions and individuals both in the Czech Republic and internationally to organize exhibitions and a broad range of public programs, as well as residencies, educational, and publication projects. The Jindřich Chalupecký Society embodies both continuity and flexibility, unceasingly re-examining its possibilities as an institution responsive to the most current state of art in the broadest context. The Jindřich Chalupecký Society notably organizes the Jindřich Chalupecký Award, an annual award for extraordinary Czech artists under the age of 35 co-founded in 1990 by playwright, writer, and former Czech president Václav Havel, artist Theodor Pištěk, and poet and artist Jiří Kolář.
---
Hand over Heels was co-organized by The Jindřich Chalupecký Society.
General Support of Art in General is provided by the Institute of Museum and Library Services; the New York State Council on the Arts with support of Governor Andrew Cuomo and the New York State Legislature; the Toby D. Lewis Donor Advised Fund of the Jewish Federation of Cleveland; and by individuals. This program is also supported, in part, by public funds from the New York City Department of Cultural Affairs in partnership with the City Council.
The New Commissions Program is made possible by the Trust for Mutual Understanding; National Endowment for the Arts; Jerome Foundation; Ruth Ivor Foundation; and the Milton and Sally Avery Foundation. Support has also been provided by: Commissioners' Circle leaders Elaine Goldman, Richard Massey, Jeffery Larsen and Joseph Bolduc; Commissioners' Circle supporters John and Andrea Nylund and David Solo; and Commissioners' Circle members Nader Ansary, Rob Colangelo, Don Erenberg, Roya Khadjavi-Heidari, Mary Lapides, Eric Nylund, Leslie Ruff, Steve Shane, and Diana Wege.
Special Project Support kindly provided by Residency Unlimited.
Barbora Kleinhamplová's residency is made possible with the support from the Trust from Mutual Understanding.