Talks | Dec 17 2013
Art in Odd Places Presents RITUAL Catalog Launch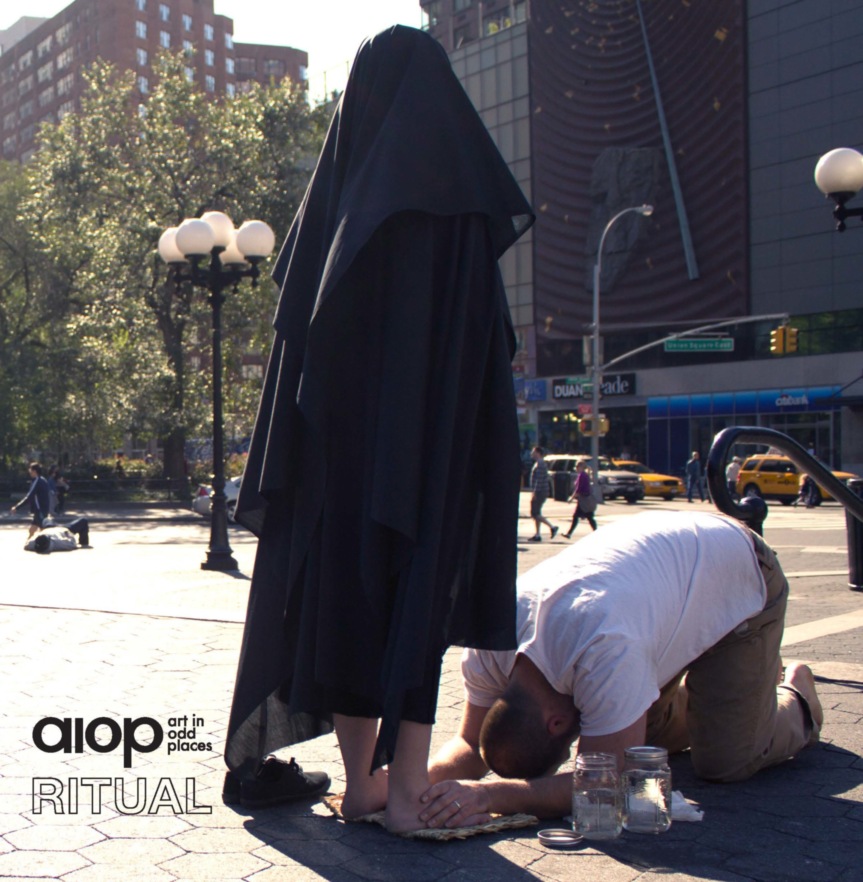 The catalog will be celebrated during a launch event at RU on December 17, 2013 from 5:30-7:30pm. The evening will include a panel discussion with AiOP: RITUAL co-curator Kalia Brooks, and artists Rob Andrews and Lawrence Graham-Brown, moderated by Juliana Driever.
Tuesday Dec 17, 2013 from 5:30-7:30pm
Panel Discussion at 6:15pm
Free and open to the public
Residency Unlimited
360 Court Street #4 (big green doors)
Brooklyn, NY 11231
Each year, Art in Odd Places (AiOP) produces a thematic public art festival along 14th Street from Avenue C to the Hudson River. From October 1-10, 2011, the RITUAL edition of AiOP took place on this east-west corridor in Manhattan, centering on the ideas of ceremony, habituation, myth, obsession, superstition and liturgy. Guest curators Trinidad Fombella and Kalia Brooks selected over sixty artists to participate in one of the largest festivals AiOP has organized in its history.
Now, two years after the close of RITUAL, Art in Odd Places is proud to offer a richly illustrated catalogue of the festival's projects and activities. Edited by Independent curator and writer, Juliana Driever, the publication features contributions by leading practitioners in contemporary art and urban design including: Kalia Brooks and Trinidad Fombella, Adam Brent, Victoria Marshall, Ernesto Pujol, and an interview with the festival's keynote speaker, Linda Mary Montano. The RITUAL catalogue also features generous photographic documentation of each of the sixty artist projects brought to 14th Street for the 2011installment of the festival.
This installment of AiOP sought to subtly disrupt the procedures of the everyday and emphasize the ritualistic character of small gestures or acts in both religious and secular life, establishing temporary moments of ecstatic contemplation of the public realm. Projects included interactive foot cleansings in Union Square, ceremonial tree kissing, rose petal walkways, and 24-hour endurance performances along 14th Street.
Panelists
Rob Andrews' work explores ritual, myth, and storytelling and challenges the boundaries between the audience and performer or audience and object. He is drawn to performance as one of our oldest forms of storytelling. Andrews has shown work at the Museum of Modern Art, Exit Art, Grace Exhibition Space, and at English Kills Art Gallery with whom he is affiliated. He has enacted mass group feet cleanings in Union Square as part of Art in Odd Places, and in Bitola, Macedonia as part of the Exchange Radical Moments Live Art Festival on 11.11.11.  Andrews was a 2010-11 Franklin Furnace Fund for Performance Art recipient. Most recently, Rob curated and performed in a group show VARIOUS SMALL FLAMES at RUSH Arts and participated in William Pope.L's 25 hour marathon reading of John Cage's SILENCE for PERFORMA.
Kalia Brooks is a New York-based independent curator and writer. Brooks is currently an Adjunct Professor in the Department of Photography and Imaging at New York University's Tisch School of the Arts, a PhD Candidate in Aesthetics and Art Theory with the Institute for Doctoral Studies in the Visual Arts. She received her M.A. in Curatorial Practice from the California College of the Arts in 2006, and was a Helena Rubinstein Fellow in Critical Studies at the Whitney Independent Study Program 2007/2008.
Juliana Driever is an independent curator and writer. Her interests lie with art in the public realm, particularly work that is site-specific and participatory. She frequently publishes on the subject of contemporary art in both print and online formats, and contributes regularly to Bad at Sports. Driever also serves as an adjunct lecturer at The City College of New York, where she teaches in the Art History program. She recently curated About, With & For, a group exhibition at the Boston Center for the Arts about socially-engaged art and its relationship to folk practices.
Lawrence Graham-Brown is a cross-disciplinary artist who works in sculpture, painting, performance, among other media. His work has been presented by: Aljira Center for Contemporary Arts, The Queens Museum of Art, El Museo del Barrio, The Bronx Academy of Arts and Dance, Real Art Ways, 2008 Shanghai Biennial among other places.