Exhibition | Aug 23 - 26 2023
…an instinct to change things…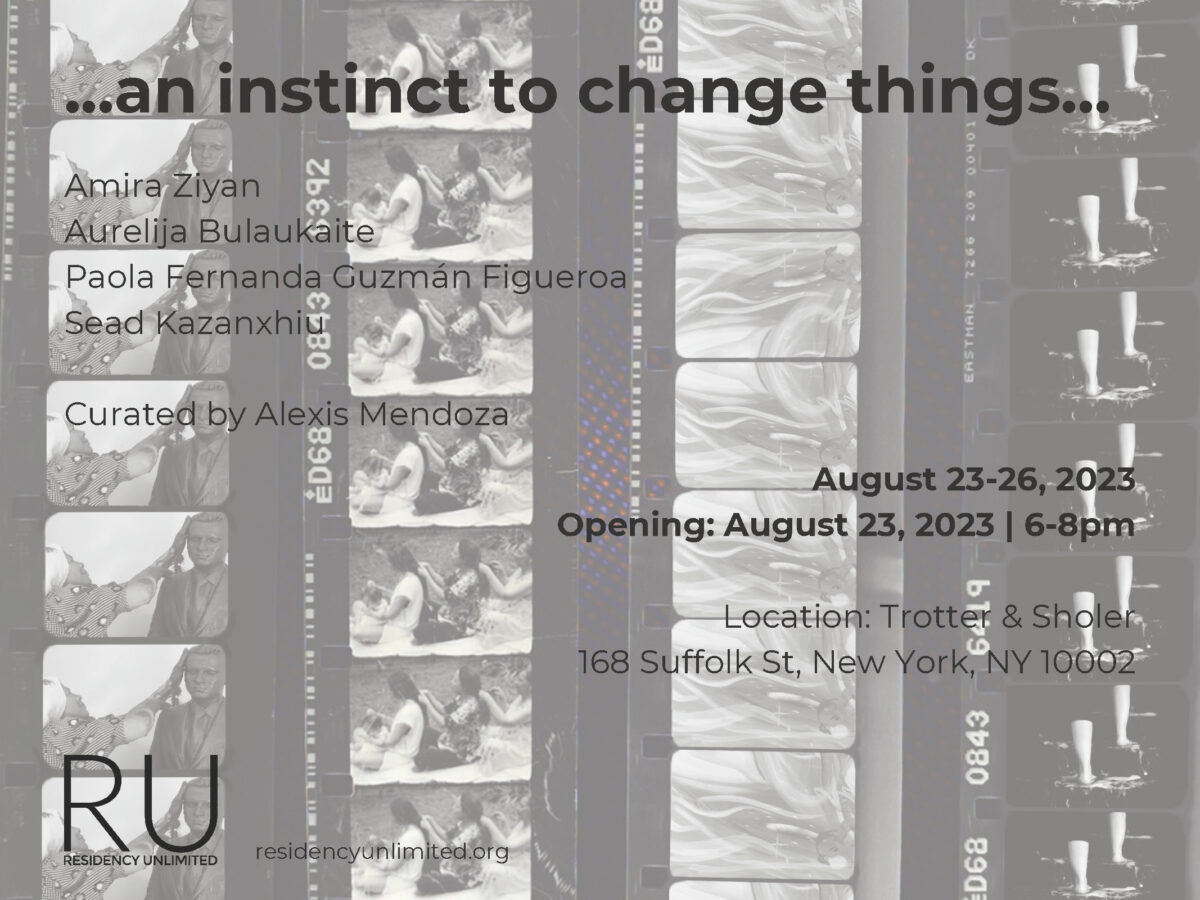 Image based on work by Paola Fernanda Guzmán Figueroa
Location: Trotter & Sholer
168 Suffolk St, New York, NY 10002 (map)
On view: Wednesday August 23 - Saturday August 26, 2023 | 12:00 - 6:00pm
Opening: Wednesday August 23, 2023 | 6:00 - 8:00pm (RSVP required)
Participating 2023 resident artists: Aurelija Bulaukaite, Paola Fernanda Guzmán Figueroa, Sead Kazanxhiu, Amira Ziyan
Curated by Alexis Mendoza (RU Guest curator)
Art has long been a powerful medium for expressing complex ideas and emotions, and it has the ability to transcend time and societal boundaries. This exhibition dives into the intertwining concepts of timelessness in art, while also examining the social aspects of identity and gender. The exhibition also explores how art engages with issues of cultural conflicts, prejudice, and exclusion, and how it can serve as a catalyst for change and reflection. The artistic production of Aurelija Bulaukaite, Paola Fernanda Guzmán Figueroa, Sead Kazanxhiu, and Amira Ziyan, examine the process of the emancipation of art-making aimed to safeguard their own interpretation to enable the option of self-intervention.
This project encompasses the essence of transcending temporal boundaries to capture the human experience. Simultaneously, it engages with the audience, providing a platform for marginalized voices. "…an instinct to change things…", a collective effort to address political norms, activism, discrimination, and displacement, makes it a powerful instrument for change, challenging oppressive systems and fostering empathy. Calling for a more inclusive and compassionate world, where creativity and expression serve as catalysts for social progress. Simultaneously, these four artists played a vital role in exploring and challenging social constructs related to discerning and epicene. Through these visual representations the artists have confronted societal norms, racism, and stereotypes, offering alternative perspectives and narratives.
Aurelija Bulaukaite is an artist from Lithuania who resides in Vilnius and works in unconventional art forms. She delves into the intersection of idealistic dreams and the often harsh realities of life, creating jarring contrasts between mundane daily routines and the imaginative possibilities they hold. Her artistic interests include the concepts of timelessness and impermanence, as well as the aesthetics of internet usage and performative cultures. The artist is exploring novel digital painting techniques, resulting in the creation of distinct and expressive characters that inhabit their own unique reality. Drawing inspiration from her inner senses, the artist employs a choreographic approach, while delving into the depths of the internet to recreate deep-dreaming motifs.
Paola Fernanda Guzmán Figueroa is a visual artist and filmmaker. She works with film, analogue experimentations, animation, installations, and performance. Her art reflects and raises issues related to fluidity, boundaries, family, and aging. Paola's work is based on the narratives and the lived realities of her family members and the geographical distance among them. Through her art, Paola intends to bring situations, stories, and bodies in constant motion, dissolve any frontier and connect the past with the present. Her work has been exhibited in numerous venues and has been documented by different media.
Sead Kazanxhiu is a visual artist who was born in Fier, Albania and now lives and works in Tirana. After graduating from the city's University of Arts with a degree in painting he works primarily in that medium, but his more recent practice has expanded into sculpture, installation, video and public space interventions. Kazanxhiu's family comes from the Roma ethnic minority, something that shaped his childhood years in Baltez, a village near Fier. In a community that has a non-privileged position within a nation-state, being an Albanian Roma person has been a determining factor in Kazanxhiu's status as an artist and in his cultural practice so far. Inspired by his own background, identity and everyday life, the issues of prejudice, exclusion, discrimination and racism have taken centre stage in both his artistic and activist work.
Amira Ziyan is an artist, photographer and teacher who lives and works in Yarka, Israel. She graduated from the Haifa University's Arts program and earned master's degree from there. Ziyan's artwork focuses on staged photography which emphasizes the act of the physical character's absence by evincing it with the high presence of the scene's objects. Women from her Israeli Druze society are mainly the object of Ziyan's art beside other social aspects such as identity and gender in the contemporary Druze culture.
Residency Unlimited (RU) is grateful to Trotter & Sholer for hosting this exhibition.
This program benefits from the support of The Trust for Mutual Understanding, Artis and Finnish Cultural Institute in New York (FCINY).