Sep 2015 | Works in Progress
Diana Policarpo on Johanna M. Beyer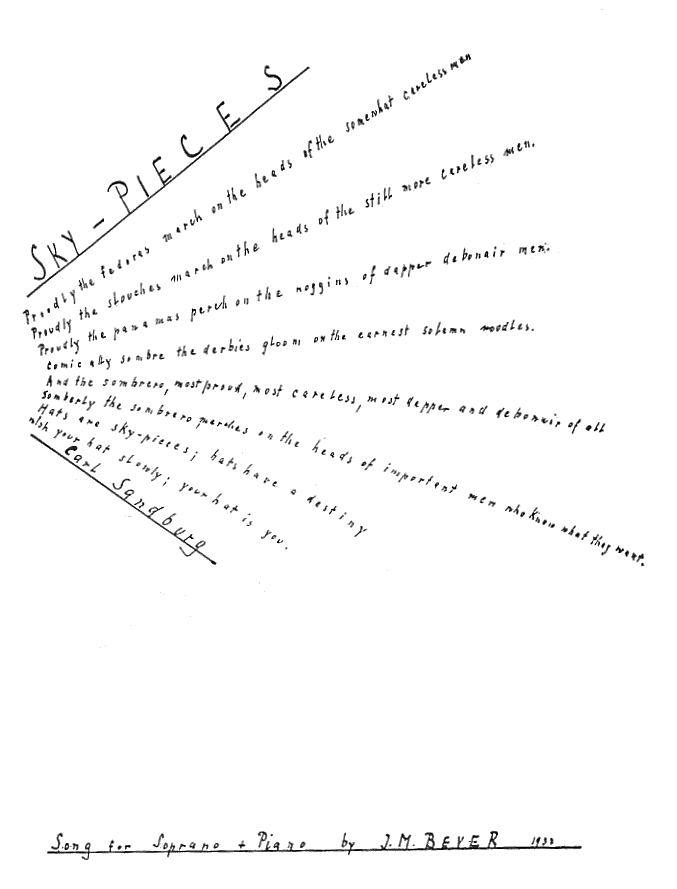 Beyer Image 4
Image 4 Johanna M. Beyer, poems and visual scores, 1933; manuscript held in the Music Division, New York Public Library for the Performing Arts
Diana Policarpo is currently developing research in different locations of the city, working with local communities and archives, and consulting Johanna Magdalena Beyer's manuscripts and musical scores which have a permanent home at the Music Division of New York Public Library for the Performing Arts.
The piece she's researching, Music of the Spheres/Status Quo (1938), is an unfinished political stage work, thought to be an opera and Beyer's most ambitious project which she decided to apply to Guggenheim Fellowship in 1937.
Though  Music of the Spheres/Status Quo was never fully realized, and none of it was ever performed, it might have constituted, had it been supported, a Gesamtkunstwerk in a class with other pioneering works of musical theatre written written during the mid-twentieth century.
Her aim is to developed different pieces of work inspired in this unfinished project, that will culminate in a series of performances, sound works and events.
Links:
http://www.newworldrecords.org/album.cgi?rm=view&album_id=17117
https://www.youtube.com/watch?v=_REVFN7A6_4
http://www.press.uillinois.edu/books/catalog/86gah6hf9780252039157.html
All images with courtesy of
© New York Public Library for the Performing Arts
Music Division
Dorothy and Lewis B. Cullman Center
40 Lincoln Center Plaza, New York, NY 10023-7498
Thank you: Residency Unlimited, Larry Polansky, Amy C. Beal, Interference Archive, NYPL