Momus Podcast: The Artist Residency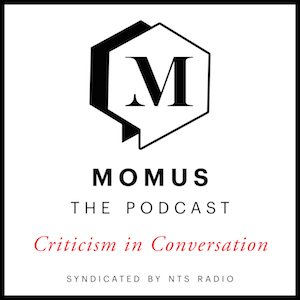 Momus is an international online art publication that stresses a return to an art criticism that is evaluative, accountable, and brave. At its base, Momus promotes a discourse that addresses both the flaws and strengths of an artworld fast expanding – and in need of renewed reflection. Momus: The Podcast extends its publication's reputation and presents "criticism in conversation." The series has since been syndicated by NTS Radio, in London, UK.
"The Artist Residency," featuring international voices close to the subject, Momus publisher Sky Goodden – joined by co-host Lauren Wetmore, a Brussels-based curator, and writer – discusses the risks and rewards of an actively-commercializing enterprise and its history. This episode of Momus: The Podcast features guests Daniel Baumann (director of Kunsthalle Zürich), Kristy Trinier (artist, curator, and former Banff Centre director), Aaron Cezar (founding director of Delfina Foundation), Michelle Grabner (artist, educator, and artistic director of Front International), and the co-directors of Beirut residency marra.tein, Jared McCormick, and George Awde. Together, this itinerant group leads an overdue discussion on this phenomenon and its potential benefits and consequences for art practice in the 21st century.
To listen to this podcast please click below:
---
More Panels: