Artist Residencies & Conflict Areas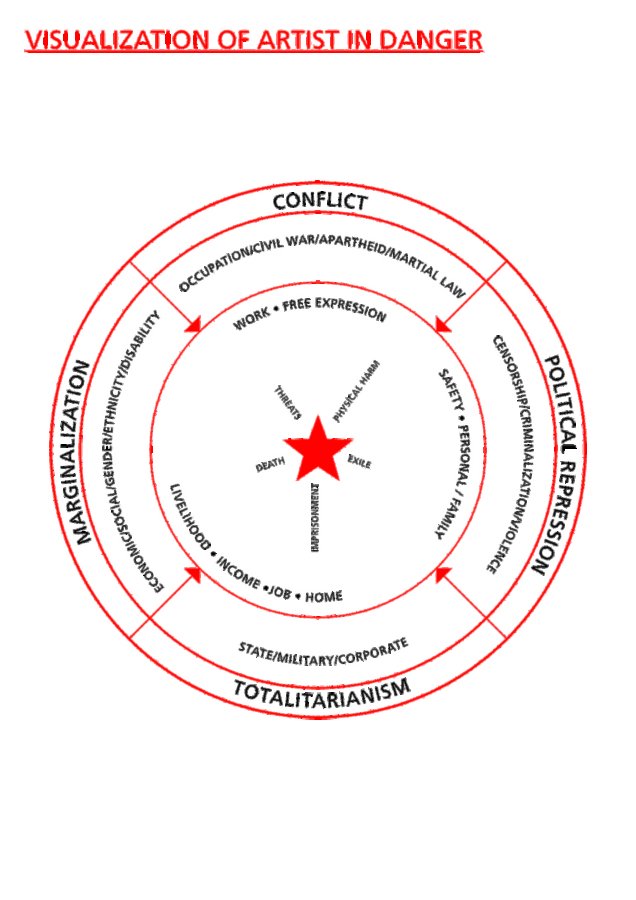 Artist Residencies & Conflict Areas engages artists, independent arts organizations, residency programmers, and community initiatives on specific areas and conceptions of conflict.
Issues for discussion will include mobility, community outreach, and exchange of knowledge through the broadly-interpreted artist residency model.
On June 24, the panel examines the topic of art residencies & conflict areas from a broad perspective. On June 25, the format allows participants and audience members to "zoom in" on the topic using four mini-case studies about identifying conflict in a given community context, an area of growth that the artist residency sector must embark upon in order for the social practice of artist residents to be relevant to the communities in which artist residencies are accommodated. This is immediately followed by questions/observations from the moderators, after which the discussants (project leaders) form a panel to answer questions from the floor about the cases and/or questions about projects held by audience members.
While the format is not intended as a dichotomy, some of the participants fall into the category of 'senders' (Bronx Museum, Apex Art), supporting artists' residencies around the world, and others as 'receivers' (Guapamacátaro residency; Corona, Queens; post-earthquake Haiti), communities that host artists and incorporate them into sensitive processes critical to the community's health, safety, and recovery from hardship.
This event is initiated by Residency Unlimited, and co-organized by Residency Unlimited, freeDimensional & The Creative Resistance Fund, and independent researcher Gaby Ron. The program is supported by the Goethe-Institut New York.
---
June 24, 2011


Speakers
A panel moderated by Todd Lester (freeDimensional & The Creative Resistance Fund) with:
- Elizabeth Grady (Bronx Museum, SmArt Power)
- Steven Rand (Apex Art)
- Pamela Auchincloss (Artists Pension Trust)
- Sergio Muñoz Sarmiento (Volunteer Lawyers for the Arts)
- William Cleveland (director, Center for the Study of Art and Community; author, Between Grace and Fear: The Role of the Art in a Time of Change and Art & Upheaval: Artists on the Worlds Frontlines)
Panelists addressed the following questions:
- Who defines conflict and to what extent does it fall prey to Western narratives (e.g. development, humanitarian assistance) that justify intervention?
- Can their be standards for visiting artists' relationships with host communities?
- What happens after the residency is over? Does an 'art for art sake' approach work in 'conflict areas'?
- Mobility: Who has the permission to go where in the world?
- Can programming or accepting an art residency be a political act?
- What can we learn from mobile and site specific residency models as tactical approach to space precarity?
---
June 25, 2011


Speakers
- Tania Bruguera (artist / organizer, Immigrant Movement International)
- Alicia Marvan (artist / founder, Guapamacátaro - Interdisciplinary Residency in Art and Ecology in Michoacán, Mexico)
- KT Tierney (artist / Konbit Shelter)
- Carlos Motta (artist - "We Who Feel Differently")
- Todd Lester (founder, freeDimensional & the Creative Resistance Fund)
- 2-4pm Moderators Bill Cleveland and Gaby Ron ask questions and share observations of differences/commonalities among the mini cases. Break-out sessions are encouraged if time permits.
---
Descriptions of case studies/projects
* Immigrant Movement International is a long-term art project in the form of an artist-initiated socio-political movement. Tania Bruguera is spending a year operating a flexible community space in the multinational and transnational neighborhood of Corona, Queens, which will serve as the movement's headquarters. Engaging both local and international communities, as well as working with social service organizations, elected officials, and artists focused on immigration reform, Bruguera will examine growing concerns about the political representation and conditions facing immigrants.
immigrant-movement.us
* Guapamacátaro has had to alter the format and timing of its residency program in Michoacán due to narco-violence, having to worry about real safety as well as artist residents' interpretations surrounding the War on Drugs.
guapamacataro.org
* Konbit Shelter is a sustainable building project with the objective of sharing knowledge and resources through the creation of homes and community spaces in post earthquake Haiti. We are a group of artists, builders, architects and engineers who after the Jan 2010 earthquake asked ourselves how we could use our skills and resources to directly assist another comunity in a time of crisis. konbitshelter.org
* We Who Feel Differently (2011) by Carlos Motta is a database documentary addresses this question of sexual difference and other critical issues of contemporary queer culture. We Who Feel Differently attempts to reclaim a queer "We" that values difference over sameness, a "We" that resists assimilation, and a "We" that embraces difference as a critical opportunity to construct a socially just world.
wewhofeeldifferently.info
* Border Statements is a community arts initiative and artist residency in Ruili City, Yunnan province, on the China-Burma (Myanmar) border, which uses arts and cultural programs to counteract the adverse effects of the Golden Triangle drug trade, human trafficking and HIV/AIDS on ethnic minority youth. Launched in 2007 by Zero Capital Arts, the project relies on a network of international and local artists, educators, volunteers, and businesses to provide artists, culture-bearers, community members, students and youth with opportunities to collaborate and develop strategies for cultural preservation. Zero Capital and freeDimensional are partnering on a Regional Triage Team approach for using the Border Statements network to provide support to culture-workers in distress in Yunnan and the broader region. freedimensional.org/2011/06/border-statements-the-regional-triage-team-model/
In addition, author Bill Cleveland brought 10 copies of each publication Between Grace and Fear: The Role of the Art in a Time of Change and Art & Upheaval: Artists on the Worlds Frontlines and made himself available for book signings. And independent researcher Gaby Ron prepared topical video and text material available to the public throughout the event. Fund, and independent researcher Gaby Ron.

---
More Panels: