RU Outbound Artist Clare Olivares on her residency at Sa Sa Art Projects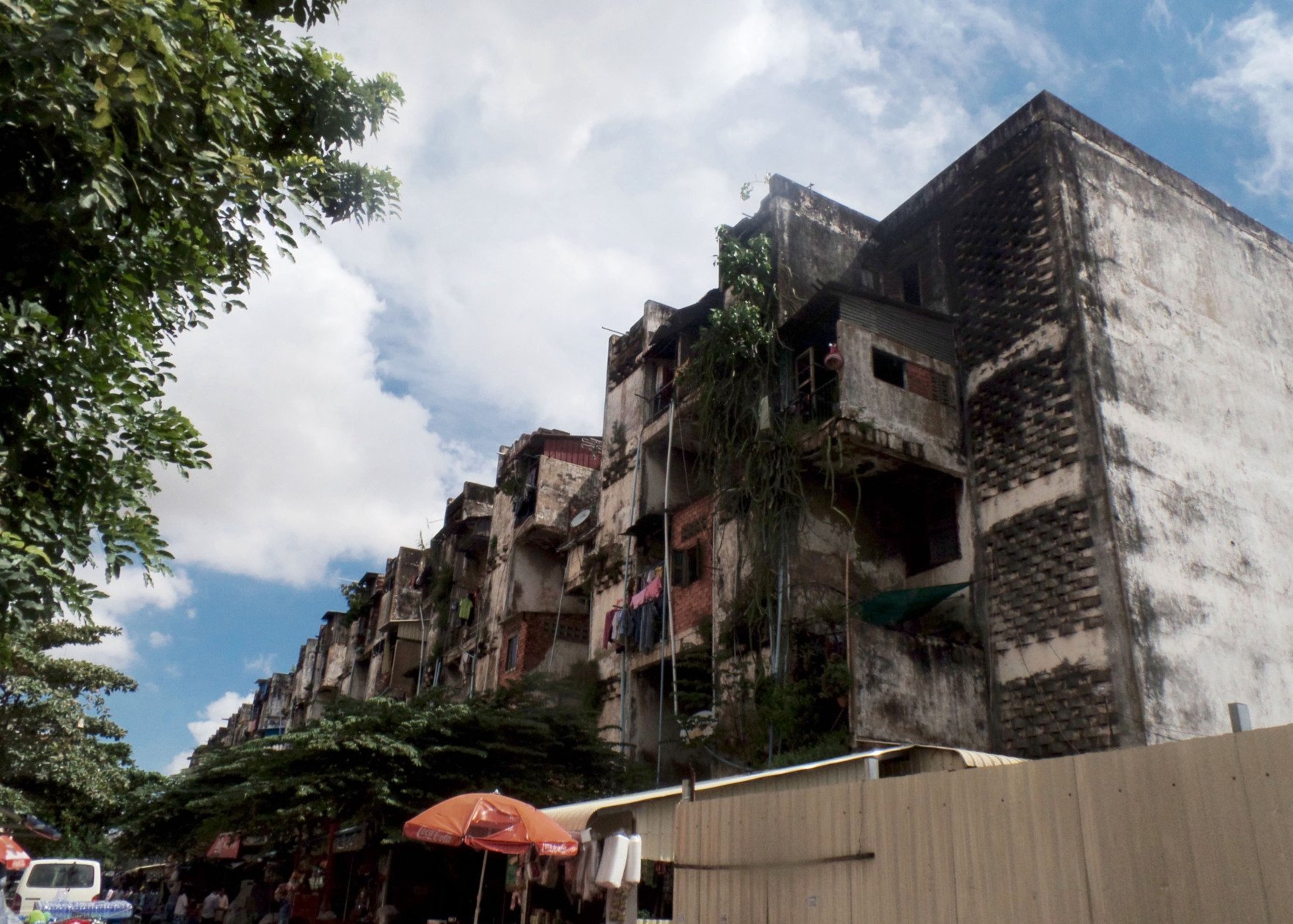 whitebldgphoto
Artist Residency, Phnom Penh, Cambodia - Artist Clare Olivares
Mid-September to mid-October 2015, I was Pisaot Artist-in-Residence in Phnom Penh. My one-month residency was organized with Residency Unlimited's partnership with the Sa Sa Art Projects, the only not-for-profit artist-run space in Phnom Penh, Cambodia.
I am a California based artist working primarily as a painter and mixed media artist. I came to Phnom Penh with little knowledge about the culture or the city. Therefore, this residency allowed me to learn about Cambodian life, history and culture. Learning about the culture, as an outsider, was often puzzling and always interesting.
The Pisaot Art Residency is in the capital city of Phnom Penh, Cambodia. The residency live/work studio is in the historic White Building whose 1963 construction was overseen by Cambodian architect Vann Molyvann. The White Building was Vann's first large-scale experiment in applying modern ideas to public housing by offering multi-story modern urban lifestyle to lower- and middle-class Cambodians. After the Khmer Rouge regime emptied the cities the building was largely left vacant and fell into disrepair. For many in Phnom Penh, the White Building is perceived as an irregular community, cloaked in stigma associated with poverty, drugs, sex work, petty crime, dangerous construction and poor sanitation. However, the White Building is a lively community housing skilled craftspeople, cultural workers, civil servants, street vendors and low-income families. The residency, which can accommodate one artist at a time, provided an apartment with 2 rooms: a private working space that served as gallery space during my open studio and a separate bedroom. There was a minimal kitchen so I choose to each most meals out. Many inexpensive restaurants are within walking distance. There was also a rudimentary small bathroom. On a floor below was the Sa Sa Art Projects archive room. The members of the Sa Sa Art Project were very welcoming and provided me with logistical and technical help as well as friendship. One team member invited me to spend a day with her family at their pagoda where Pchum Ben festivities were being held. Pchum Ben is a major ancestor remembrance holiday. That was a very special day for me to learn about religious rituals and customs with a Cambodian family.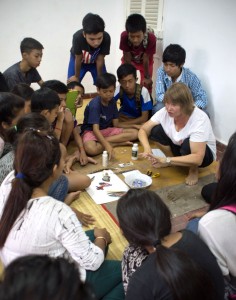 As part of my community involvement while residing in the White Building I led two children's drawing classes that quickly became painting classes as well as a series of photo transfer workshops for the young photographers in the building.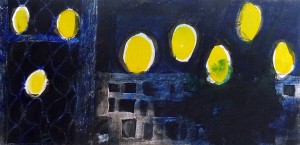 I introduced the students to contemporary artists who use photo transfers as well as other non-traditional photography techniques. I wanted to expand their understanding of creative possibilities for photography. Groups of students worked collaboratively to create interesting artworks.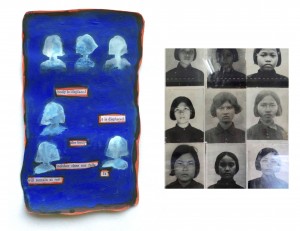 My Sa Sa hosts introduced me to the few galleries showing contemporary art. The contemporary art scene is relatively new, fueled by young artists and gallery owners. I attended several art openings to learn about Cambodian contemporary art. With very limited art materials available in Cambodia artists must adapt to materials they can find. Documentary film and photography are prevalent art forms as everyone has a smart phone to use as art tool. I was impressed by the photographic work of Philong Sovan who uses the headlight of his motorbike to shoot night photographs of Phnom Penh's residents.
During my residency, I wanted to explore the city of Phnom Penh. My artistic practice is one that relies heavily on walking and observation. My most vivid impressions of Phnom Penh were developed through exploring local neighborhoods and Wats (monasteries). My camera became a valuable tool as I documented my walks. This rich source material will assist me as I visually process my experiences into paintings.
Phnom Penh is a very traffic intense city so walking was challenging but I soon learned the ins and outs of navigating the chaotic roads. My daily walks resulted in small paintings; impressions of the city and the neighborhood surrounding the White Building. During my walks I would chat with local residents and learn about their lives. Everyone over 40 years of age has a personal story about the Khmer Rouge and the genocidal reign that lasted from 1975 – 1979. Many lost family members, were tortured themselves or were conscripted to the rice fields in the countryside. The country is still reconciling this tragic history. In order to better understand this period of Cambodian history I spent a day at the Bophana Center, co-founded by filmmaker Rithy Panh. The Center is dedicated to the archiving of Cambodia's audiovisual heritage. Rithy Panh has been critically acclaimed for his work. Most recently, he received the top prize of the "Un certain regard" competition at the 2013 Cannes Film Festival for his documentary The Missing Picture. At the Center I watched films about the Khmer Rouge regime, traditional Cambodian dance and French colonial history.
Although reluctant to visit the Tuol Sleng Genocide Museum I realized it was an important place to see. At Tuol Sleng, known as the notorious Security Prison S-21, 20,000 prisoners were tortured and killed. This day was my saddest in Phnom Penh. My museum guide had lived through the terror and gave me personal accounts of her experiences and the ongoing search for her family. One of the few survivors of the prison, Chum Mey, regularly comes to the museum to educate the public. The day I was there he spoke of his imprisonment with eloquence and restraint. It was a moving and heartbreaking day. Returning to the studio I recorded my impressions by completing several of my Found Poems pieces referencing the genocide.
Throughout my stay in Phnom Penh I worked on my Found Poem series. The Found Poem series consists of pages taken from old physics textbooks in which I "find" a poem and then add imagery to the page. I worked for over a decade in a physics research lab and my partner is a physicist so I have access to many physics texts.
I could not leave Cambodia without visiting the Angkor Wat temple complex outside Siem Reap. My hosts helped arrange my bus travel; a bumpy five hours through the countryside. I arrived at the temples before sunrise. A large crowd was gathered but they didn't stay long. I spent most of the day exploring all the temples, often the only visitor in sight. The grandeur of the Khmer architecture was quietly beautiful and mysterious. Extensive decoration, which predominantly takes the form of bas-relief friezes along with the stylized plant shapes, is already being incorporated into paintings. Grateful for my time in Cambodia my experiences will inspire not only my art but my life as well.
RELATED: