Open Calls |
Jan, 2021
PAST – 2020 NYC-Based Artist Residency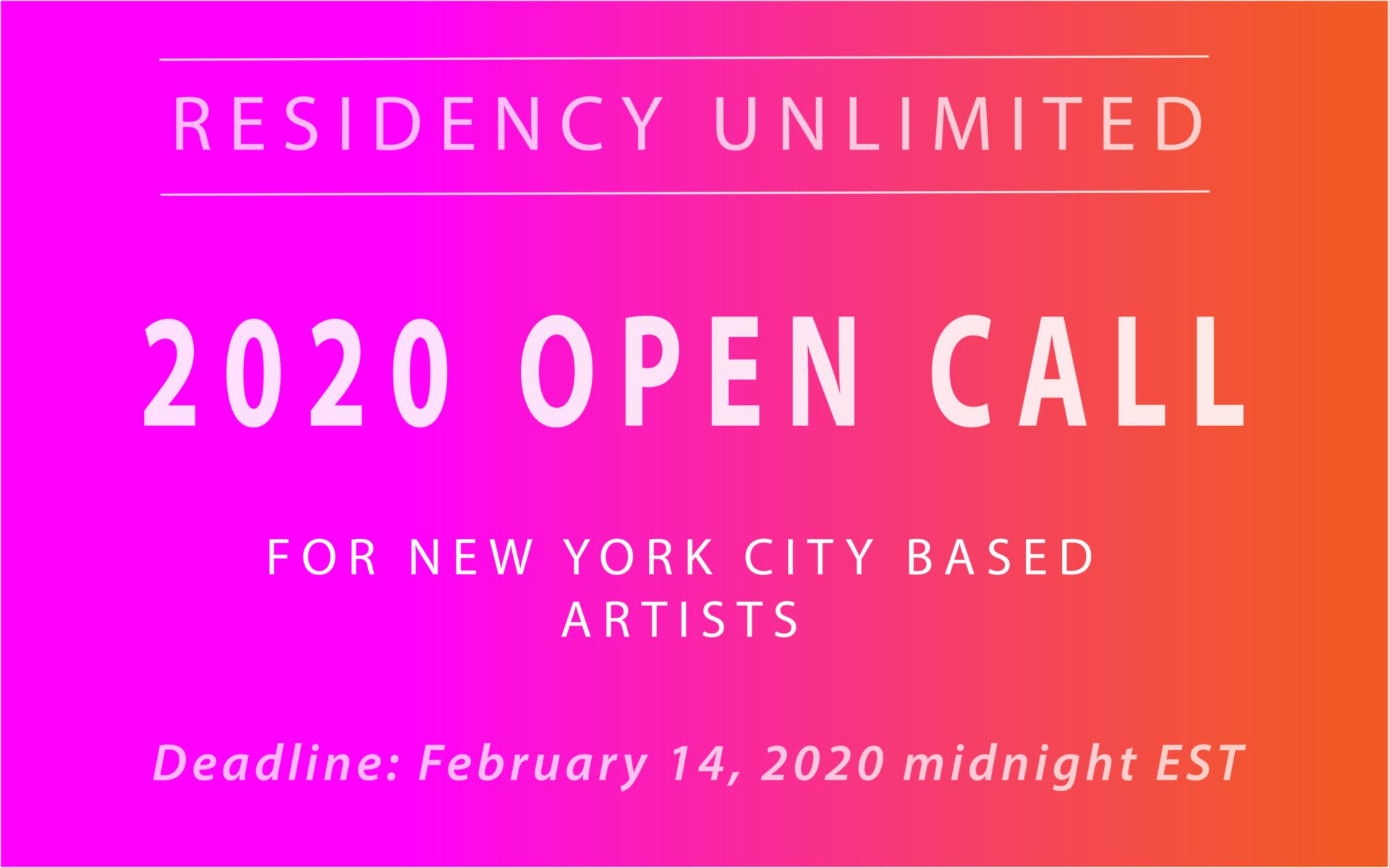 Residency Unlimited (RU) is pleased to announce an Open Call for residencies for NYC-based artists.
RU welcomes artists working in all disciplines and across media, who represent a range of diversity present in NYC communities that are underrepresented in the arts. RU is interested in the work of individual artists whose work is process-based and geared towards filling gaps in historical knowledge. Four artists will be selected from applications reviewed by a jury of arts professionals together with RU staff. *Applicants must live in one of NYC's five boroughs*
Residency Unlimited (RU) is a non-profit arts organization that supports the creation, presentation, and dissemination of contemporary art through its unique residency program and year-round public programs. Located within a former South Congregational Church in Carroll Gardens, Brooklyn, RU is a multifunctional space, acting as a hub and meeting place for RU's various community activities and public programs, including, talks, screenings, performances, and exhibitions. Here, artists and curators in residence meet with RU staff, conduct research, and at times produce work.
Residency Schedule:
Four artists will join RU for a three-month residency from April 13 - July 12, 2020, with a one-week group exhibition the final week of June.
Application Deadline: February 14, 11:59 pm EST
The selection will be made by a jury consisting of art professionals and RU curatorial staff. Finalists will be notified by Friday, February, 28th, 2020.
NYC-Based Artist Residency features:
- $1,200 stipend
- Weekly visits at RU with art professionals that align artistic/curatorial interests
- Network support, project/production assistance, public exposure
- Regular meetings with RU staff as desired
- Artist presentations among RU residents
- Resident group activities such as exhibition visits, workshops, and field trips
- Culminating one-week-long group exhibition the final week of June at a partnering venue in NYC
To fill out the application form below, please have the following materials ready:
- Contact information
- NYC address
- Artist Statement (1500 characters / 250 words)
- Statement of Interest / Proposal (3000 characters / 500 words)
- An up-to-date CV (PDF format)
- PDF portfolio that includes up to 10 images of work including title, medium, year and description (max 8MB)
- For time-based practices, please include links in the application

This program is supported, in part, by public funds from the New York City Department of Cultural Affairs in partnership with the city council, and generous support from individual donors.