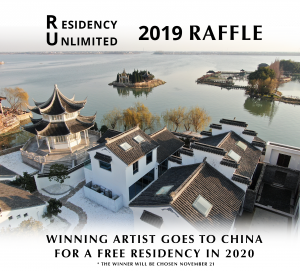 RU's 2019 Residency Raffle!
2019 marks RU's tenth anniversary. For this landmark year, Residency Unlimited (RU) and Points Center for Contemporary Art (PCCA)  invite all artists to participate in RU's sixth annual Raffle and win a month-long residency hosted by PCCA in Jinxi (China), all expenses covered. 
Residency Dates:
April – June or September – November 2020
(to be determined by PCCA and the winning artist).
ELIGIBILITY
This raffle is open to practicing visual artists (of all disciplines) with a website or portfolio URL showing at least 3 years of professional practice. If you are recommending an artist, please indicate the name and URL or website of your nominated artist/s.
CONDITIONS
RU will cover the airfare cost to Shanghai and return from wherever the winning artist is located, as well as a stipend. PCCA will provide pick up and drop off service from airport to Jinxi , located an hour away from Shanghai. PCCA will provide accommodation and studio space for thirty days as well as resources determined on a case to case basis. The artist will be invited to organize a public program (lecture or workshop) for the local art community.
---
ABOUT POINTS CENTER FOR CONTEMPORARY ART 
Founded in 2017, PCCA's  21, 500 sq ft surface  incorporates a residency program with studios and accommodation,  galleries for exhibition and public education activities, as well as a theater and archival database. PCCA is located in the unique setting of the ancient water town of Jinxi along the Yangtze River, that is shaped by a two thousand year old history and the Wu culture. Jinxi has adopted  ecologically mindful policies. Through its residency, PCCA looks to foster a new cultural context both respectful of local tradition and open to international cultures. The residency program brings together artists, curators, writers, musicians, scientists, researchers, and interdisciplinary experts selected based on the relevance of their projects.
---
As an artist or artist supporter purchase a $25 raffle ticket to win or provide an artist of your choice with this unique opportunity. The raffle draw will take place at RU benefit on November 21, 2019.
Entries will close at noon on November 20, 2019.
 1 ticket: $25
2 or more tickets: $20 each
SOLD OUT: stay tuned for the results at tonight's benefit party!