Talks | Dec 12 - 13 2020
Thinking Food Futures: An Interdisciplinary Symposium and Exhibition on Food Justice, Resilience, and Adaptation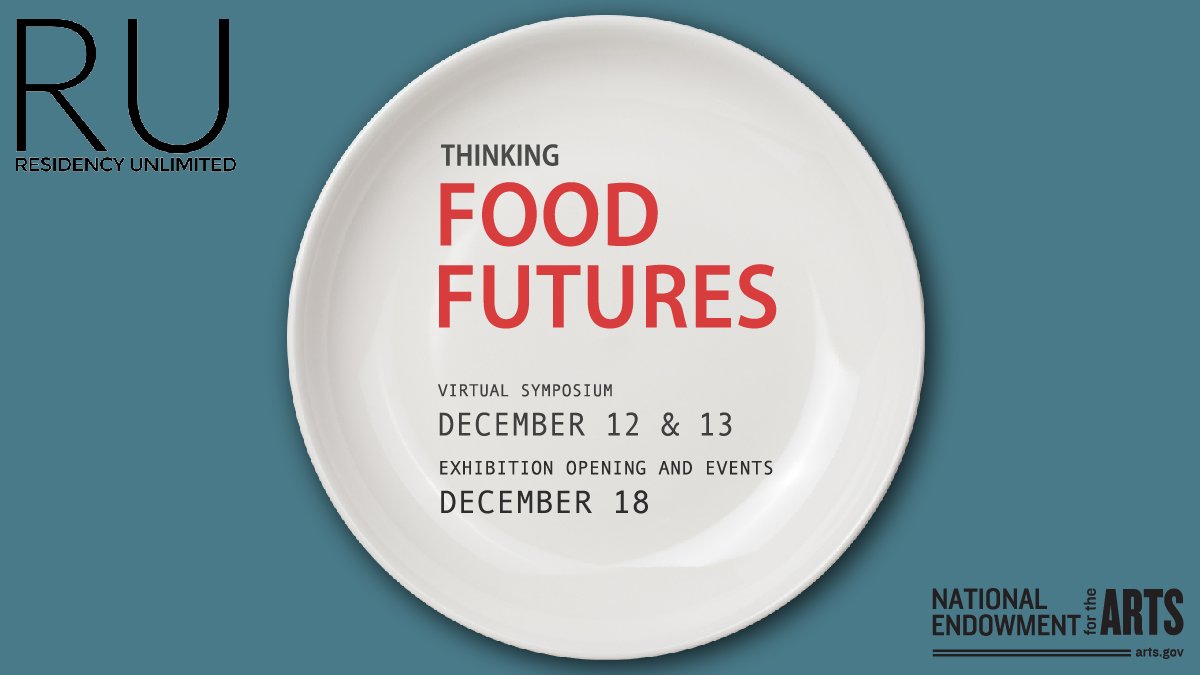 December 12 - 13: Virtual Symposium
January 22, 2021, 6pm: Virtual Exhibition Opening
[Scroll down for symposium schedule and registration]
Curated by Livia Alexander and Isin Önol
Curatorial Assistant: Chayna Yoshida
Interactive website design: Julian Mathews
Inviting environmentalists, scientists, farmers and artists to collectively reimagine answers, possibilities and potentials for radical change
Residency Unlimited (RU) announces the launch of Thinking Food Futures, a two-day virtual symposium and exhibition, tackling one of the most urgent question of our time: How will we feed ourselves when the table we eat on—Planet Earth—is collapsing beneath us? The program includes live workshops, panel discussions, lecture performances, poetry readings, video works, a radio talk show and an exhibition of new artworks made specifically for this platform, alongside existing works.
This project builds upon the thematic residency Food Futures which took place from April through July 2020 with seven local artists selected through open call and a panel process to reimagine issues around food resilience in urban environments and food justice.
Thinking Food Futures proposes that we reimagine how we farm, ship, share, and eat; for the sake of ourselves and the planet, to rethink the future of food by radically reimaging the present.
The symposium brings together artists Asunción Molinos, Siri Lee, Jessica Segall, Keg de Souza, Candace Thompson, Allie Wist, scientist Andrew Reid Bell, scientist and artist Jenifer Wightman, urban farmer Melissa Metrick, chefs and policy advocates Mirna Bamieh, Scott Alvez Barton, Defne Koryürek and Ramón Cruz, environmental activist and farmer Gillian Goddard, poets and visual artists at a poetry reading Betsy Andrews, Omotara James, William Mazza, Carolyn Monastra, Sabiyha Prince, VK Sreelesh, Michelle Threadgould, Viswan Zorba and journalist Liana Aghajanian and Cynthia R. Greenlee to ask questions together while searching for collective answers, possibilities and potentials in the blurry spaces in-between fields of cultivation, areas of expertise, and wide pools of passion and commitment. See schedule below for complete information and required advance registration details.
On December 18, a virtual exhibition with the same title opens with new works by the 2020 Food Futures artists Esra Durukan, Yoko Inoue, Siri Lee, Rosa Nussbaum, Lily Consuelo Saporta Tagiuri, Andrew Vigil-Emerson and Allie Wist, as well as recent works by Keg de Souza, Asuncion Molinos, Jessica Segall and Candace Thompson.
The recording of all sessions are accessible via the links below.
Registration links in the schedule below.
Download the comprehensive booklet with the full program here.
Thinking FOOD FUTURE is made possible with funds from the National Endowment for the Arts.

This program is supported, in part, by public funds from the New York City Department of Cultural Affairs in partnership with the City Council.