Talks | Sep 4 2018 6pm
RU Event: Arlington Heights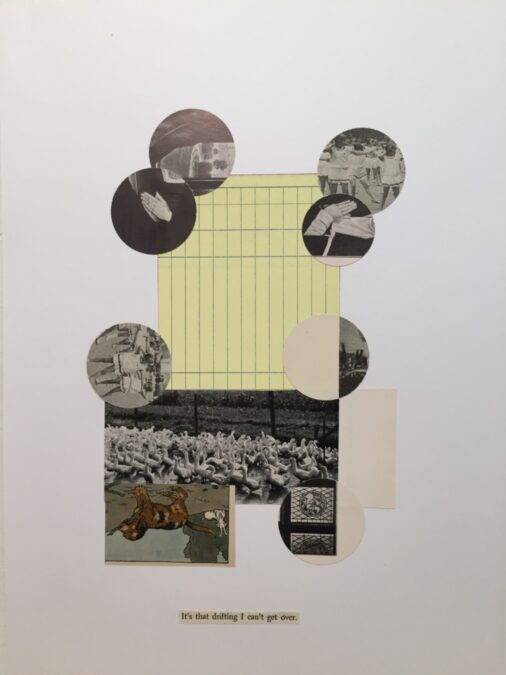 Pablo Helguera: "It's that drifting I can't get over", collage on paper from The Arlington Heights Suite 2018
Tuesday, September 4, 2018
6pm (free and open to the public)
Residency Unlimited (RU)
360 Court Street (enter the Church through the main entrance)
Brooklyn, NY 11231
Arlington Heights
A play by Paul David Young
Based on The Arlington Heights Suite collages by Pablo Helguera
A first reading
With
Brian Linden
Andrea Sooch
Candace Thompson
Pablo Helguera
Directed by Paul David Young
In 2008, artist Pablo Helguera initiated an ambitious series of collages using found texts and images. The thousands of phrases in this collection (from highly varied sources that range from medical and theoretical texts to children books) serve as a diary of sorts for the artist.
Using exclusively the 4200 random fragments of text from Helguera's collages, playwright Paul David Young has created an intimate drama about an intellectual family, with its distinct tangle of affections and antagonisms, as they turn to philosophy and humor in the face of death.
***
Pablo Helguera (Mexico City, 1971) is a visual artist living in New York. His work involves performance, drawing, installation, theater and other literary strategies. He is often considered a pioneering figure in the field of socially engaged art. His work has been featured at many international biennials including Manifesta, Havana and Liverpool Biennial, and Performa, and he has performed individually at BAM, The Kitchen, Reina Sofia in Madrid and many other venues.  In 2009 he wrote and directed the play The Juvenal Players. 
He has received the Guggenheim and Creative Capital Fellowships as well as the first International Award of Participatory Art in Bologna, Italy.  He is the author of many books including Education for Socially Engaged Art (2011) and The Parable Conference (2014).
Paul David Young's 2017 Trump satire, Faust 3: The Turd Coming, or The Fart of the Deal, performed by four clowns at Judson Church, was featured in The New York Times, The Huffington Post, New York Magazine, Time Out New York, Village Voice ("Voice Choice"), The Wall Street Journal, and Hyperallergic. Upstage Downstage picked his play Kentucky Cantata, at HERE in New York, as one of the top 13 plays of Off-Broadway and Off-Off-Broadway for 2015. Erik Haagensen of Backstage selected his In the Summer Pavilion in NYCFringe and at 59e59 Theaters as a "Critic's Pick." His No One But You won the Kennedy Center's Paula Vogel Playwriting Award and was a finalist for the Kendeda Fellowship. His one-act Aporia was a finalist for the Kennedy Center's John Cauble Short Play Award. His translations, with Carl Weber, of Heiner Müller's Anatomy Titus Fall of Rome and Macbeth were published as Heiner Müller: After Shakespeare. A contributing editor at PAJ (MIT Press), he writes regularly for Hyperallergic. His book newARTtheatre: Evolutions of the Performance Aesthetic, about visual artists appropriating theatre, was issued by PAJ in 2014. He has had residencies at Lower Manhattan Cultural Council's Workspace, Millay Colony, Djerassi Resident Artists Program, and Ensemble Studio Theatre's Summer Conference. LMCC awarded him a five-month Process Space residency on Governors Island for 2015, where he conceived and performed Curtain Wall Part 3: An Immersive Landscape Theater Performance of Christopher Marlowe's "Hero and Leander," in which he swam across New York Harbor. His All My Fathers will premiere at La MaMa as part of its 2019-20 theater season.
http://www.pauldavidyoung.com