Special Features 2010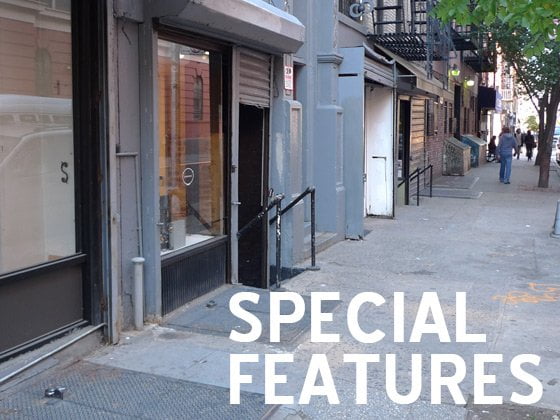 specialfeatures
Converting an art gallery into a low budget film studio
Artists: Adam & Eve , F. P. Boué, Francisca Caporali, Bradley Eros

, Juliana Francis-Kelly, Brian Frye

 & Penny Lane, Camille de Galbert, Peter Hristoff, Andrew Lampert

, Marie Losier, Jackie Raynal

, Joel Schlemowitz. A project co-curated by Residency Unlimited and Marie Losier.
Conceived as a short term residency project, Special Features was realized at the Kumukumu gallery, 42 Rivington street (NYC) in January 2010. For 1 month, Residency Unlimited converted the gallery into a low cost film studio, containing all the necessary ingredients for filming a movie: cameras, lighting, costumes, props, backgrounds, staging, etc. A select group of artists, filmmakers, musicians, and performers were invited to use the space and equipment to each make a film over the course of one workday (eight hours) – an exercise in resourcefulness. Each participant was instructed to follow a simple yet precise set of constraints designed to maximize the time, space, and resources available. Under these conditions, lines between actors and crew, film set and back stage, equipment and props  fuse, allowing the event to be considered as one collaborative installation/performance. Here process plays a role equally as important as the final product. Viewable to the public, the film shoot becomes the work, whether in an active or inactive stage. The project concluded in the realization of 12 short films and a DVD.
Experimental, underground cinema is a cherished and noble medium, it demands lots of energy and devotion yet rarely returns the same input back to its creators. Residency Unlimited is eager to develop new, sustainable methods of supporting local artists who more often than not, remain on the fringe of exposure. By placing artists within  specific work conditions such as the ones devised for Special Features, we can channel an intensely productive initiative as smoothly as possible.
Where can this project take us?
"Special Features" is an experiment of sorts. One that will hopefully define an intuitive methodology for  low or no-budget filmmaking. If as an organization, we can provide a framework for artists with little to no means and who through our criteria produce interesting and pertinent works, then this initiative will be successful. One which could could become a continuous environment aimed at supporting emerging and experimental film makers.
ABOUT THE ARTISTS:
Adam & Eve met in 2004 in Brooklyn, New York, where they currently live and work together. Adam was born in Knoxville, Tennessee in 1979. He studied medicine to become a plastic surgeon before deciding to study special effects make-up which subsequently allowed him to transform people as he pleases in his artistic practice. A former student of Dick Smith, Adam currently works for Dreamworks. Eve (b. 1975  in Nancy, France)  graduated from the Ecole des Beaux Arts in Paris, and also  studied  at the San Francisco Art Institute. She uses her own body as a tool to make sculptures and videos. Eve has exhibited in Europe and USA, and most recently at Cueto Project in New York.
F. P. Boué Based in New York, F.P Boué studied lnguistics, history of art, architecture and film in London and Paris. Whereas his earlier installation work was exhibited from 1981 onwards,  he only started showing his films in 1999. They have been shown in institutional contexts such as  Museum of Modern Art, New York; Kunstmuseum, Bern; Künstlerhaus, Stuttgart and the Museum für Moderne Kunst, Frankfurt among others. http://www.newmuseum.org/events/169 thrustprojects.com/CM_Bio_FB.htm
Francisca Caporali Francisca Caporali is a Brazilian artist who lives and works between Brooklyn and Belo Horizonte. She received an MA from MECAD – ESDI in Barcelona- Spain, and is an MFA candidate at Hunter College – Integrated Media Arts. In 2007/2008, Francisca was awarded the  AAUW International Fellowship and in 2008, participated in the  LMCC Swing Space residency. Her films and videos have been shown and exhibited at SCOPE and Orchard47 in NYC, UnionDoc in Brooklyn, MANA in Jersey City, Gandy Gallery in Slovakia, Break 2.4 Festival in Slovenia, VideoBrasil, Wide World Film festival in Toronto and the Flaherty Seminar in Hamilton.
Bradley Eros An artist working in myriad media: experimental film & video, collage, photography, performance, sound, text, expanded cinema & installation. Also a maverick curator, designer, researcher & investigator. Concepts include: ephemeral cinema, mediamystics, subterranean science, erotic psyche, poetic accidents, cinema povera & musique plastique. Exhibited at 2004 Whitney Biennial & The American Century, The New York Film Festival, London Film Festival, MoMA, The Kitchen, Pacific Film Archives, The Warhol Museum, Arsenal in Berlin, Lightcone in Paris; also works with the New York Filmmakers' Cooperative, Anthology Film Archives, Issue Project Room, & co-directed the Roberta Beck Mercurial Cinema. A Futurist Film Funeral (fff !!!) – Performa 09 – Nov 14th 2009 Robert Beck is Alive & Well and Living in NYC (Google Video)
Juliana Francis-Kelly is an actor, playwright and a doll maker who has performed in the U.S., Europe, and Asia for Young Jean Lee: SONGS OF THE DRAGONS FLYING TO HEAVEN; for Richard Foreman: PARADISE HOTEL; BAD BOY NIETZSCHE!; MARIA DEL BOSCO (for which she won an Obie Award); and KING COWBOY RUFUS RULES THE UNIVERSE; for Lear DeBessonet: TRANSFIGURES; for Dalia Ibelhauptaite: SVEJK at the Duke at 42nd Street; for Pavol Liska: FRAGMENT at Classic Stage Company; and for the late Reza Abdoh as a member of the internationally acclaimed Dar A Luz Company. She has appeared in films by Hal Hartley, Meredith Drum, and by Marie Losier in collaboration with Guy Maddin. Her plays have been produced and published in the U.S.; England; Germany; Austria; Italy; Greece; and Norway, and she's a Sundance Lab Fellow who has written for the Killer Films Company. Francis-Kelly has received project support from the NEA, The Greenwall Foundation, The Jerome Foundation, NYSCA, and the LMCC. Her dolls have been featured in films and plays, and one lives at The American Museum of Natural History's educational wing. Recent gallery shows include PATRON SAINT, a public art project in which she made dolls for whoever needed them. culturebot.org/2009/05/30/patron-saint-by-juliana-francis/ ontologicalhysteric.blogspot.com/2007/11/juliana-francis-kelly-in-rehearsal.html
Brian Frye

 & Penny Lane  - Brian L. Frye is a filmmaker, writer and lawyer who lives in Claryville, New York. waste-book.blogspot.com/ Penny Lane is a video artist and documentary filmmaker who lives in the Catskills and teaches art at Williams College. http://www.p-lane.com/
Camille de Galbert is a filmmaker, artist and dancer. Her career started as a dancer in France. After  graduating from the National Conservatory of Grenoble, she received a scholarship in 2002 to New York to study with Merce Cunningham Studio, and continued her study of modern dance for three years. This long term involvment sparked an interest in multi-media and film which she pursued by studying film production at the New York Film Academy. As a freelancer in film and television in Paris and New York, she founded LightHouse Films in January 2008. http://www.camilledegalbert.com/
Peter Hristoff  was born 1958 in Istanbul, and his family emigrated to New York in 1963. Hristoff received his BFA from the School of Visual Arts of New York (1981) and his MFA from Hunter College, City University of New York (1983). He is the recipient of the Joan Mitchell Award in Painting, The New York Foundation for the Arts Award in Drawing and the Moon and Stars Project Grant. He is a professor of painting and drawing at his Alma Mater, the School of Visual Arts. Hristoff is represented by C.A.M. Gallery in Istanbul. http://www.peterhristoff.com/
Andrew Lampert Born in the mid-70s in the Midwest, Andrew Lampert primarily produces films, videos and live performances. Over the last decade his works have been widely exhibited at festivals (NY Film Festival, Rotterdam International Film Festival, Kill Your Timid Notion), cinemas (BFI, Light Industry), galleries (Mitchell Algus Gallery, NYC & Associates, London), independent art spaces (The Kitchen, NYC & The Center for Contemporary Art, Glasgow), museums (The Getty Museum, Los Angeles & The Whitney Museum of American Art) and in numerous venues. He currently lives in Brooklyn, works as Archivist at Anthology Film Archives and is researching the seamy underbelly of the music industry for a new live production. http://www.ibiblio.org/pub/electronic-publications/stay-free/archives/23/home-movie-day.html kushitan.blogspot.com/2006/05/andrew-lampert-at-whitney-biennial.html
Marie Losier (b. France 1972), is a filmmaker and curator working in New York City whose work has been featured extensively. She is  currently developing  her first feature film on musical genius Genesis Breyer P-Orridge and her band Psychic TV,  and the work in progress was featured at the Centre George Pompidou in 2009 . Marie's films have been featured at the Berlin Film Festival, Fondation Cartier/Soiree Nomades (Paris), Bozar Museum (Belgium), Walter Reade-Lincoln Center (NYC) Cinemateque Francaise (Paris ) among others. She was recently commissioned by Kino Arsenal in Berlin to make a film inspired by Jack Smith for the LIVE FILMS! festival which led to the creation of  the -Slap The Gondola!. In 2008. Marie's film portrait on musician and filmmaker, "Tony Conrad-Tony Conrad DreaMinimalist"- was featured at  Tate Modern,  Rotterdam and Berlin Film Festival, Harvard Film Archives, Kassel Documentary Film Festival, Copenhagen Film Festival, Cornell Cinema. At the Berlin Film Festival, she presented 7 films in a solo show at the Forum-Arsenal "Marie Losier Goes Underground", where she also premiered her film  on Tony Conrad. In 2006, "The Ontological Cowboy" , her film portrait on Richard Foreman, was selected for the Whitney Biennial (NY). "Electrocute Your Stars", a film portrait on George Kuchar was featured at MOMA (Museum of Modern Art (NY) . In 2007, she curated "Sweet Sixteen" for The Rotterdam Film Festival, and was invited by The Berlin Film Festival to present "Manuelle Labor", a film realised in collaboration with Canadian Filmmaker Guy Maddin. marielosier.net/
Jackie Raynal was born near Montpellier, in the south of France. She studied at the Sorbonne, was an apprentice in film editing at Genevilliers Lab in Paris which led her to become an assistant editor in various films, including Renoir's "The Elusive Corporal". After receiving accreditation as a Chief Editor from the Centre National de la Cinématographie, she edited major productions , such as  Eric Rohmer's "La Boulangère de Monceau",  "La Carrière de Suzanne",  "Nadja à Paris" ,  "La Collectionneuse," and the Nouvelle Vague film in sketches "Six in Paris (Paris vu par…). In 1965, Ms Raynal made her directorial debut in 1965. Her film "Deux Fois" won the Grand Jury Prize at the Toulon Film Festival (1969) and the Grand Prize at the Hyères Festival (1972). Her film "New York Story" received the Grand Prize (Golden Boomerang) at the Melbourne Film Festival (1981). In New York, she was film curator at the now legendary Bleecker Street Cinema and Carnegie Hall Cinema. http://www.jackieraynal.com/
Joel Schlemowitz has created  over forty short experimental films, and numerous film installation pieces. He has received grants from the Jerome Foundation and New York State Council on the Arts. His work has been shown at the Whitney Museum of American Art, MoMA, Anthology Film Archives, Millennium Film Workshop, Berks Filmmakers, and at various festivals including the London Film Festival, the Sydney Film Festival, the Chicago International Film Festival, the Ann Arbor Film Festival, the Denver Film Festival, the New York Underground Film Festival, and elsewhere. His short film Reverie was broadcast on the Sundance Channel in the "Underground Shorts" series. Another short work, Moving Images – the Film-Makers' Cooperative relocates, received Honorable Mentions from the Thaw02 Film & Video Festival and NY Short Film Expo, and was awarded a silver plaque from the Chicago International Film Festival. He has received Best Short Documentary awards at the Chicago Underground Film Festival in 2004 and 2005. He teaches filmmaking at the New School, and is President of ACT-UAW, Local 7902, union of adjunct and part-time faculty at New School and NYU. http://www.joelschlemowitz.com
————————
Special Features is made possible in part by our supporters and with public funds from the Fund for Creative Communities, supported by the New York State Council on the Arts and administered by the Lower Manhattan Cultural Council