Alumni News |
Jul, 2016
Michael A. Robinson: Either/And at ArtHelix/SHIM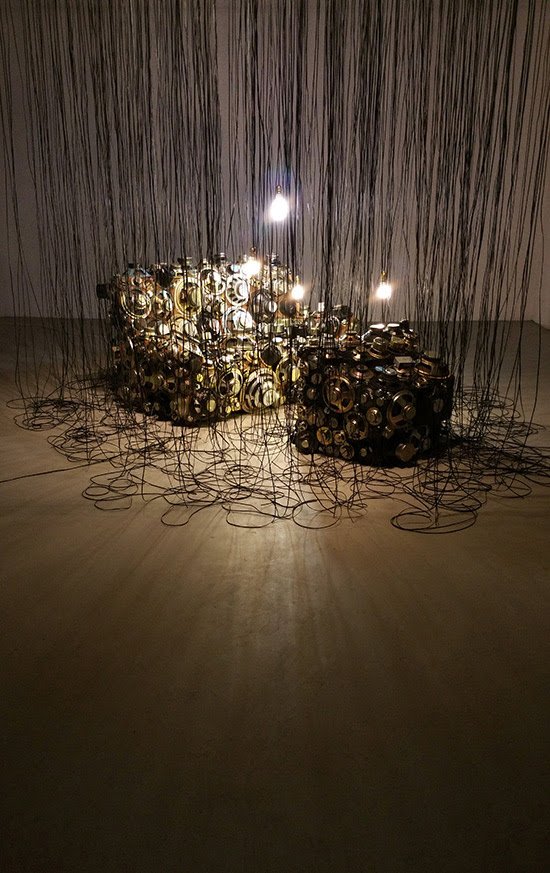 Michael A. Robinson: Either/And 
at ArtHelix/SHIM
289 Meserole St
Brooklyn, NY 11206
(Montrose Ave stop on the L train)
Opening: Friday July 15th, 6PM-9PM
July 15th-July 31st


Gallery Hours:
Saturday-Sunday
12PM - 6PM
and by appointment
Of the various collected objects in Michael A. Robinson's studio—a Home Depot shopping cart, a flashing LED open sign, dozens of dollar store wall clocks—among the most abundant are books.
On top of the pile these days are Neomaterialism by Joshua Simon, Forgetting the Art World by Pamela M. Lee, and an anthology of writing by Antonin Artaud.
Robinson's installation art is informed by this kind of research and it is from here that we can begin to unravel the sense of his new work for Either/And, the artist's first NYC solo exhibition.
Elaborating a theory of the 'unreadymade' critic and writer Joshua Simon questions materiality, the role of manufactured objects in contemporary art and the social and political implications of such use.
"Most commodities live longer than their creators and consumers alike—even a simple plastic bag will outlive us all many, many times over. Therefore, as all objects that enter into this world are commodities, we must realize that this is not our world, but rather theirs. We dwell in the world of commodities."
Pamela M. Lee's timely book questions "the "work" of art's world," a way of questioning art's mattering and its materialization, pointing out that the activity performed by the art object is completely continuous with the world it inhabits and creates. So, what are the ties that bind art to the art world? What decisions taken every step of the way from the idea, to the studio, from the gallery, to the art fair and museum contribute to the global art system and structure that many consider untenable and complicit with neo-liberal economic policies?
Antonin Artaud, originally a surrealist, believed in the efficacy of vital and resonant associations between objects and ideas. This effect is extended in Robinson's most recent installation Vida, lucida, Toshiba, 2016 which features the sound work, Sinoms, 1989, by Canadian artist Michael Snow. The mesmerizing effect of this 'artwork, within an artwork' adds a level of artistic obfuscation that complexifies authorship and translates into dramatic theatricality.
While revisiting assemblage art which began with dada and surrealism, Robinson's new works are unequivocally future-oriented. A 'What then must we do?' attitude imbues all of the work in Either/And, reminding us that beyond its seductive surface, the political and ethical matter-of-factness of contemporary art speaks our world and that actualizing it with passion and imagination must become our mission.
Michael A. Robinson is a Montreal-based artist born in Germany. He received his BFA from Concordia University (Canada), followed by an MFA from l'Université de Paris 1 Panthéon-Sorbonne (France).
Michael is a multidisciplinary artist. His work addresses questions inherent to contemporary artistic practice such as the meaning of art, the role of the artist and the nature of the creative act. His work reveals the tensions and the potential meeting places between formalist and conceptual visions of creation. Demonstrating a keen interest in the philosophy of art, his recent work examines the collision and potential unity of subject and object, which is, for him, an important aspect of contemporary aesthetic experience.
Michael's work has been exhibited in many solo and group exhibitions in Quebec, Canada and internationally in Paris, and New York. His art work is currently in the collections of the Musée national des beaux-arts du Québec, the Musée d'art contemporain de Montréal, Carleton University (Ottawa, Canada) and the Canada Council Art Bank and in many private collections. He is represented in Quebec by Galerie Antoine Ertaskiran, Montreal.
Michael teaches sculpture and drawing at the Department of Studio Arts - Concordia University, Montreal and at l'Université du Québec à Montréal (UQAM), Department of Visual and Media Arts.
Michael A. Robinson wishes to thank Michael Snow for his contribution, permission, and endorsement for the installation Vida, lucida, Toshiba, 2016, (containing Sinoms, 1989, Michael Snow)
For more information, click here.
RELATED: