Todd Lester writes a monthly blog post on RU's Dialogues detailing the preparation and implementation of Lanchonete.org, a 5-year residency project in Sao Paulo.
Re-cap of 3-Day fei$hoada in NYC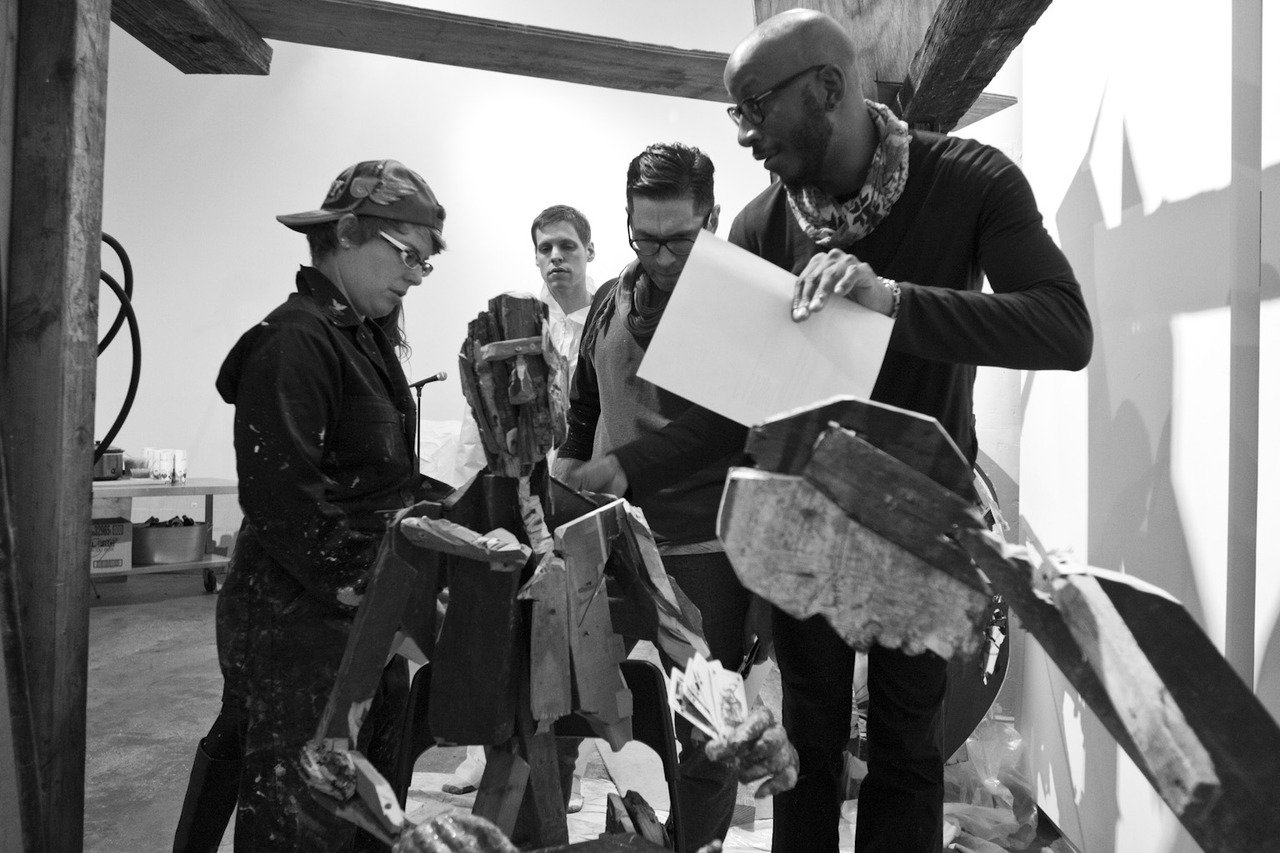 jan9_ru
fei$hoada #4 was a three-part event on January 9th, 10th, and 11th at the 287 Spring Gallery (Manhattan), the Brooklyn Museum, and the offices of Global Arts Corps (Washington Heights) respectively.  This series of events focused on the role of artists as agents of change in complex urban environments.  I describe each event below.
While the middle event (January 10th at Brooklyn Museum) was the anchor event, the days before and after were integral to the learning that each fei$hoada event is intended to bring to the Lanchonete project.  For this series of events, I wanted to look closely, deeply at relevant issues in my own community while still following the guiding question of How do we live with money? that was arrived at for the first fei$hoada in São Paulo with the help of Coletivo Ghawazee.  While all three events engaged the broad theme of gentrification, I was most interested in learning about the pacing of community work at the hands of innovators and social entrepreneurs.  Is it possible for an artist or dynamic catalyzer to introduce a good idea to a community but to implement it too quickly for it to have a valuable effect that community members can latch onto and be uplifted by?  I've often been asked when describing my plans for Lanchonete, how can I be sure that an experiment in artistic witnessing in a such a volatile and violently gentrifying area as central São Paulo won't be co-opted by the gentrification profiteers whose systems of power are so entrenched?  While I'm still digesting the 'learning' (as I call it), some observations from the NYC events are quite clear:
- Panel discussions in traditional cultural institutions are typically hierarchal, a set-up that is hard to transform.  I attempted to do so by creating the prelude event on January 9th at which visual artists Brian Fernandes-Halloran and Niki Singleton responded through installation and performance to The Gentrification of the Mind, a book written by one of the following night's panelists, Sarah Schulman.  The event culminated beautifully and effectively re-imagined the book club template.  The January 9th event was done on almost no budget.  I put my $400 honorarium for the Brooklyn Museum talk into the hat and others put cash and their precious time and energy into the mix.  One idea was that the prelude event (while autonomous for an outside audience) would give the panelists for the following night a time to meet, talk, drink, eat, and be inspired non-hierarchally, casually.  However, the other three panelists who were all paid for the following night did not attend even after stating that they would.  That was disappointing to me, but I didn't let it diminish my respect for what Brian, Niki, Sarah and the whole team created together.  It was a happening in the spirit of John Cage and his Black Mountain College crew.  On the night of the 10th after the panel, one of the panelist's mother called me over and said, "a bit of advice ... more poetry, less prose."  I can't help but believe that if we'd all spent the night before together that that is the precise difference it would have made.
- 'Gentrification' like so many other 'rational narratives' is itself being gentrified, and I paraphrase Sarah Schulman.  Some days after the event, I found a similar sentiment in this quote from the article, Gentrification and Globalization: the emergence of a middle range theory? ...
In some respects the concept has grown middle aged and become over endowed with its own history and I suggest that it needs to retain a focus on the implications of macro social change for individuals.
- Even three events were not enough to fully treat such a big topic.  How do we live with money? and 'gentrification' intersect and then loop back on each other countless times, creating a spaghetti junction of related 'learning'.  What is clear is that money speeds things up and it slows them down.  For who and when are questions of agency that Lanchonete will continue to ask ... and who knows, perhaps there'll be a part-two of the NYC fei$hoada.  Here's more about each of the NYC events:
1. A unique culmination to the book club reading of The Gentrification of The Mind: Witness to a Lost Imagination with author, Sarah Schulman and visual artists Brian Halloran and Niki Singleton.  Sarah read a short passage from her book and asked the audience to tell their stories of gentrification in NYC, while Brian and Niki responded to the issue with performance and installation.
In her memoir, Schulman recalls how much of the rebellious queerculture, cheap rents, and a vibrant downtown arts movement vanishedalmost overnight – replaced by mainstream consumerism – as aconsequence of the AIDS crisis.
Photographer Leandro Viana and food-thinkers Gregory Earls and Adriana Fernandes Halloran completed the team for Wednesday, January 9th event at 287 Spring.  See Leandro's documentation of the entire process!
2. Gentrification and Globalization, a panel at the Brooklyn Museum at which representatives of FUREE, 596 Acres, and theLaundromat Project joined Sarah Schulman in conversation; Moderated by Todd Lester the panel on Thursday, January 10, 2013.
How do artists and activists use creative tactics to address the needs of their communities? This conversation brings together project and thought leaders in a discussion that seeks to empower artists, organizers, and community members to confront issues of gentrification and globalization. It will serve as research for Lanchonete, a five-year artist residency project in a neighborhood in the center of São Paulo.
Participants in this conversation are:
* Sarah Schulman, author of The Gentrification of The Mind: Witness to a Lost Imagination and Distinguished Professor of the Humanities at The City University of New York, College of Staten Island.
* Mitty Owens, Deputy Director of Development for the Brooklyn-based FUREE (Families United for Racial and Economic Equality), and former WK Kellogg Fellow exploring the intersection of arts and activism.
* Paula Z. Segal, Founding Director of 596 Acres and founding member of the New York City Chapter of the National Lawyers Guild Street Law Team.
* Risë Wilson, Founder of The Laundromat Project and Program Director for Leveraging Investments in Creativity (LINC), a ten-year initiative created to strengthen the support structure for artists as a workforce.
* Todd Lester, Executive Director of the Global Arts Corps, founder of freeDimensional, and creator of Lanchonete.
3. Professor Devin Zuber of Pacific School of Religion incorporated the January 9 & 10 Artists Engage Gentrification events into his Winter course Cultural Memory in Urban Space; Todd Lester discussed the arc of his professional practice and the Lanchonete project with the class on Friday, January 11th after students participated in the preceding events.
---
More Lanchonete Posts:Lanchonete: