Todd Lester writes a monthly blog post on RU's Dialogues detailing the preparation and implementation of Lanchonete.org, a 5-year residency project in Sao Paulo.
Interventionist São Paulo … voices in NYC!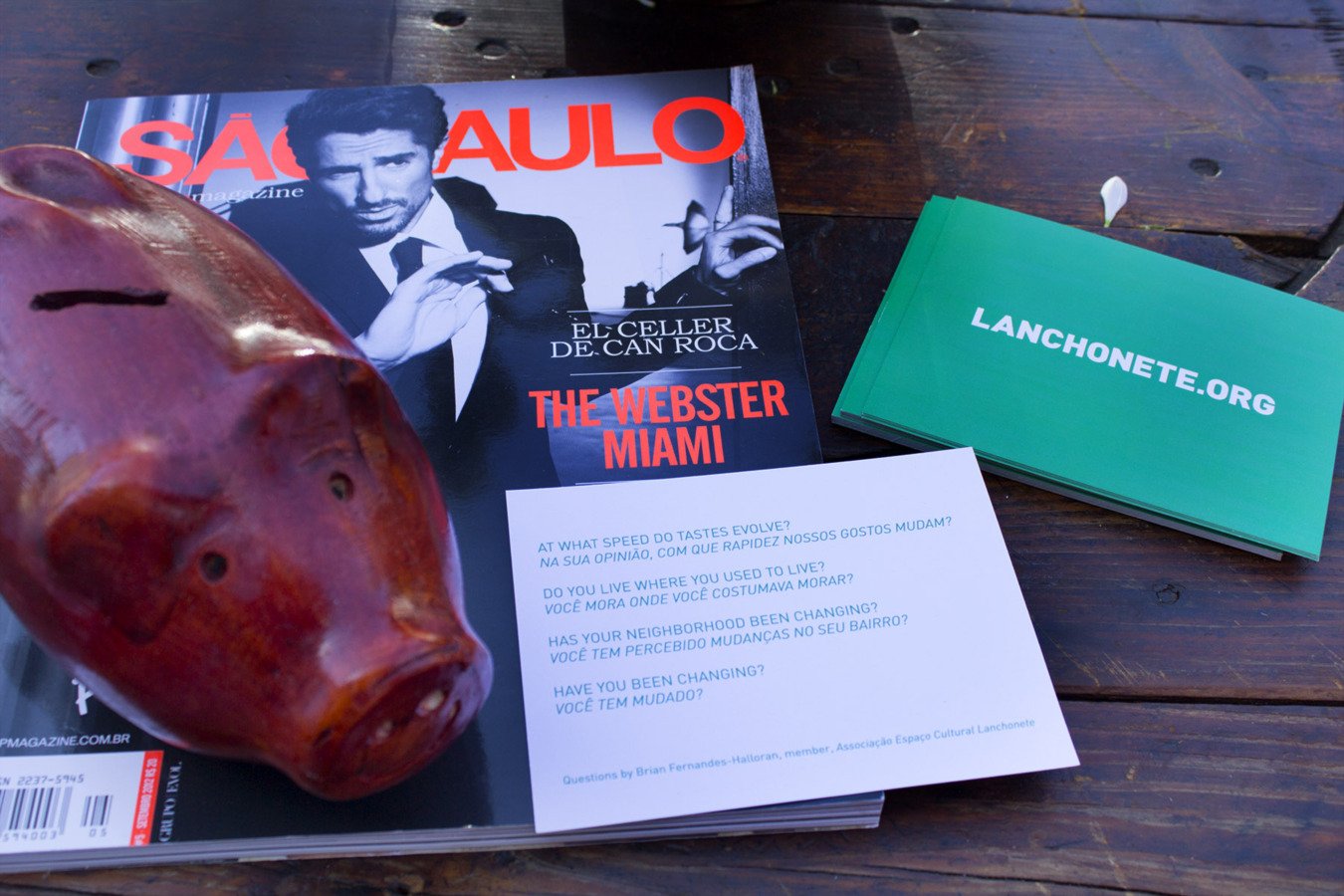 4
This past Wednesday I attended a talk at 16 Beaver on Interventionist collectives, urban movements and anti-racism in São Paulo presented by Felipe Brait of Frente 3 de Fevereiro, a transdisciplinary research, art and direct action group.  In his presentation, Felipe shared that there are 50,000 people living on the streets of São Paulo.  I share the notes from the event at the bottom of this post.  I'd also like to make mention of several other artists and projects doing important work who I've come across in recent months ... brought to my attention by friends both inside and outside São Paulo.
These include Garapa, BijaRi, Regina Parra, Casa Tomada, Baixo Centro, Gastro Motiva, Cities Without Hunger, HUB São Paulo, Prova3, and  Thiago Gonçalves' Refeitura project as well as getting to know the work of Leandro Viana, PIVÔ, Casa das Caldeiras and Núcleo Cultural São João better.
Yesterday, I attended a panel at the Left Forum entitled Beyond Resilience: Actions for a Just Metropolis that featured Erminia Maricato, Professor of Urban Planning at the University of São Paolo. She was part of the transition team in the first Lula government and formulated the proposal for a Ministry of Cities, where she served as deputy minister. She said that urbanization in São Paulo and other Brazilian cities is characterized by industrialization with low wages.  She went on to argue that there exists a void between a complex bureaucracy (and related discourse) and a fragile operational capacity ... and that it is from this void that quotidian violence emanates.  She share a 'heat map' that details the number and location of fires in São Paulo favelas from 2009-12 and encouraged us to be suspect of such a pattern as a forced eviction tactic.
This all reminds me of a disturbing development in which a Brazilian court approves ban on development protestor's mention of specific companies on his Facebook page.
==
Notes from 16 Beaver event: Interventionist collectives, urban movements and anti-racism in São Paulo (06.05.13)
_______________________________________
1. On gentrification, homeless workers' movements, and art in São Paulo
When São Paulo's historic core was targeted for gentrification in the 2000s (after decades of disinvestment), the local state moved to displace the poor and mostly Black population living there. By re-establishing the property rights of long-absent building owners the state criminalized squatters in order to facilitate their forced eviction. The mass media's representations of those targeted for removal as actual or potential criminals drew on a preoccupation with crime and security that has become embedded in popular Paulistano morality in recent decades. Thus, the expulsion of thousands of people from their homes -- a violent effort carried out by the military police -- was presented in a racist script typical of neoliberal "urban renewal" efforts: as progress in "cleaning up" a degraded and stigmatized area of the city to make it available for civic use (including art and cultural events that appealed to a growing middle class).
At this time, the Prestes Maia building in downtown São Paulo was considered the largest vertical squat in Latin America, housing over 2,500 people. It had been occupied and organized by the Movimento Sem Teto do Centro [downtown homeless movement], a housing rights movement that demands low-income public housing solutions and the improvement of infrastructure in the city's outlying regions. When the community in Prestes Maia faced imminent eviction in 2005, scores of artists and media activists came to work in solidarity with the movement and the workers and children living in Prestes Maia. Brait will talk about this experience and its formative impact on the community of artists and other cultural producers of which he is part. He will also talk about the reflections among these cultural producers that have developed in more recent years, as their modes of collective practice have changed and they have had to negotiate their work's valorization in more official cultural circuits.
_______________________________________
2. Related texts and links
Cartography "Mundo Brasil":
http://issuu.com/invisiveisproducoes/docs/mundo_brasil_brasil_mundo
Martha Rosler's essays (in English):
http://www.e-flux.com/journal/the-artistic-mode-of-revolution-from-gentrification-to-occupation/
http://www.e-flux.com/journal/culture-class-art-creativity-urbanism-part-i/
---
More Lanchonete Posts:Lanchonete: