Todd Lester writes a monthly blog post on RU's Dialogues detailing the preparation and implementation of Lanchonete.org, a 5-year residency project in Sao Paulo.
For Starters …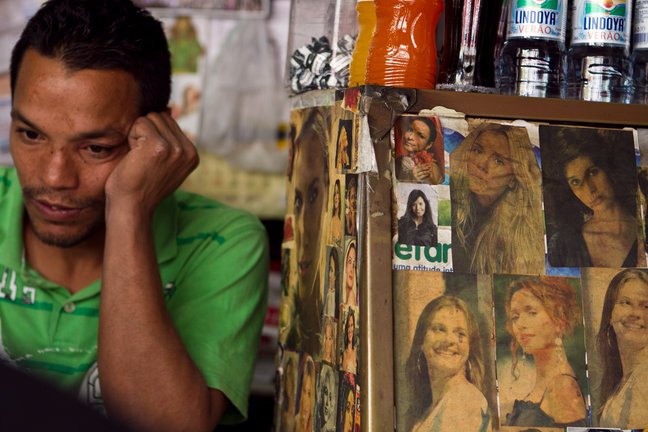 rsz__mg_8826
Over a series of short visits and long stays in São Paulo since 2005, I observed that the lanchonete (lunch counter) due to its ubiquitous presence and porous, open-front or open-corner design remains a place that the upper and lower economic classes share middle ground – if only to take a cafezinho and pao de queijo standing at the same counter – in an otherwise swiftly stratifying and fortifying city.
Lanchonete is a time and site-specific artist residency project, with an underlying focus on alternative economy, modes of exchange, and societal witnessing in a neighborhood in the center of São Paulo, an area home to economic migrants from across South America and undergoing rapid gentrification.  As Latin American cities go, São Paulo is the big, tough kid on the block.  With over 20 million inhabitants, São Paulo, a.k.a. Sampa or "Cidade da Garoa" (city of drizzle), is perhaps best characterized by its Latin motto Non dvcor, dvco, which translates as "I am not led, I lead."
Precarity is a term being popularized within the arts community as the state of being dispossessed, with conditions varying from having one's labor disassociated from intellect; exploitative working conditions; alternative collective forms lacking legitimacy; and the deleterious effect of capitalistic fantasies – e.g. zero-sum game, post-fordism, pareto optimality – on livelihood and general security.   Influenced by these same conditions, the notion of artist residency becomes unmoored and stops being the inhabiting a space for the sake of solidarity on one hand, and hospitality in the service of nurturing avant-garde ideas on the other...a bilateral agreement between community and guest and thus a joint aspiration to empower creativity. Similarly, those desirous of mobility may distinguish – and thus exempt – themselves from those for whom the reality of economic migration is levied as a penalty by an opaque system of global capital … a burgeoning contemporary polis, tens of thousands of people who arrive daily as newcomers – termed wretched (Fanon), homo sacer (Agamben), sub-altern (Spivak) – from zones of conflict or economic crisis to relatively calmer milieus where they achieve ostensible safety while often losing their right to have rights (Arendt) as a consequence.
I recently landed in São Paulo for a week-long (October 15-21, 2012) research residency.  I use the 'artist residency' moniker to name (and describe) this period as well as a major component of the Lanchonete project, while also explicitly questioning the role of newcoming artists as temporary inhabitants drawn to fast-changing urban communities through similar circumstances as those that hold a tractor beam between me and the center of São Paulo.
Whereas I am unable to think about artist mobility as anything more or less than a subset of human mobility, left unchecked, the notion of 'artist residency' attaches itself to capital (and vice versa) via non-profit funding streams and thus enters a neoliberal economic vernacular – alongside cultural diplomacy – at the crosshairs of culture funding and nation-statism.  As both trope and meme, artist residency becomes a placebo of artist inclusion that simultaneously downplays the need for deep thinking by artists on critical issues, and the idea that innovation resulting from such critical engagement is primary justification for artist mobility in the first place.  On the other hand, artists are often instrumentalized through compliance with a deployment mentality of state cultural exchange programs, which are tantalizing (and more easily deflect analysis) in the under-resourced space of artists working for social change irrespective of national borders and foreign policy agendas.
Lanchonete is a five-year journey that culminates in and around a typical lanchonete in the center of São Paulo, Brazil.  The first half of that period is dedicated to the implementation and documentation of the administrative process of starting a business in Brazil as an outsider as well as becoming known and building trust in the community in which the restaurant is situated.  The first years will be characterized by site prospecting; asking everything in a phenomenological spirit and weaving new inputs into program design; explaining myself publically until it feels right; and – ultimately – asking to join a community that is not my own.
The second half of that period will be running the business (contiguous performance) and the neighborhood artist residency (series of vignettes) for which the lanchonete is a physical and conceptual anchor… in its design one performance does not work without the other.  Business as Trojan horse, Lanchonete learns from, plays with, and rigorously interrogates the utopic template of artist residency.  The lanchonete will have a staff and operate as a bottom line-oriented business; international residents will be invited to live in a suite of adjacent apartments for periods of four to six months; local artists and cultural organizers will join the project in other ways.  Whereas I will manage the business of the restaurant, I will only referee the project – lightly chalking out parameters for its participants – and in that role, I will strive to engender an atmosphere in which distinctions between worker and guest, international and local will blur as the project (as time-release capsule) dissolves into the city.
A typical call for artists would not seek a film screening within the space of the restaurant nor a traditional exhibition on its walls, but might ask them to engage the vernacular architecture and practices of its environs that invites its customers to see something new and different... an overlay to the quotidian patterns ... moving from imagery to imaginary. There will be open calls for artist applications locally and internationally during the second half of the project; however, the project has adopted a bartering and pre-booking approach influenced by projects such as New Life Copenhagen, the Homebase Project, and the Berlin Office, which will begin to populate the four-occupant apartment suite gradually starting as early as 2013.
Boiled down, Lanchonete is a constructive critique of the growing /vague-ing residency sector; a contemplation on gentrification as a way of life (one that is related to other '-ations' e.g. globalization, brazilianification[1], commodification); a workplace and station of witness...the panopticon remixed.
***
The kickoff of Lanchonete happened on Saturday, October 20th 2012 with the research and production support of Casa das Caldeiras, through artistic consultation and event production by Coletivo Ghawazee[2], and hosted at in the Pivô[3] at Edificio Copan, the most beautiful building in the world.  I talk about this at length in my next blog post 'Research Residency in São Paulo.
 This blog post is a excerpted from a piece in the forthcoming Sarai Reader: Projections.  Image of Bar Cafe Matias by Pedro Marques.
---
[1] Brazilianification is defined as the process by which the middle class disappears, and the gulf between the upper and lower classes widens.
[2] Ghawazee is a transdisciplinary performance action collective, made up of women with different artistic backgrounds, which investigates the expressions of the feminine through artistic actions presented in public spaces.  The collective is searching for the creation of an experimental language [and] practice that forges temporary, transgressive disruptions in the order of everyday life through artistic actions, intended mostly for the local, found and unforeseen public.
[3] Pivô is an independent platform dedicated to the investigation of contemporary processes of cultural creation. It intends to promote critical thinking on art, architecture, urbanism, as well as other contemporary manifestations by enticing a dialogue between creators, producers, scholars, students and the general public.  Within its set of strategies, Pivô is contributing to the revitalization process of downtown São Paulo, with emphasis on the uniqueness of Copan building and its surroundings.
---
More Lanchonete Posts:Lanchonete: