Todd Lester writes a monthly blog post on RU's Dialogues detailing the preparation and implementation of Lanchonete.org, a 5-year residency project in Sao Paulo.
Eureka … Associação Espaço Cultural Lanchonete is registered!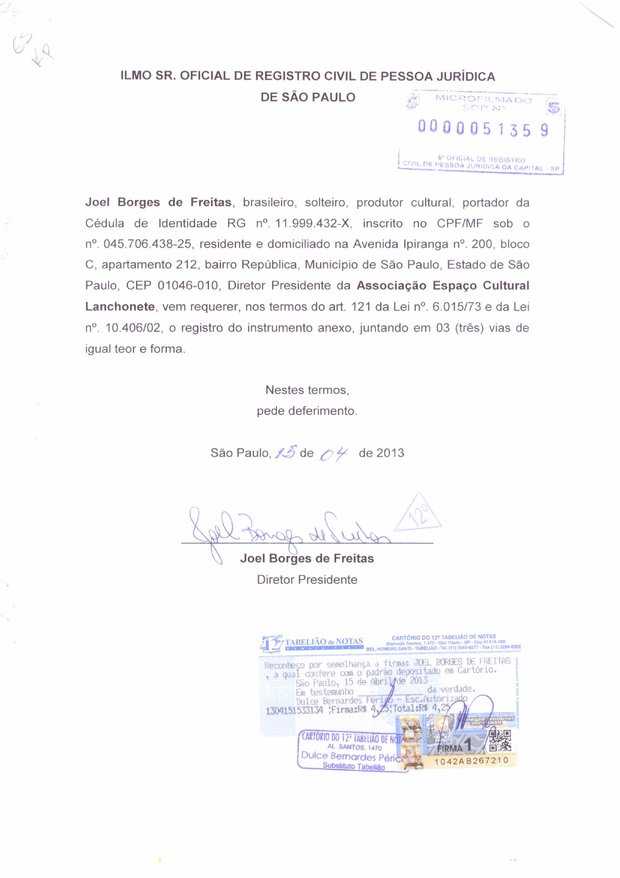 rsz_registry_t_lester
As mentioned in a previous post, over the past months we've been working with, Barbosa e Spalding Advogados, a group of kick-ass lawyers in São Paulo to register the Associação Espaço Cultural Lanchonete.  We just learned that our registration was successful ... we're legal!!!  While the association will be open for a general membership soon, the founding president and counselors are artists and cultural producers in São Paulo (and one in Belo Horizonte).  They are Joel Borges (Director of Cultural Projects @Casa das Caldeiras Art Space), Angela Destro (Producer @ Teatro Oficina), Francisca Caporali (Founder of Ja.Ca Residency), and Leandro Viana (Photographer) respectively.
---
More Lanchonete Posts:Lanchonete: