Conversation with Charlotte Bydler
By Johan Lundh
Conversation with Charlotte Bydler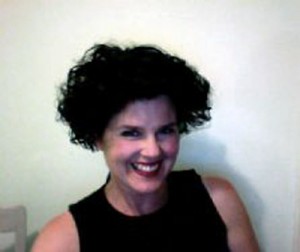 Charlotte Bydler is a prolific art historian, writer and lecturer at the Department of Art History, School of Culture and Communication, Södertörn University in Stockholm, Sweden. Her PhD thesis, The Global Art World Inc. On the globalization of contemporary art (2004), has become a sourcebook for the study of biennials. Bydler has since been involved in numerous research projects including initiated project Art (without) spaces: Internet art in Germany, Lithuania and Sweden (2007), in collaboration with the Baltic Sea Foundation.
Johan Lundh: I want to start our conversation by asking you about your doctoral thesis which subsequently was published as a book, The Global Art World Inc. (2004). It was one of the first serious publications on biennials in relation to globalization, derives its source material from the study of a number of biennials world-wide that served as case studies. I'm curious to hear how The Global Art World Inc. came about.
Charlotte Bydler: To put it in a personal key, motivation, this is my dissertation. When I entered undergraduate studies in art history in Uppsala University in 1990, academia was more generous than it became a few years later, and there were several special courses in art history. Hence I encountered general (that is, "Western") art history and African and Islamic art history (just the names of those courses!) in the first year – but taught by different teachers, and the courses never overlapped by even a single year or artist. Today as then shared academic interests – even common knowledge – in art history exist first on the sub-specialisation level. This is the image that stayed with me, the one I wanted to investigate in my thesis. There was very little common ground, yet scholars and teachers in General art history were never prompted to problematise the field. As a PhD candidate, I supported myself as a freelance art critic; and the lack of compatibility between General art history the contemporary art scene just confirmed the feeling that "general art history" is a very problematic concept–if it even exists. I have tried to show that art history and artistic practice lack any necessary connections; this idea is a stubborn historicist insistence on tracking concepts through published texts rather than practices. Similar arguments have been put forth by Hans Belting in Das Ende der Kunstgeschichte? (1983), Niklas Luhmann in Die Kunst der Gesellschaft (1995) and by Theodor Adorno in Ästhetische Theorie (1970).
Then of course on the one hand art critics turned to several biennials besides Venice and São Paulo. And on the other, globalization became a buzzword even in Swedish academia. Critical art history got a new roster of exciting scholars, and all of a sudden it seemed as if "art history" would actually come closer to art's history. (That was a delusion, as it turned out.) The Global Art World Inc. was meant to highlight the gap between artistic and historiographical practice, and to bring out the narrative character of history (inspired by Claude Lévi-Strauss, Paul Ricoeur, Hayden White, and Robert Young). But at the same time, I looked for a way to assess globalisation processes in a way that would make it perceptible in the material corpus. I found in Immanuel Wallerstein a good way to use systems theory with historical materialism. And biennials provided good case material where it was possible to follow artists' and curators' careers in different geographical areas and in different socio-aesthetic constellations. (Methodically, it could of course have been done in much more refined ways.) It was anyway clear how one curator's work connected with a certain sensibility, particular issues, and certain collaborators including artists. When these networks are traced, a conceptual and social world system emerges. This mapping was what I had wanted from my own education, and I am still interested in the topic.
Johan Lundh: The Global Art World Inc. discusses the idea that spectacular international biennials prefigure the end of the hegemony of the USA and Europe in contemporary arts. In an interview I did with curator Hou Hanru a couple of years ago he claimed that: "Biennials are becoming the most innovative, most powerful network across the globe. They facilitate the worldwide circulation of ideas, images and people." With new biennials opening every year, it seems like this is still the case. What is your perception of the development at the moment?
Charlotte Bydler: I see the enthusiasm for biennials as a symptom of several ongoing processes. The biennial format in itself is just that–a format. But when coupled up to curators, artists and local ambition this format is a perfect vehicle for ideas. It creates impact effectively; news value coupled with a real chance to review an event scene over a limited time span. Not least, no strings, like salaries or local policies attached. Once the machinery is started, it moves on fast and easy, feeding on novelty and dare-devilry rather than old and safe collections. I like the authority of the biennial system (if we can really talk about the lot as one unit) better than that of collection-based exhibitions. But we must not forget that biennials are institutionalized, too. Innovation must be set in relation to something invested with value if it is to be meaningful. This territorializes their meaning and value in traditions, for better and worse. Curatorial networks, artists' networks, critics and the entire institutional entourage rely on a stability of relations that is pitted against its dependency on newness, contemporaneity. This means young artists, local talent, and "issues" like world politics. The sorry part is the passing interest, but it also destabilizes power. It cannot be denied that influential names and exhibition localities are harder to count today than thirty years ago, counting by relevance to a European mind. But there are also several biennials of a more local or regional character that do not resonate much beyond their continental or topical relevance: the Jakarta Biennial in Indonesia, the Gothenburg Biennial in Sweden or the Werkleitz Biennial in (former East) Germany, for example. This fact in itself does of course not make them less needed and useful.
Johan Lundh: Ten years ago, sociologist Zygmunt Bauman coined the term "liquid modernity" to describe the globalizing world liquefying effects on older unites such as class structures and family ties. The most economically and intellectually powerful people today live a nomadic lifestyle, going from one place to the next, one opportunity to another. Nevertheless, it is predominately individuals connected the Western hemisphere who benefit from this development, or is this perspective becoming obsolete?
Charlotte Bydler: Yet this hyper mobile way of living is easily unsettled by one volcano in the northern hemisphere. Networks are very material; communications are just as vulnerable as the stuff they are made of–whether satellites or bodies. We know that traveling is not for everyone and all the time. Some people will doubtlessly travel more than others also in the future, just as today's extreme travelers in the art world have institutional investments that most people lack. Modernity is liquefying, yes, and it continues to reshape loyalties, topple habits and set new values. It is just not possible to say what this will mean, neither for the art world, nor for contemporaneity at large. Resources and electricity for production and installations of the very exhibitions have yet to be discussed. Also the frequent flyers among curators and critics tend to have a home institution. Hans Ulrich Obrist, Hou Hanru, Okwui Enwezor, Catherine David, Ute Meta Bauer and others come to mind. And institutions in the North West hemisphere already need to deal with colleagues from China, India and Australia.
Johan Lundh: I'm pleased that you mentioned the Icelandic volcano, Eyjafjallajokull, which paralyzed Europe last month. It made it obvious to how fragile how much rely on a fragile infrastructure. Finally, I want to conclude by asking you what you are working on at the moment?
Charlotte Bydler: I am finalizing a manuscript with the working title "The global, the cosmopolitan, and other internet art worlds". Obviously still working along the trodden paths. There is much more to be said there. And just beginning to look historically at curatorial practice in an interesting and entirely new collaboration with Andreas Gedin, Sinziana Ravini and Johan Öberg.
---
More Articles: