Augmented Man's Studio
By Dr. Ekaterina Rietz-Rakul and Steve Schepens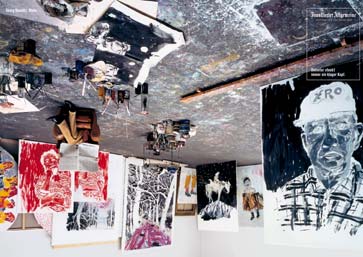 In this essay we were asked to dwell upon two questions: how is it special to have a studio in Berlin and how it is different to create in the digital age.
Mijn thuis is waar mijn Stella staat
(My home is, where my Stella is; Belgian proverb)
The rough answer to the first question would be that it doesn't matter if who does work from the studio is situated in Berlin or anywhere else in the world. What is a possible reason to have a studio in Berlin is the combination of eventful art life, comfortable relaxed lifestyle and abundance of cheap spaces. This keeps on attracting both young and established artists to Berlin. Among the famous Wahlberliners (Berliners-by-choice) there are Jonathan Monk, Monica Bonvincini, Candice Brietz, Olafur Eliasson and many others. Somehow, no statistic agency has managed to name an accurate number of artists living in Berlin, but the generally estimated figure is about six-seven thousands, a quarter of those comes from abroad. Each year contemporary art galleries in Berlin offer quite a programme, showing about 5 000 artists in 3 000 exhibitions on more than 45 000 sq km of common area. Thus, in a certain way, a studio is a facilitator. Clearly, even if referred to as obsolete, the notion of a studio plays an important role in the artist's life: either as a blunt status symbol or the miniature model of the world or the only refuge from the latter.
Recently we came across a photo of Georg Baselitz in his studio, turned upside down for the promotion campaign of Frankfurter Algemeine Zeitung in reference to Baselitz' artistic practice of putting the motive or protagonist of his work on its head. On the promotion photo for the FAZ, the artist is hanging from the ceiling as if taking a contemplating break from the action of painting and simultaneously the paintings are showing their motives in the right way – feet down.
This trick reminded us of several things. First of all, the early photographs from 1916 -1919 of Marcel Duchamp's New York studio by Henri Pierre Roché: several 'ready made' art works are hanging from the ceiling, objects like the urinoir floating in the air and a coat rack nailed to the floor. Marcel Duchamp is sitting amongst them, transparent like a ghost. Obviously something is awry in this studio.
There was also The Box, a sculpture by Paul McCarthy from the Nineties, which presents a studio and its interior put on its side in what looks like a large wooden art transport crate.
What happens when the studio is put on its side, or when the studio is obsolete as Daniel Buren stated in his essay 'The Function of the studio' from 1971? What happened after the post-studio practice of John Baldesarri? What happens if a studio is not bigger than a microchip processor of a laptop? Well, probably nothing. There are, there have been and will always be artists with different need. On one hand, there is, Olafur Eliasson, who has a whole plant in Berlin, where he works with his many employees. On the other, there is Matt Mullican, American artist living in Berlin,who has his studio in New York. Here is what he told us in the interview we have conducted with him for our book Contemporary Art Berlin[1]: "Oddly, my studio is still in New York, I have three people working there. We just moved the studio from the Wall Street area to Chinatown / Lower East Side area. My staff is very happy with the new space but I have yet to visit it.  [ES: So the studio is living an independent life?]  Yes, and people don't understand when I tell them I live in Berlin and my studio is in New York, they think I need to commute every week. But I have never hung out in my studio, my true studio is in my notebook. I was just in Münster and recently in Munich working on this big show at the Haus Der Kunst and am learning about the building, that's now my studio. I was in the class of Baldessari in 1971 called post studio art, that's my psyche."
The variables in artist studios can be many, entrepreneurship with a large staff, lonely cowboys in small rooms or shared studio and living space (as with the example of Duchamp in NYC). The main variable however is the mind of the artist.
"I am studying an electronically controlled labyrinth which
will be used for psychological tests and brainwashing"
Manzoni
IMHO, the arrival of digital age did not change the artistic world as drastically, as, for example, the beaten example of the invention of photography. Clearly, computers becoming smaller and faster, as well as internet becoming an omnipotent and omnipresent companion, do cause certain inevitable changes in our lifestyle. Also in the field of arts: digital literature and hypernovels, net and software art, digital installations, all this new arty virtual reality has come to light and keeps on developing. It is possible, that a new generation of artists will emerge from today's children - digital natives - and open art's new horizons. However for the moment, it does not seem to matter if an artist is using paint, marble, concrete, light bulbs or digital media. Despite of dozens of books published on the new and fancy subject of digi-art, we do believe that, even though it has supplied the art market with many new kinds of works, it did not crucially change the flow of history.
But it did change the working manner of the art world quite a bit. Contemporary nomadic artist with a tablet computer or pencil and notebook, can be home in all the art scenes in the world, without choosing to pin down his studio anywhere specific. It became so easy to use all media and produce simultaneously in different cities. The portfolios and ideas are shared within seconds, works are sold and money is transferred within minutes on the virtual art fair. But still, the opening VIP dinner was served in the old fashioned: real food in the real world.
Manifesto for Augmented Man's studio
Or the future of the future artist
The Artist's Studio (L'Atelier du peintre): A Real Allegory of a Seven Year Phase in my Artistic and Moral Life, is a painting by Courbet from 1855 and shows us the artist turned away from a nude model who's looking over his shoulder – a metaphor for academic art practice. Courbet is painting – in an innovative way - his canvas joyfully but concentrated and a large crowd of people, fellow artists and writers, even admirers are engaged in some sort of important action or are just hanging around, a cat playing in the fore plan and a child following the artist's every move, and last but not least the writer and art critic Baudelaire is working in the right corner.
Putting this painting on its head, and by this putting the myth of the studio on its head, has so many reasons, so many intercultural connections that one get's to wonder why isn`t this fully legitimate way of working used more often. Here are two of many reasons why it is important for the augmented artist.
Reason One: The Mirror
According to Jaques Lacan mirror-stage is the key stage for forming of an ego of a human being. Recognising itself in a mirror, a baby at last perceives its body as a whole and greets it with jubilation, after a short phase of rivalry and aggression. On the other hand, the mirror-stage is also the time, when a child realises the existence of the other. After years of dwelling over this problem, Lacan comes to a conclusion, that the mirror-stage is far more than just a moment in the development of a child; it illustrates the conflict nature of a dual relationship.
Looking at the studio behind the looking-glass, will let us see it in a new way.
Reason Two: Intertextuality
The manifesto's idea obviously does not exist in a cultural desert. Paul McCarthy, Georg Baselitz, Marcel Duchamp and last but not least, Piero Manzoni with his Socle du Monde, an Homage to Galileo, have experimented with the habits and expectations imposed on us by Earth gravity. However, no artist, or curator has exploited this idea to the full extent. The truth about a disorienting situation is in the gap between what the eye perceives and what the brain concludes. It will be up to the Augmented Artist to discover it.
Berlin, March 2011.
© ES 2011
Steve Schepens (*1979, Ghent, Belgium) is an artist and curator based in Berlin. All his works are entitled HORROR with additional number or subtitle. These include videos, performances, installations, graphic works, paintings and sculptures. For many works, used cardboard boxes are basic construction material. The invisible is as important as the visible in his oeuvre. Plaster, porcelain or bronze casts of cardboard boxes represent the non-sculpture, the void, the endless interpretational field when it becomes a solid opaque immanent object. It is an object which does not portray appearance, but content. His oeuvre indicates the subjectivity, emptiness and fragility of signs and thus the instability of seemingly stiff social systems, which causes to anxiety and HORROR of a contemporary man.
Schepens has exhibited at BE-PART(Belgium), De Bond (Belgium), SMAK Museum (Belgium), Netwerk (Belgium); MARTa Museum (Germany); Artnews (Germany); The Residence Gallery (UK); brot.und spiele gallery (Germany), De Brakke Grond (Netherlands), CPAI Lisboa (Portugal), Volker Diehl Gallery (Germany)
---
More Articles: