Lanchonete
2016.3 – Lanchonete.org on 'Food Audit' @ Poly/Graphic Triennial {San Juan}
By Isabel Gandia & Tara Rodriguez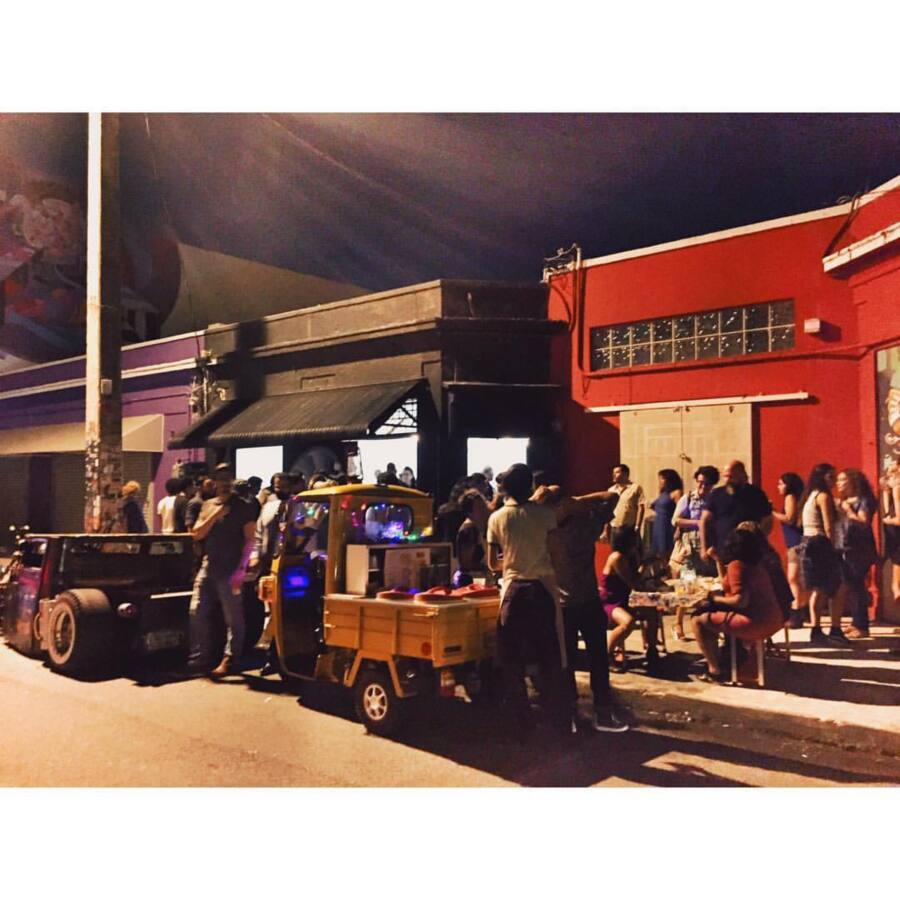 Lanchonete 2016.3

The members of Lanchonete.org write a monthly blog post on RU's Dialogues detailing the preparation and implementation of Lanchonete.org, a 5-year residency project in Sao Paulo.
Lanchonete.org is an artist-led progressive cultural platform focused on how people live and work in, share and survive the contemporary city with the Center of São Paulo as our outlook. It gets its name from the ubiquitous lunch counters—convivial, fluorescent-lit, open-walled, laborious, points of commerce—that populate almost every street corner. While the platform is quite flexible, accommodating artist residencies, conferences, publications, exhibitions and related activities, each of its members may introduce a special focus based on their own set of interests or concerns.  In 2016 different members will share what they are working on, as well as pressing issues playing out in the location (or site) of the project.  Late last year, founding member, Isabel Gandia led a project for the San Juan (Puerto Rico) Poly/Graphic Triennial working with Tara Rodriguez of El Departamento de la Comida. It was called 'Food Audit'.
FOOD AUDIT  Where does our food comes from? What are its origins, its causes, and its effects? When considering our bodily health, do we also consider that of our communities? How does the use of different products affect prices, flavors and even the conversations had while eating a meal? Do we realize the direct connection between our individual and collective well-being, our local economies, political systems and the food chain? For the 2015 San Juan Poly/Graphic Triennial, Lanchonete.org and El Departmento de la Comida join together in 'Food Audit', a mobile lanchonete-as-crop research laboratory (visiting several galleries in the San Juan Metropolitan area) from which consumers compare prices and flavors while considering the historical 'baggage' of the food they eat. The dishes served are created by El Departamento de la Comida, with the simple idea of creating a conversation to connect our food with its origins and explore its role in the local and global economy. Food Audit is an investigation in the guise of meal.
EL DEPARTAMENTO DE LA COMIDA/EFECTO SOMBRILLA:
El Departamento de la Comida, founded in 2010, is a hybrid space focused on the unique cuisine of Puerto Rico--strengthening consumption of organic crops based on the island--and a nonprofit food hub called Efecto Sombrilla that focuses its ecological research on the different steps of the food chain. El Departmento de la Comida provides various services to small and medium farmers as well as their consumers by supporting sustainable local food production and sales. The Department collects food crops  from 20 producers around the island each week; visits eco-planting projects and those in transition from conventional farming to best practices; runs a retail space managed by a group of volunteers who sell the crops; and participates in a number of projects and collaborations to enable the growth of the agro-ecologic movement in Puerto Rico. Food justice, sustainable economies, human health, preservation of agricultural land and beneficial food consumption are the driving forces behind El Departamento de la Comida y Efecto Sombrilla.
***
*You can download the poster here ... which was also used for Bamako Encounters. And, if you read Spanish, here's an article on the intervention.  Lastly, check out the 1917 Jones Act if you wonder why the work of El Departamento de la Comida is so urgent!